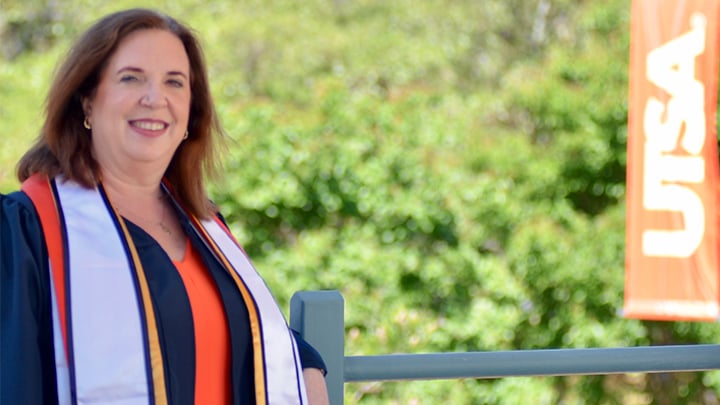 ---
"The first time I attended UTSA was in 1993. I left when I learned I was having twins the day after finals. After my youngest son graduated from UTSA in 2014, I decided it was time to return.
I transferred into UTSA in August of 2015 for the second time and found the campus had experienced so much growth in those 20 years. It was an exciting time to be on campus. The energy was amazing. Even as a non-traditional student, the student organizations on campus welcomed me with open arms and I was able to fully engage in collegiate activities.
My favorite professors were Mark Lueng and Dan Davied from the College of Business. It is obvious that they have a love for education and have so much to give. Each of them had a spark that inspired me to reach for the stars.
My favorite UTSA tradition is the Ring Ceremony. My ceremony in particular was amazing because I was able to share it with my husband who graduated in 1981 and was able to send his ring out for the night in the Alamo and receive it back with me. It was so wonderful to sit in a room with the people who had struggled right along with you and celebrate together.
My degree from UTSA enabled me to retire from a 30-year career and start my second career as an HR professional at Rackspace.
Now and Forever, I AM a Roadrunner!"
~ Lisa Ramos, Class of 2018
---