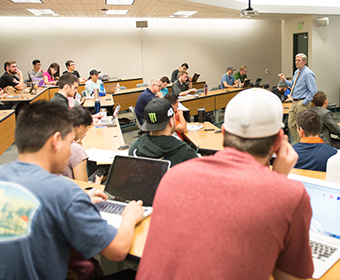 (Dec. 13, 2018) -- The UTSA Office of Information Technology (OIT) has announced the recipients of its annual Academic Support Solutions Fund awards. This year, 15 proposals spanning five UTSA colleges were selected to receive grants ranging from $5,000 to $22,000.
In October, faculty and staff from across the university submitted a total of 16 proposals for myriad student-centered projects that align with at least one of the university's strategic destinations. The proposed projects are geared toward equipping UTSA students with invaluable skills needed to thrive at the university and in the workforce.
"The proposals submitted this year were outstanding as always," said Vanessa Hammler Kenon, UTSA assistant vice provost for IT. "The submissions show that our faculty are truly working with students on many of these ideas and are forward thinking and strategic."
The selected proposals, which were awarded approximately $150,000 in total, requested support for projects aimed at immersing undergraduate and graduate students in technological innovations comparable to those found at peer institutions and in industry.
These innovations include the creation of a one-button sound room intended to familiarize students with aspects of video production, the purchase of a touchscreen mobile display device to encourage collaboration among graduate students, and robotics tools to facilitate hands-on learning in the classroom.
"All of the submissions will clearly have an impact on helping our students in their coursework and future careers," said Kenon. "Having students on the selection committee truly gives us an idea of the impact these projects can make."
The OIT Academic Support Solutions Fund has granted more than $250,000 to several UTSA colleges and departments since its founding in 2016. As part of its ongoing commitment to fostering student success, OIT intends to maintain this fund to support additional projects in the upcoming academic year.
"We plan to continue this effort in support of rewarding faculty innovation at UTSA," said  Kenon. "It has been so exciting to watch these projects take shape over the years."
The colleges awarded funding and their respective projects include:
High Performance Workstation for Student Learning Enhancement
Interactive Mobile Student Collaboration Station
Student Laptop Checkout Cart 
A Hands-on Motor Design Project for Engineering Education and Research
Software Support for Education and Research in Industrial Control Systems and IoT Security 
College of Education and Human Development
Multiuse Technology Learning Labs 
College of Liberal and Fine Arts
MABLab: Building a new space for advancing education and research in Molecular Anthropology & Bioinformatics
One-Button Sound Room and Updated Technology to Increase Gen Z's Classroom to Career Success
VR for Language and Culture 
Advancing Computational Tools for Teaching and Research within the Kleberg Advanced Microscopy Center (KAMC)
Facilitating Penetration Testing Research and Education
Institute for Cyber Security (ICS) Management Cluster Upgrade
Institute for Cyber Security (ICS) RAM Hardware Upgrade
Purchase of MATLAB Grader
Support for Education and Research in Embedded Systems and Deep Learning for Autonomous Driving