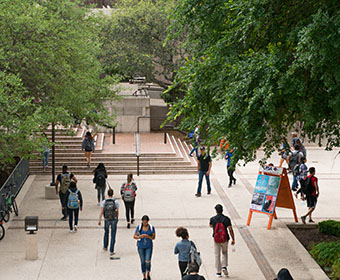 Dec. 2, 2019 — Since launching in January 2019 UTSA's Office of Inclusive Excellence has implemented several major projects to promote inclusive excellence at UTSA.
These recent milestones promote an environment where people from all backgrounds and diverse points of view can engage, learn and thrive at the university. They include:
All of these efforts are in tandem with UTSA president's Inclusive Excellence strategic initiative.
Under the leadership of Vice President for Inclusive Excellence Myron Anderson and with the support of President Taylor Eighmy and the president's cabinet, the office is working to incorporate an inclusive leadership philosophy throughout the fabric of UTSA, creating policies and programs that embrace and maximize differences in systematic ways.
"It is with great intentionality that we approach our work in this way to allow for inclusivity and excellence in capturing ideas, developing programs, maximizing innovation and operationalizing high impact strategies designed to advance our mission," Anderson said.
The next milestone for the Office of Inclusive Excellence, in close partnership with the Office of Human Resources, is launching UTSA's comprehensive campus climate survey in spring 2020. 
Anderson emphasizes the importance of faculty and staff participation in the survey to shape UTSA's learning and working environment. "The survey results will help UTSA incorporate the practice of inclusivity and excellence in everything we do," he said. 
The VPIE team is available to answer any questions about inclusive excellence and welcomes feedback on its online idea catcher.