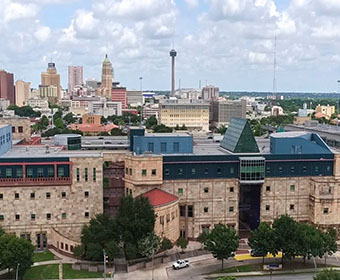 MARCH 23, 2020 — Editor's note: The following message was sent via email today from President Taylor Eighmy to all students, faculty and staff:
The past week was a big transition for all of you as we all embraced our new reality as an online learning institution with a primarily telecommuting workforce. I thank you all, once again, for your determination and resilience as we face these new challenges and opportunities together as a community.
Today's Stay Home, Work Safe Orders issued by San Antonio and Bexar County require that we pivot just a bit more into the next phase of our operational plan. Our current approach is already quite close to what is now required moving forward.
Our city and county officials recognize that UTSA, as a higher education institution, will need to continue critical services and operations to support our on-campus residents and our important research mission—especially in regards to advancing research that serves the national interest during a pandemic. We have worked closely with them to designate personnel with essential functions who must have continued campus access to perform their work.
While online instruction continues, this next phase necessarily involves scaling down additional campus services, locking most campus spaces and moving even more employees to telecommuting status. I know this next set of adjustments will require more juggling and abrupt changes for some of you, but our current extraordinary circumstances require new levels of nimbleness to keep our community safe. Our fundamental obligation is to help prevent the coronavirus from spreading in our community and overwhelming our local hospitals.
This new phase of operations involves the following steps to ensure the health and safety of the entire Roadrunner community. 
Campus Services and Facilities
With few exceptions, remaining campus services will be virtualized to the extent possible, and most campus facilities will be locked-down.
Essential and critical facilities, public safety and other limited campus operations will continue.


Limited Housing and Residential Life support will continue to serve those students living in university-owned housing who have been granted an exception to remain in the residence halls.


Students scheduled to move out of university-owned housing this week will still be allowed to do so. This is an important step to ensure that we reduce the number of students living in the halls as soon as possible. Students will depart according to the designated move-out schedule designed to ensure social distancing and the health and safety of all. Students who prefer to reschedule their move-out or make alternate arrangements may do so by emailing studenthousing@utsa.edu.


Student Health Services, Counseling & Mental Health Services and Student Disability Services offices will remain open only for those students remaining in on-campus housing. Telephone and virtual consultations are available for all other students remotely.


Roadrunner Café will remain open only to on-campus residents for take-away meals.


For the time being, the Roadrunner Pantry on the Main Campus will remain open for students facing food insecurity. We will work with our local officials to evaluate alternative locations and a plan for continued operation.


The John Peace Library and Downtown Library buildings will close, although library resources and chat assistance will continue to be available online. Students needing internet access can reach out to the Tech Café.


Essential and critical research operations will continue, and designated research facilities will remain accessible. Researchers may contact Associate Vice President for Research Integrity Michelle Stevenson at 210-668-3313 or stevenson@utsa.edu with any questions.
Escalating our Telecommuting Plan
Starting tomorrow, all employees are required to work from home except for a very limited group identified as critical and essential to maintaining campus operations. These include designated employees within facilities, public safety and a limited number of other campus operational units.  Supervisors have contacted employees within these designated groups regarding work schedules. All other employees should refer to the messages sent last week to staff and faculty containing detailed information on telecommuting.
Please view my video message to the community regarding these latest developments. And, as always, refer to our coronavirus website for answers to frequently asked questions.
Thank you for your willingness to do your part for the well-being of our Roadrunners, San Antonio community, state and country. I have faith that our guiding principles—to sustain the health of our community and the academic success of our students—will pull us through these challenging times.
#UTSATogether