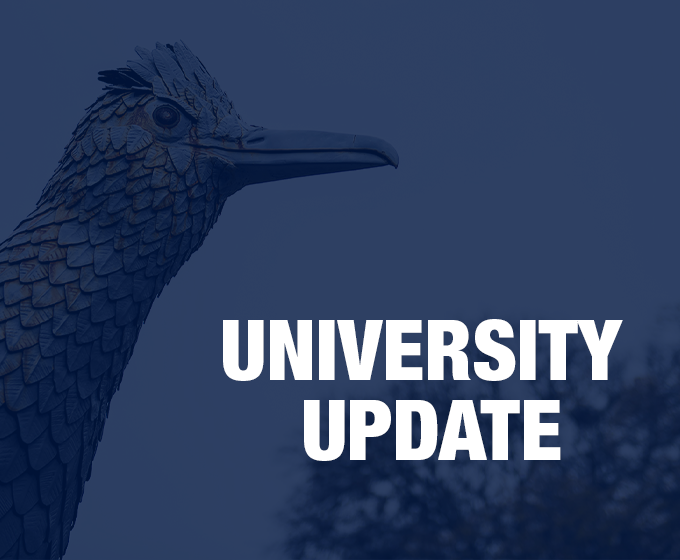 JULY 24, 2020 — UTSA is committed to supporting the university community during remote learning and operations. Here is your latest digest of university news and tips.
---
COMMUNITY NEWS

---
AT THE STUDENT UNION: Roadrunner Pantry, UPS Store and Campus Technology Store on Main Campus all remain open. For the pantry and UPS Store, enter the Student Union through the north entrance (closest to the circle drive and tennis courts).
---
LEARN SOMETHING NEW: Expand your skills with the Student Union's Stuck at Home on-demand video series. The talented student staff provide tutorials on drawing, cooking, homemade face masks and a host of other DIY projects. New videos are uploaded weekly. Check out the playlist on YouTube or follow the Student Union on Instagram (@UTSAStudent_U) for posts about new videos.
---
EMPLOYEE BENEFITS UPDATE: The My UT Benefits annual enrollment period for benefits-eligible employees is now open, through July 31. Requested changes will take effect September 1. Active and retired employees can make changes during annual enrollment. If you need assistance, email Human Resources at hr@utsa.edu or call 210-458-4250. You can also explore helpful links to enrollment materials as well as check out the My UT Benefits user FAQ.
---
FIND WHAT YOU NEED: If you've got questions about UTSA, the Student Union Info Desk has answers. A team of knowledgeable students is available online to answer questions and is ready to chat on demand weekdays from 9 a.m. to 6 p.m.
---
ACCREDITATION UPDATE: The on-site visit for UTSA's reaffirmation of accreditation has been rescheduled for August 3–6. The visit by the Southern Association of Colleges and Schools Commission on Colleges previously had been planned for March but was postponed due to the pandemic. For the safety and comfort of participants, all meetings will be available virtually. More information will be shared as plans are finalized.
---
VIRTUAL EVENTS

---
BECOME AN ALLY: Learn about resources for and that support gender-diverse individuals by delving into definitions, identities and more in Advanced Ally Training (SD 425). (This course is open to faculty and staff who have already completed the Becoming an Ally [SD 310] course). Wednesday, July 29 at 10 a.m. via Webex.
---
FOCUS ON SUCCESS: Academic Innovation continues its Summer Digital Teaching Forum Series next week with new webinars.
Panopto Beginner Seminar: Learn what the tool Panopto—the easiest way to record, manage and share videos—has to offer to measure engagement, such as in-video quizzes and assigning video projects so students can create their own. Thursday, July 30 at 9:45 a.m. via Zoom.
Promoting Inclusive Teaching in the Classroom: It's important to think beyond what we can observe to include invisible diversity that encompasses characteristics such as different worldviews, place of origin, income, religion and sexual orientation. Discuss the hallmarks of creating an inclusive class environment by identifying what works in your courses and how those ideas can transfer effectively to teaching online. Thursday, July 30 at 3 p.m. via Zoom.
---
EXPAND UNDERSTANDING: Strive for greater equity and social justice at UTSA and join the university's Microaggression Awareness Campaign by attending a virtual workshop that will help you understand how bias influences thoughts, actions and behaviors. Register today for Understanding and Challenging Microagressions (search keyword microaggressions) on one of these upcoming dates: August 7, September 23, October 22, November 13 or December 16.
---
ONLINE LEARNING & TELECOMMUTING

---
GEARING UP FOR FALL: If you missed the town halls about planning for the new academic year, including info on the report from the university's Public Health Task Force, the sessions are available for on-demand viewing. There's also a Fall Planning FAQ with topics about Roadrunners' return to campus.
---
TOOLS TO SUCCEED: Human Resources' UTSA Learning Zone is available to all faculty, staff and student employees and has a set of self-paced courses geared toward working remotely, including using Microsoft Teams, overcoming virtual challenges, managing stress and being productive in your personal life.
---
FIND RESOURCES: Staff members, check out the Working Remotely resources page with links to details on human resources, business operations, financial transactions, and more.
---
HONE SKILLS: Faculty members, our Teaching Virtually resources page has an array of tools and guidance that you can use to learn more about remote teaching or further enhance your skills.
---
BE A PRO: University Technology Solutions offers faculty, staff and students access to LinkedIn Learning, an on-demand platform for skills building and training. Customize your LinkedIn Learning experience with instructional content relevant to your professional interests and goals. To get started, log in using your myUTSA ID and passphrase.
---
---
---
HEALTH

---
MORE FITNESS HOURS: Campus Rec has virtual group exercise classes every week for early risers and night owls. From Zumba to Buti yoga to boot camp, there's a class that's just right for you. Check out the full list of classes, streamed via Zoom, offered by Stay Well with Campus Rec.
---
SOLUTIONS FOR YOU: UT System's Living Well Webinars continue next week. All UTSA employees, retirees, spouses and dependents age 18 and over who are covered by the UT SELECT Medical Plan are eligible to participate.
---
PHYSICIAN VIRTUAL ACCESS: For UT SELECT Blue Cross Blue Shield of Texas members, UTSA employees and covered family members have access to MDLIVE for $0 copayment. MDLIVE lets you have a live consultation with an independently contracted, board-certified MDLIVE doctor 24 hours a day, seven days a week by online video, mobile app or phone. Even if you are not sick, activate your account now so that you can skip that step when you are actually sick and need to see a doctor quickly. Learn about how to use the service on our Human Resources page, with this MDLIVE explainer video or this instructional flier.
---
REACH OUT: Whenever you need it, assistance is just a phone call away with counseling and mental health services provided through Deer Oaks at 888-365-6271.
---
'RUNNERS CARE: Remember that Roadrunners are always ready to show that they care. The multidisciplinary Behavioral Intervention Team responds to reports of distressed and concerning behavior from students, faculty and staff. UTSA's Behavioral Concerns Assistance page has more info and will allow you to submit a report online. Both the EOS/Title IX Office and Student Conduct and Community Standards are available for consultation if you have questions or concerns prior to submitting a report. To reach SCCS during remote operations, email them at SCCS@utsa.edu.