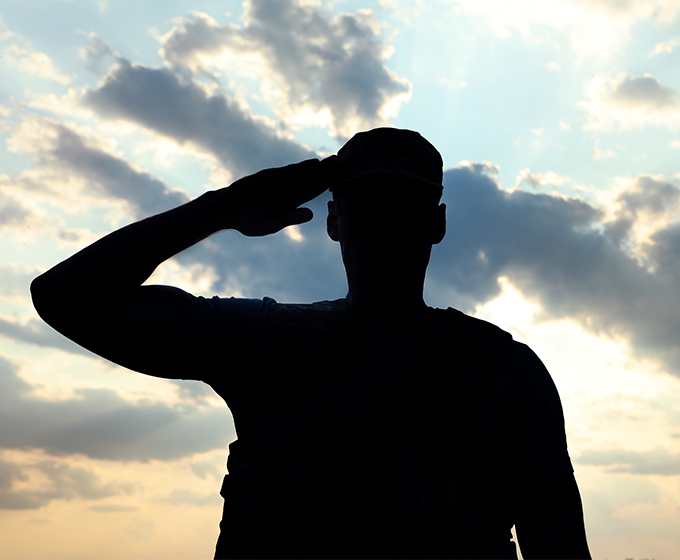 NOVEMBER 11, 2020 — On this Veterans Day, UTSA is recognizing the selfless service and contributions to our country made by veterans across the Roadrunner community—students, faculty, staff and alumni.
The university encourages its military-affiliated community to gather for the following veteran appreciation events in the coming days. Due to the ongoing pandemic, all of the events will be held in a virtual format.
UTSA Veterans Social Media Campaign
Starting on Veterans Day
All UTSA student, faculty and staff veterans and their friends and family members are encouraged to share a photo of their veterans with the #UTSAveterans hashtag.
Your Stress Ruck
Friday, November 13 at noon
Open to UTSA students, this event will identify and address the unique stressors faced by former military members and with an aim to offer skills building and solutions to manage those stressors. Your Stress Ruck is sponsored by SAFE Projects and was created by U.S. Marine Corps veteran Richelle Futch.
VMA Veteran Town Hall
Thursday, November 19 at noon
This 60-minute town hall will provide helpful information about the Office of Veteran and Military Affairs, its services, its partners and its programming. Panelists will answer frequently asked questions and more in a Q&A session.
UTSA's military-affiliated population is currently 5,179, which is a 3.9% increase from last year. This includes 1,555 who have worn the uniform (active duty, veterans, guard/reserve), 350 in Air Force ROTC and Army ROTC programs, and 3,274 military-affiliated family members.
Throughout a tumultuous year UTSA has consistently demonstrated institutional commitment to its student veterans. Operation Buddy Check was launched in August to reach out and provide social support to the nearly 1,600 student-veterans enrolled at the university. The Office of Veteran and Military Affairs and the UTSA Scholarships Hub also awarded the first scholarships for military-affiliated students this year to help recipients pay for tuition, fees, living expenses and books.
---
EXPLORE FURTHER
---
Thanks to generous donors and CARES Act relief funding, the Student Veterans Emergency Fund has provided assistance to student veterans in emergency hardship situations.
VMA has fostered social havens for UTSA's veteran population as well, assisting in the creation of a veteran affinity group called the Rowdy Warrior Military Veterans Alliance and conducting Live Chats with Vets sessions through months of digital learning. The Center for Military Affiliated Students continues to experience increased student engagements, leaping from an average of 3,200 per month before the coronavirus pandemic to 6,000 per month since March.