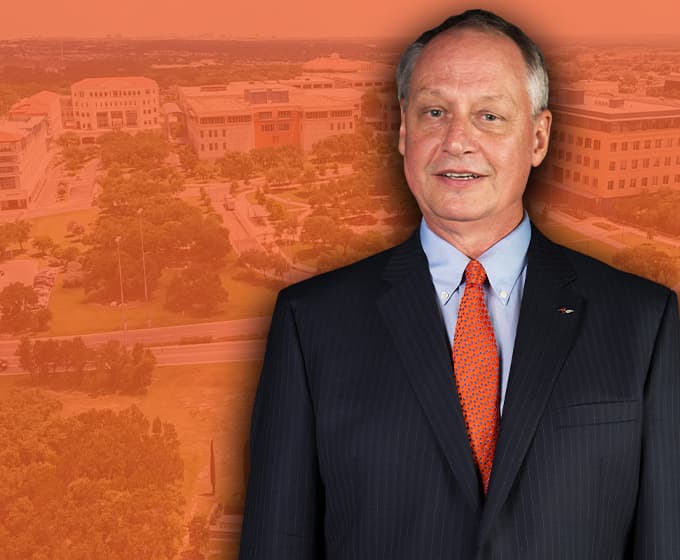 SEPTEMBER 7, 2021 — Editor's note: The following message was sent today via email from President Taylor Eighmy to all faculty, staff, students and alumni:
On August 9 I wrote to you about my intention to launch a task force to embark on a thoughtful, contextual examination of UTSA's six-year-old tradition of using the Come and Take It phrase and flag as a rallying cry at home football games. I would like to follow up with you about this matter.
Since 2016, UTSA home football games have featured a fourth quarter unfurling of an enormous Come and Take It flag across the student section, accompanied by the firing of a cannon. The last time this was used was during the 2019 season. It was not used during the entire 2020 season because of COVID-19 protocols that I had implemented.
After much research, consultation and deliberation, I am ending this rather young UTSA Athletics tradition at this time and will not be proceeding with the task force. The matter has become a distraction from our mission and is likely to continue shifting our focus away from our work yet to be accomplished. Further, we will identify the use of this phrase in our digital environment, in licensed merchandise, and in our buildings and playing fields, and will systematically and appropriately remove it.
I'd like to share the reasons why I made this decision.
The idea was first raised in 2011 in tandem with the debut of our Division 1 football program. A staff member in Athletics, turning to the historic Texas Revolutionary Battle of 1836 in Gonzales, Texas, felt the historical context around the Come and Take It phrase would offer an inspirational call for our fans and a direct challenge to our opponents. In 2013, the Mayor of Gonzales was invited to attend the Oklahoma State game and ran on the field with a smaller Come and Take It flag. The tradition was formally adopted by UTSA Athletics in 2016 prior to my arrival later in 2017.
Over the last decade, the phrase has become increasingly affiliated with cultural and political issues beyond its traditional historical context. In the time since it was last used at a home game on November 23, 2019, the phrase has been adopted by organizations and movements across the political spectrum. A simple online search of webpages, articles and images involving this phrase reveals the myriad of ways numerous organizations have adopted it for their particular cause. Many of these organizations have values and agendas that differ significantly from ours and our clear focus on excellence in intercollegiate athletics and higher education.
Since the opening of our Roadrunner Athletics Center of Excellence on August 4, I have seen this issue raise deep emotions both for and against, and even seen divisive vitriol. I especially recognize that this decision will be unpopular with many of our loyal fans.
The phrase—as well intended as it was upon inception and adoption—has increasingly become incongruent with UTSA Athletics and our institution's mission and core values. For our athletics program and our university—each with so much promise and upward momentum—there is no benefit to becoming embroiled in a divisive issue that could carry well into the future and negatively affect our progress.
Celebrating the success of our young football program is essential. As you know, the 2021 season is a special one—we are celebrating the 10th anniversary of our program. We know that our football team and our fans deeply appreciate a rousing start to the fourth quarter. For each home game this season, we will conduct special celebrations of the individuals and groups that have made our young football program such a success. We look forward to recognizing the former staff, players and community members who have contributed greatly to the early achievements of our program. More information about these fourth quarter celebrations will be announced later today by UTSA Athletics.
I am also charging Lisa Campos, vice president for intercollegiate athletics, to work closely with our football team and staff, our Athletics Department staff, our students and Student Government Association, our Staff Senate, our Faculty Senate, our Alumni Association and others to bring forward a new fourth quarter rallying focus to debut in our fall 2022 season. We have an opportunity to create an important tradition embraced by all Roadrunners. It can eventually join our very cherished and long-standing traditions that reflect our institution and Roadrunner community.
Educational institutions such as ours prepare students to learn, to be community engaged, and—in short—to graduate and change the world. Everything we do as a university is based on our strategic plan and initiatives and especially relies on our core values, our mission, our vision, our destinations and our commitment to inclusivity. Our trajectory is bright, our importance to our community has never been more important, and our path forward must continue.