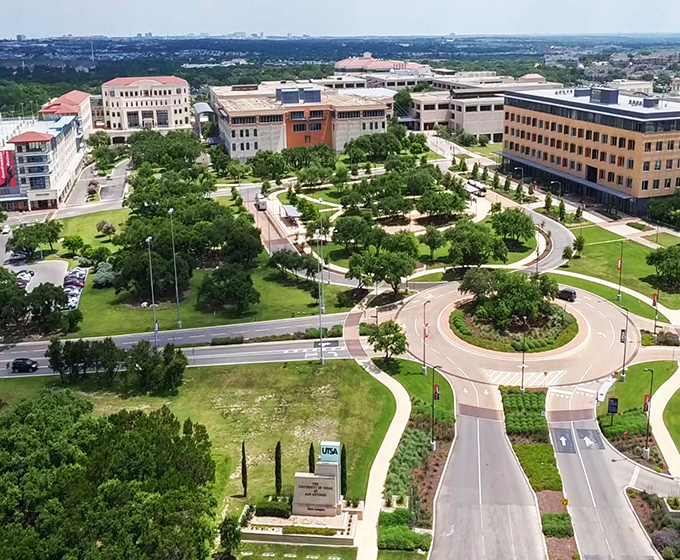 AUGUST 1, 2022 — Editor's note: The following message was sent today via email from President Taylor Eighmy, Provost and Senior Vice President for Academic Affairs Kimberly Andrews Espy and Chief Financial Officer and Senior Vice President for Business Affairs Veronica Salazar to all faculty, staff and students:
Those of you who have been following the news and keeping an eye on local COVID-19 case numbers have likely seen that Bexar County's community risk level has remained elevated in recent weeks. The current Omicron BA.4 and BA.5 variants are highly transmissive, but the impacts to local hospitals remains low at this time. As we prepare for the fall semester, we look forward to starting classes according to their scheduled modality as listed in ASAP, and we'd like to reassure you that the health and safety of our students, faculty and staff remains our highest priority.
University leadership—in collaboration with Recovery Operations, San Antonio Metro Health and the UT System public health experts—has been continually and carefully monitoring our local community risk level to ensure we make informed decisions to keep our Roadrunners safe. Additionally, we hope you will continue to do your part to protect yourselves and those around you.
What You Can Do
We strongly urge all Roadrunners to get vaccinated for COVID-19 and stay up to date on boosters. Vaccination is the most effective way to protect yourself against severe COVID-19 infection and to protect your friends, loved ones and community. This fall, on-campus vaccine clinics will be held each month in the Student Union Denman Ballroom. COVID-19 vaccines are also readily available at numerous convenient local vaccine providers.
Wearing a mask is one of the easiest ways to prevent the spread of COVID-19, and we encourage all Roadrunners to do their part by masking up. The CDC recommends those in areas with a high COVID-19 community level wear a mask while indoors in public. Masks will be available at various high-traffic locations throughout campus, and signs will be in place to mark these free disposable mask stations.
Additionally, please continually monitor your health. If you are experiencing COVID-19 symptoms, you should stay home from work or class, minimize contact with others and get tested as soon as possible. Testing is available on campus, at local testing sites and via at-home test kits. You should also get tested if you have been in close contact with a confirmed COVID-19 positive person, and follow the CDC's quarantine and isolation protocols as they apply to you.
If you have a high-risk exposure or are tested for COVID-19—especially if you test positive—be sure to submit a COVID Case Report. Information obtained from case reporting helps the COVID Response Team provide you with valuable quarantine and isolation guidance and take operational action to help stop the spread.
Finally, remember that flexibility and understanding are key to supporting our campus community. Staying home from class or work when you are sick can be disruptive to our daily lives, but it is necessary to protect the health and safety of our fellow Roadrunners. Students are expected to attend and participate in class activities; however, when students are unable to attend class in its scheduled modality (whether in-person, remote or hybrid) due to illness or isolation, we ask faculty to allow reasonable accommodations to complete assignments or take examinations, per HOP 5.09. When appropriate, supervisors should offer remote work options to employees who cannot come to campus. Similarly, students or employees who need to stay home should promptly communicate this information to their instructors or supervisors.
What We'll Keep Doing for You
From the start of the pandemic, UTSA has maintained a proactive approach to protecting the Roadrunner community, providing resources for testing, vaccines, quarantine and isolation guidance, and case reporting. Our COVID Response Team works hard to keep the Confirmed Cases Dashboard up to date, fulfilling our commitment to transparency and ensuring that the valuable data obtained from case reporting is put to good use.
We are also closely monitoring the recent monkeypox outbreak and will continue to work closely with public health colleagues at UT System, UT Health San Antonio and San Antonio Metro Health to stay apprised of the situation as it develops. As with our pandemic response, we are committed to making the best and most informed decisions for the safety of our Roadrunners. We will keep the campus community informed as more information becomes available. For any questions regarding monkeypox, students can contact Wellness 360. Faculty and staff should contact their physician.
UTSA's pandemic response has been robust and effective thanks not only to the hard work of our experts and COVID Response Team, but also because of our commitment to shared governance. Our campus governing bodies, including Faculty Senate, Staff Senate and the Student Government Association, continue to provide valuable collaboration and insight.
We'd like to thank all of you for your continuing support and dedication to campus health and safety.