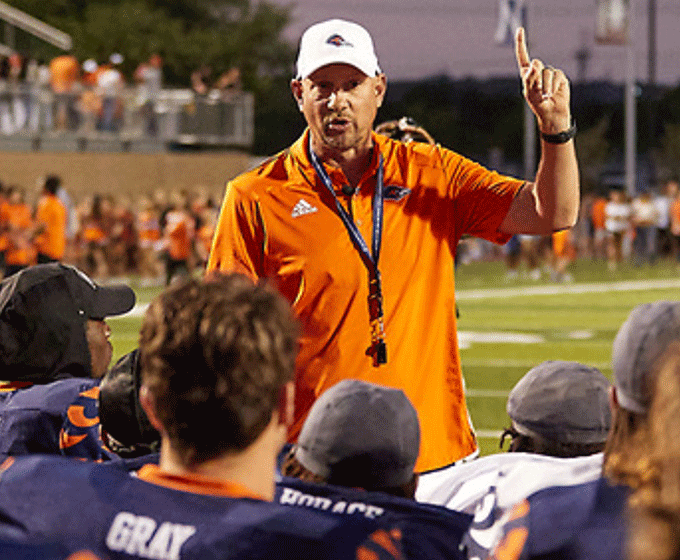 AUGUST 30, 2022 — Winning any championship is a difficult task to achieve, but winning back-to-back championships is essentially a herculean feat in the sports world. No team has won two Super Bowls in a row in nearly two decades. The 1998-2000 New York Yankees were the last team to earn back-to-back World Series titles. Even San Antonio's beloved Spurs, who have won five NBA world championships since 1999, never hoisted the trophy in consecutive years.
This is the challenge and opportunity in front of UTSA football coach Jeff Traylor. In the zenith of a magical 12-win season in 2021, the Roadrunners won the Conference USA championship before a thundering Alamodome crowd. Now, they have their sights set on doing it all over again.
While five starters from last year's UTSA team are now competing for roster spots on NFL teams, the good news is that seven players on UTSA's 2022 roster are on preseason watch lists for national college football awards. The media that covers Conference USA football seems to think the Roadrunners will win a second consecutive conference championship.
With the new season starting on Saturday, Traylor spoke with UTSA Today about the challenges ahead and the blessing of coaching brilliant leaders on both sides of the ball.
The following interview has been edited for length and clarity.
Leading up to the conference championship game last season, businesses around San Antonio put up orange lights when they'd normally be putting out their Christmas displays. How did it feel to see San Antonio really embrace UTSA Football in such a meaningful way?
That's what we've dreamed of since I took the job. You can go back and watch my original press conference in December of 2019. I said that we wanted to be the football team of San Antonio. It's the seventh-largest city in the country, there's no pro football team and we're the only FBS college football team in the city. We really wanted to capture the city's attention and I'm really happy for my kids that they got to see the fulfillment of that.
We just hope the momentum continues and we can stack another great year. We've had two great years in a row—let's go get a third one.
Thinking about guys like Barry Alvarez at Wisconsin, Bill Snyder at Kansas State and Frank Beamer at Virginia Tech—they all brought those programs to new heights and left an indelible legacy at those universities. It really sounded like that's what you wanted, to be the coach that really puts UTSA on the map. How much did that influence your decision last fall to take the 10-year contract extension and reaffirm that commitment to UTSA?
Dr. Campos and President Eighmy anticipated that I was going to get some heavy looks from other universities trying to hire me, but I expressed my interest in wanting to be here long-term and they reciprocated by offering me a 10-year contract. I just know that whenever you're trying to grow as fast as we are, and you're as "young" as we are, there are going to be some bumps in the road. And I wanted that security to know that when some of those bumps come, we'd be able to persevere through it with my coaching staff and my strength staff. There are a lot of people counting on me to keep a job.
Moving up to the American Athletic Conference is going to be a big bite. Once we get that figured out, we hope there's another big bite coming. We want to be the ones that help manage this program through all of that, and make the program as good as it can be.
What are the biggest challenges to repeating as Conference USA champions and how are you mentally preparing the team for those challenges?
First, there's the psychological aspect of it. Now we're the hunted. Now people have expectations for us, and that's different. We've never had those expectations before. We were picked to finish in last place my first year at UTSA. We were picked towards the top last year, but not first. And now we're picked to win the conference by some polls and some voters this year. That's going to be a different challenge psychologically.
Second, we lost a lot of great players from last year's team. Clarence Hicks is with the Cincinnati Bengals right now. Charles Wiley is with the Baltimore Ravens. Tariq Woolen was drafted by the Seahawks. We lost our starting left tackle Spencer Burford to the 49ers and Sincere McCormick is with the Raiders. Antonio Parks is now a coach for us. We lost Jaylon Haynes and Lorenzo Dantzler from the defensive line. We lost our tight end Leroy Watson. We had a really good football team and we've lost a lot of those players.
Our motto this year is "The bull don't care." Tuff Hedeman was a three-time world champion bullrider and a bull named "Bodacious" absolutely messed him up. Tuff said, "The bull don't care that I rode him last week." It's the same thing with us. No one cares that we won the conference championship last year. We have to find a way to be the very best team we can be this year, and we have to figure out what that looks like.