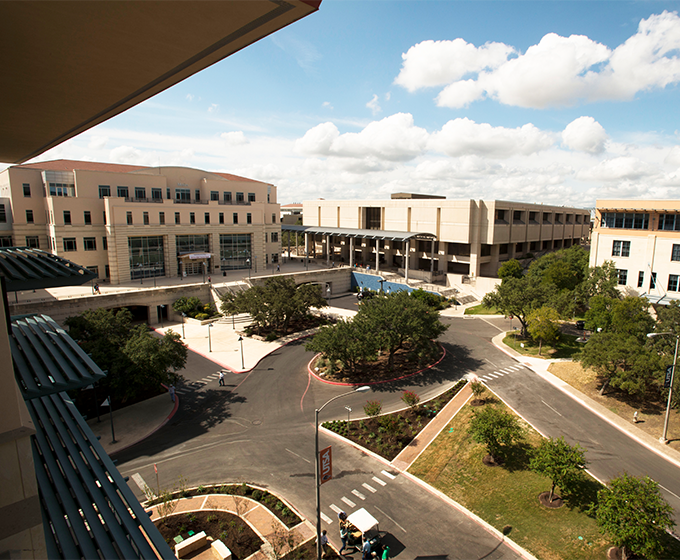 SEPTEMBER 30, 2022 — Editor's note: The following message was sent via email today from President Taylor Eighmy and Senior Vice Provost for Student Affairs and Dean of Students LT Robinson to all faculty, staff and students:
October is Domestic Violence Awareness month and an opportune time to reaffirm UTSA's zero-tolerance environment for sexual assault and misconduct. We're writing to share important information all Roadrunners should know, and the many ways you can get involved in our efforts to prevent domestic violence.
Educate Yourself: Prevention Programming
This October, UTSA is rolling out several events and learning opportunities regarding consent, sexual violence prevention, bystander intervention and healthy relationships. We hope you will take advantage of these programs to expand your personal toolkit.
Of special note, we hope you'll join us for Take Back the Night at 6 p.m. on Tuesday, October 18, in the Sombrilla Plaza for a night of music, poetry and a march around campus. Part of our annual Homecoming festivities, this event is a time for our community to gather in solidarity, show support for survivors and advocate to end violence.
Looking ahead, we are proud to report that UTSA recently received a three-year, $300,000 grant from the U.S. Department of Justice (DOJ) for programming aimed at reducing incidents of domestic violence, dating violence, sexual assault and stalking among college-aged students. The grant will enable us to expand our existing victim advocacy efforts and to develop new programs to prevent sexual violence.
Additionally, on Saturday, November 12, we will mark UTSA's annual #SetTheExpectation football game in partnership with Brenda Tracy, sexual assault survivor and founder of the national Set The Expectation campaign. We are proud of the fact that UTSA was the first university in the nation to implement the Tracy Rule, the most comprehensive Serious Misconduct rule in the NCAA. 
Green Dot Bystander Intervention Training
Green Dot is a nationally recognized anti-violence initiative aimed at decreasing and preventing the occurrence of power-based personal violence. Sign up now to participate in a Green Dot training on Friday, October 7 at 1 p.m.
Advocacy Services in the PEACE Center
UTSA offers a variety of advocacy resources to foster the wellbeing of students in line with the U.S. Department of Education's Title IX requirements. A student advocate in our PEACE Center is available to assist students who have been victims of sexual violence, and can provide crisis intervention, safety planning, reporting option education and emotional support. Students do not need to report incidents to authorities in order to receive assistance from the student advocate, and all meetings and services are confidential. Staff in Student Assistance Services serve as the respondent advocate in compliance with Title IX regulations.
How to Report and Find Support
UTSA has multiple options for Roadrunners wishing to report acts of sexual violence or misconduct. These include:
In addition, students may visit the student advocate for support.
As an important reminder, faculty and staff are required to report any disclosure of sexual violence to the Title IX coordinator. Therefore, it is important to tell students about your obligation to report prior to hearing a disclosure. We encourage you to review the resources available on the Equal Opportunity Services website and familiarize yourself with referral options on the Safe Campus website.
Get Involved
We are proud to be counted as an institution dedicated to the complex work of combating sexual violence, and value UTSA's participation in the Culture of Respect. These efforts are led by a Campus Leadership Team, and they are currently recruiting new members. If you are interested in promoting campus-wide sexual violence prevention, let us know.
We are deeply grateful for the dedication and focus that our entire university commits to this vital work, and we hope to see you at some of our upcoming awareness month events.