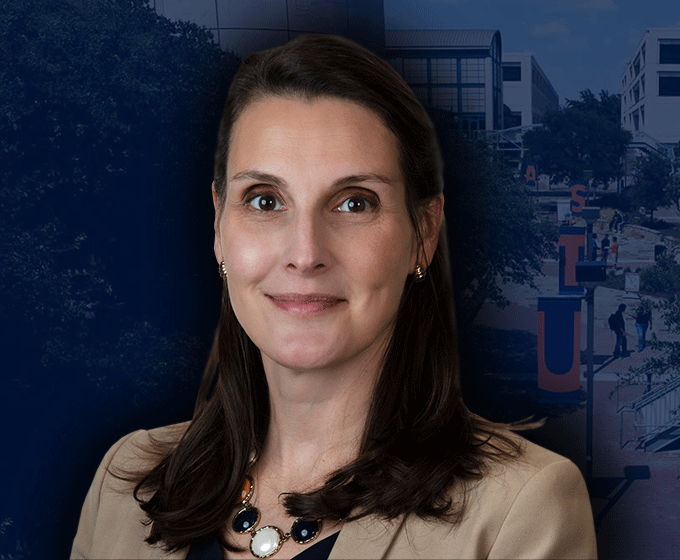 AUGUST 22, 2023 — Editor's note: The following message was sent today via email from UTSA Peter T. Flawn Chair and Interim Provost and Senior Vice President for Academic Affairs Heather Shipley to all faculty and staff:
As we start a new academic year, I want to extend a warm welcome and hope that you got a well-deserved break this summer. The fall semester brings with it excitement as we welcome new and returning students, faculty and staff. It's a time to come together as a community of dedicated faculty and staff, ready to inspire and empower our students to reach new heights of knowledge and personal growth.
Academic Affairs Leadership Changes
This summer brought changes to our Academic Affairs leadership. While it was bittersweet to bid farewell to Provost Kimberly Espy after five successful years, we were excited to celebrate her appointment as president at Wayne State University. We are thankful for her leadership in getting us to this place. I am excited to build upon the great work we have achieved and to continue the momentum to our future goals.
Outstanding New Faculty
I would also like to extend an enthusiastic welcome to the nearly 100 new full-time faculty members who have joined our professional community. This group of tenured, tenure-track and full-time fixed-term-track faculty bring their talents to UTSA from prestigious institutions across the globe. Of this fall's 46 incoming tenured and tenure-track faculty, an impressive 87% received their terminal degrees from Carnegie R1 research institutions, which is the highest percent of all recent cohorts. The expertise of new faculty members such as Erika Tatiana Camacho, the inaugural holder of the Manuel P. Berriozábal, Ph.D. and María Antonietta Berriozábal Endowed Chair and professor in the UTSA College of Sciences' mathematics and neuroscience, developmental and regenerative biology departments, will help us reach new levels of academic excellence and enrich our academic landscape.
The first in her family to graduate from high school and a first-generation college student, Dr. Camacho graduated magna cum laude with a B.A. in Mathematics and a B.A. in Economics from Wellesley College. She earned her master's and Ph.D. in Applied Mathematics from Cornell University. Most recently she served three years as a program director at the National Science Foundation (NSF), where she supported several of its programs that advance racial and gender equity in STEM disciplines, including the ADVANCE program, the Racial Equity in STEM Education program, and the Hispanic-Serving Institutions (HSI) Program. Prior to her work with NSF, Dr. Camacho spent 16 years at Arizona State University, most recently as a professor in the School of Mathematical & Statistical Sciences.
I am excited to get to know the stories of each of our outstanding new faculty members and work to support them and all our faculty throughout their UTSA careers.
New Academic Affairs Leadership
At UTSA, we've always touted that our faculty and staff are exceptional, and we are even more proud when the most talented candidates for open leadership positions come from within our ranks. This fall, we're excited to start the year with several new home-grown leaders in place and congratulate them on their new roles:
Exciting New Programs
In addition to new faces, we also start the fall with several new degree programs:
By growing our academic offerings, we can provide opportunities for UTSA students to gain the valuable knowledge and skills necessary to meet the growing needs of our community.
Continuing our Charge
As we begin the fall, we continue to make strides in our Classroom to Career initiative. By aligning our strategies with the workforce needs, bringing experiential learning into the academic experience, expanding college going to adult learners and improving readiness by linking workforce credentials to learning experiences, UTSA students gain an advantage to their bold futures. We have introduced experiential learning maps this fall to guide our students in planning experiential learning experiences to explore disciplines, reflect on the career-relevant skills, get hands-on experience in preparation for jobs and graduate programs and to see career paths available in their area of study.
We also continue the work of President Taylor Eighmy's charge to "Advance a Culture of Respect and Accountability" by becoming a premier university where graduate and postdoctoral students can thrive academically and emotionally and reach their potential as fellows and researchers. This summer UTSA Academic Affairs released a report and action plan for implementing best practices for faculty mentoring graduate students and postdoctoral researchers that is commensurate with the university's classification as a Carnegie R1 university. We remain committed to growing a culture of continuous improvement so that UTSA can continue to recruit and support the best graduate students and postdoctoral researchers and prepare them to be leaders in their fields.
Looking Ahead
With a new academic year comes new possibilities. I encourage everyone to take advantage of the resources, tools and training that the university offers. For faculty, Faculty Success, Academic Innovation, and Research, Economic Development and Knowledge Enterprise offer resources that aim to enhance your teaching methodologies, promote interdisciplinary collaboration and provide you with the necessary tools to excel in your respective fields. For all employees, People Excellence offers opportunities for training and webinars in class and online through MyTraining. All UTSA faculty and staff have access to training in a wide variety of subjects through LinkedIn Learning at no cost. Benefits-eligible employees and their dependents can find services through the Employee Assistance Program and UTSA employees have access to wellness resources that empower and encourage choices and changes that lead to a balanced, healthy lifestyle. I encourage you to actively participate and take advantage of these resources to further enrich your professional and personal journey.
Wishing you a successful and fulfilling fall semester!