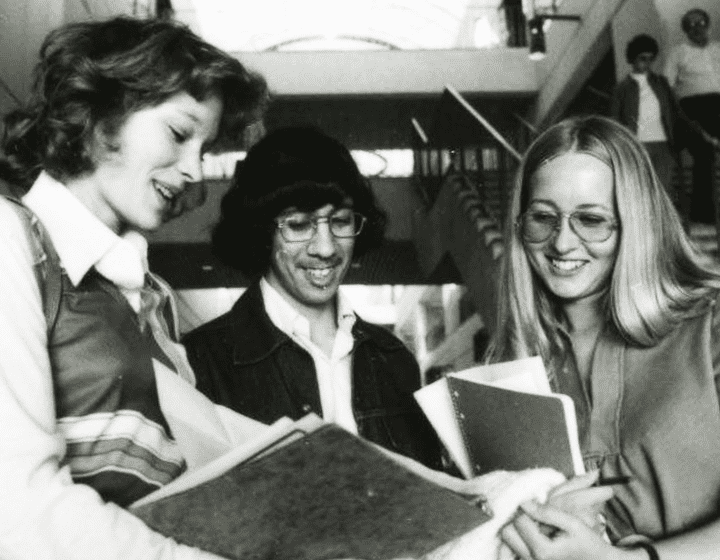 Two UTSA students show first freshman Gino Chincarini around the new campus.
First Freshman
A San Antonio high school senior becomes the first lowerclassman to be accepted to the university
[ This article was originally published in UTSA newsletter The Discourse in March 1976 ]
UTSA President Peter T. Flawn has announced the admission of UTSA's first freshman. He is Gino Chincarini, an 18-year-old senior at Alamo Heights High School in San Antonio who plans to earn a degree in accounting.
Although UTSA will begin offering classes for freshmen and sophomores this summer [1976], Chincarini doesn't plan to enter the university until next fall. He'll spend the summer working in his father's TV repair business. "I hope to save enough money to buy a car," says Chincarini, who is working part-time with his father now. He plans to live at home and continue with the part-time job while he's attending UTSA. He hopes to graduate in 1980.
At Alamo Heights High School, Chincarini has been on the honor roll all year, belongs to the math club, and has run track. He likes rock music, collects stamps, and wears blue jeans most of the time.
He applied to UTSA last December—as soon as the applications for prospective freshmen were available. He applied early at the urging of his older brother, who earned a degree in accounting at UT Austin.
Mr. and Mrs. Armando Chincarini, who have four sons—two older and one younger than Gino—say that their son's decision to attend UTSA was his own. "After all," says Mrs. Chincarini, "he's the one who has to do the studying."
---