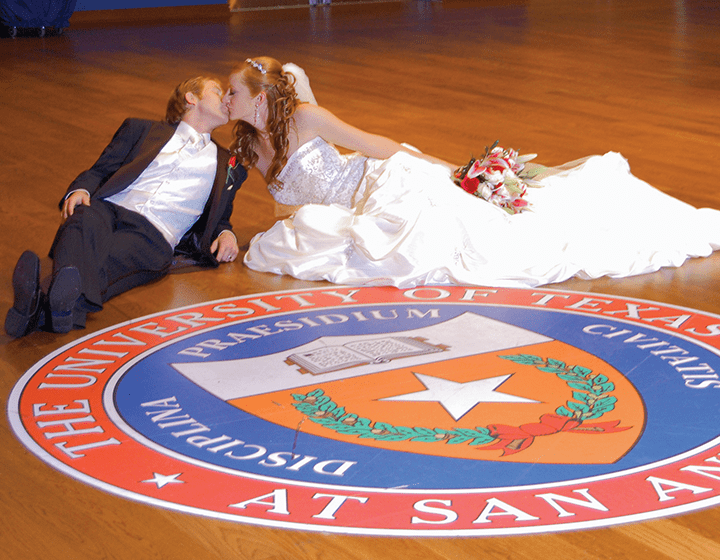 Tim Mazzanti and Ashley Starkweather hold their wedding reception at UTSA.
Place for Romance
Love has been known to blossom and grow at UTSA
It's not hard to imagine that a university campus would be a place for romance to blossom between people who study with each other and go to class together several days a week.
Back in 1974 the University Communications team photographed a couple of these pairings that were touted to be the first sparks at UTSA that resulted in couples falling in love and eventually marrying. The first was Norma Jenkins and Jerry Bingham; the second pair was Elizabeth Pampa and Joe Garza.
Celebrate UTSA-style
During Ashley Starkweather's first semester at UTSA and Tim Mazzanti's last, they met in a class that Mazzanti had delayed taking until the end of his program. They attended basketball games together and were both actively involved on campus. Starkweather was a member of the dance team and Mazzanti was a founding member of the Blue Crew, a group that paints themselves and shows their spirit at games.
In 2009 the new H-E-B University Center addition was open, and Starkweather was able to sneak a peek of the ballroom during a study session. Now, in the H-E-B Student Union a plaque marks how the couple used the ballroom as the location of their wedding reception that same year and became the first Roadrunners to celebrate their marriage on campus.
Bridge of Love
Open to kindle your own campus romance? University folklore has it that two UTSA students fell in love on the bridge that connects the Arts Building to the Flawn Sciences Building. Based on the couple's romance, it became known as the Bridge of Love, according to the 1997 book UTSA Uncovered, which set the scene at "more than 20 years ago."
The legend says Julie, an undergraduate art student, and boyfriend Jason met, fell in love, separated, and then fell in love all over again on the bridge. The two were separated when Jason got drafted and left Julie a note, only to return a year later and surprise her with a proposal.
Reportedly, the bridge where Julie and Jason met still produces luck for budding romantics.
---
---