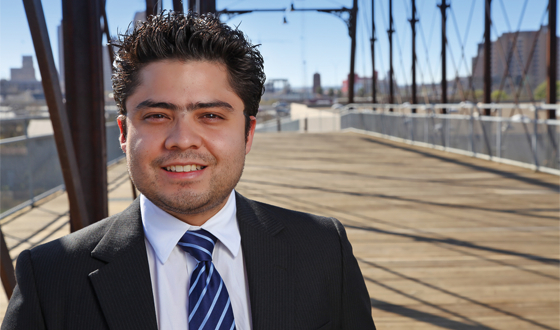 Bridging the Gaps
Dr. Arturo Montoya's research may be about suspension bridges and the material components within, but he also has begun constructing bridges between himself and his students, and creating a bridge in research with colleagues within the College of Engineering.
Montoya, who grew up in Tegucigalpa, Honduras, does not truly think of himself as an international scholar; he's spent the last 11 years in the United States, studying in both upstate New York at St. Lawrence University, close to the Canadian border, and in New York City, at Columbia University.
He's found in the UTSA College of Engineering a place that is collaborative and welcoming to a new researcher and assistant professor. He has discovered that his research crosses over with work in the department of mechanical engineering and Dr. Harry Millwater's mechanical engineering studies.
"It's the same research methodology applied to different structures," Montoya explains. "Both bridges and aircrafts experience a large number of stress cycles over their lifetimes."
Montoya expected to be focused on his research while at UTSA, but he's found an unexpected love for teaching and the students. He thinks the students might appreciate him being a freshly minted Ph.D. Not so very long ago, he was sitting in the lecture, not up front teaching it.
"I guess I identify with the international students," he says. "They come and ask me questions about Ph.D. applications; I'm glad to help them."
He began his bachelor's degree at St. Lawrence University on scholarship, and then completed his engineering coursework at Columbia University in New York City, where he earned a scholarship to do his master's and doctoral work.
Montoya wanted to focus on research after earning his doctorate. When his advisor at Columbia saw an email about an opening at UTSA, Montoya decided to give it a try.
"It was just perfect; San Antonio, that is a vibe very similar to home," he says. "UTSA is trying to establish connections with Honduran universities. The signs were all there."
His ability to connect with students extends beyond the international population.
"I try to teach skills that they can take out of class, I try to apply real-world problems to the theory," he explains. "My teaching can be very theoretical, so I try to do big picture, then details, then where we will end up.
"I love the one-on-one interaction that you get with the students, especially during office hours," he says. "You get to see if they really get it."