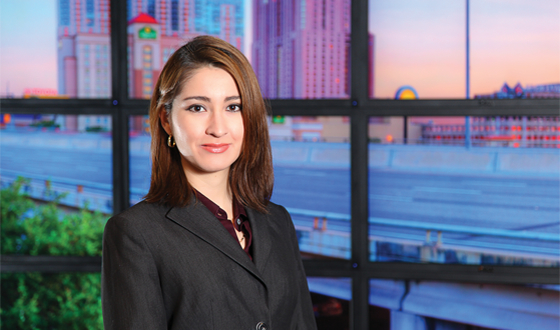 Engineering Trailblazers
One example can change the course of a life.
When Dr. Krystel Castillo was a young girl studying in Mexico, her class was visited by a dean from Monterrey Tech in Monterrey, Mexico. A dean of engineering. A female dean of engineering.
That visit offered Castillo the moment when she could see her future: By meeting a trailblazer, a female leader in a science, math and technology-heavy field, Castillo decided early in her life she wanted to become one, too.
"There is a strong correlation between increased female faculty and increased likelihood of female students majoring in the STEM (science, technology, engineering and math) fields," she explains. She was influenced positively by the female dean from Monterrey Tech; that early example revealed the possibilities.
Castillo has since earned two doctorates, one from Monterrey Tech, Campus Monterrey and one from Texas Tech University. She is a specialist in supply chain modeling and optimization, logistics, transportation, process optimization, and quality control and reliability. Throughout her academic career, she has valued international diversity.
"A diverse team is a more creative team," Castillo says. "Diversity can create a climate of miscommunication, but you can develop and create an environment that embraces differences and encourages diverse thinking. The benefits are clear: innovative and high-quality research."
In her first year at UTSA, she has put her beliefs into practice. An international faculty member herself and the first female Hispanic faculty in the Mechanical Engineering Department, she has been recruiting students who are underrepresented in STEM fields for her research team. She seeks out the female engineers, the international students, Hispanics, and other minorities.
"I'm very excited in being able to create a culturally diverse climate, both in my classroom and at my research group at UTSA," she adds. "I'm very proud to be a researcher at a Hispanic-serving institution like UTSA. Several Hispanic students have asked to join my classes because they identify with me."
From her fall class, she invited and added students to her research group focused on supply chain and logistics modeling, quality control and reliability which includes applications in energy, sustainability, transportation, aerospace and manufacturing industry.
Castillo came to Texas to study at Texas Tech, but now she believes it is time that she is the trailblazer, the inspiration, for her students: "I just felt it was time to give back to the community and serve the city of San Antonio."