Student Profile: Ogechukwu Madu
Electrical Engineer

| Houston, TX | Age 21 | Senior

What brings you to UTSA?

I was cap student and was supposed to transfer to UT but I was getting a good amount of financial aid here so I decided to stay, and I just really liked it here.

Why did you want to be an engineer?

When my family first bought a computer, I took it apart to see how it worked. Ever since then, it just felt right to be an engineer.

What's your favorite class?

My favorite class was digital system designs with professor Lee. He made the class fun, and I enjoyed designing different circuits.

Other than engineering, what else do you do?

I am involved in cheerleading at UTSA. My friend and I got an email from the coach and the email said they were looking for "big dudes." So my friend went to check it out and told me it was pretty cool. I joined and really enjoyed helping the girls with their stunts and stuff.

What sort of tricks or stunts can you do?

I can do a backflip, but that's about it really.

What other organizations are you in?

I am in the Institute of Electrical and Electronics Engineers (IEEE) and National Society for Black Engineers (NSBE).

Have you had any internships?

One fall I had a co-op with Toyota engineering. One of the things I learned while there was to write everything down that I would do for the day. And I took that skill and applied it to my everyday life. I still use it now, and it really helps. I've also done an internship with ST Aerospace. From that internship I learned a lot more about airplanes than I ever thought I'd know. It was a lot of hands-on type of stuff.

What would be your dream job?

My dream job would probably involve being the manager of a reputable engineering company and overseeing a lot of the aspects of the job.
---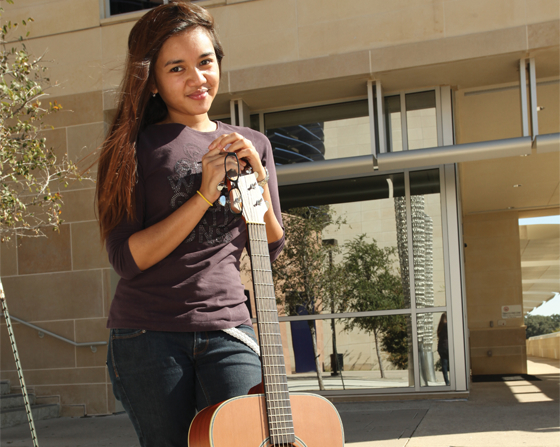 Student Profile: Rani Putri
Electrical Engineer

| Indonesia | Age 20 | Senior

Where are you originally from?

I was born in Jakarta, Indonesia and then my family moved to Sumatra where I lived for 16 years. I've also lived in Saudi Arabia, Houston and California. I came to UTSA as an international student because my friend suggested it.

What made you choose UTSA specifically?

I'd never heard of UTSA before, but my friend told me she went to UTSA and that she really liked it. I went to the UTSA website and saw how great the school was and after more research I found out that the engineering program was really good as well, so that's why I came to UTSA.

Why did you want to be an engineer?

I took an electrical engineering class in Indonesia and I enjoy electrical things. I like all the resistors and stuff. Initially, I wanted to study psychology but my dad convinced me to do engineering.

What's your favorite class?

I would say Lab One was my favorite class because I got to experience hands-on type of stuff. It didn't involve a lot of calculations, there weren't any integrals or derivatives. We built transformers, and I liked building the circuits and everything.

Other than engineering, what else do you do?

I play trumpet, guitar, piano and violin. I also started singing when I was a little girl. I got my first guitar in elementary school after I saw my friend with one and I thought it was cool. I am more or less self-taught with the guitar and piano, but learned the trumpet in marching band and I took lessons to learn how to play the violin.

Which is your favorite instrument?

The guitar is my favorite instrument. I just take my guitar with me everywhere.