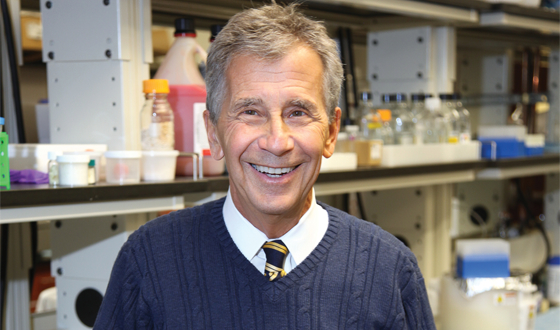 The Gift of Engineering
Dr. Norman Jacobson is no novice when it comes to entrepreneurship or philanthropy. He is a past CEO of the Healthcare and Information Management Society (HIMS), a US not-for-profit organization dedicated to promoting a better understanding of health care information and management systems, and he is also the founder of Humana's hospitalist program in San Antonio. Currently, Jacobson is a real estate partner and investor with fellow philanthropist Jim Bodenstendt.
Along with Bodenstedt, Gene Dawson, and Buddy Swift, Jacobson serves as a Director of the Roadrunner Foundation, which supports UTSA Athletics. Through the foundation, Jacobson has donated more than $128,000. And in December of 2012, he personally pledged another $250,000, which was matched by HEB to total $500,000, to establish the Jacobson Distinguished Professorship of Innovation and Entrepreneurship for the College of Engineering.
The Jacobson Distinguished Professorship of Innovation and Entrepreneurship is expected to change the face of entrepreneurship in our region. The endowment will not only bring a leader to UTSA who will expertly guide young entrepreneurs, but it will also provide financial resources that can be used to encourage students' success in their technology entrepreneurial endeavors, making San Antonio a hub for new business activity.
"It was important to donate to UTSA Engineering because I wanted to honor the leadership of my associate, Jim Bodenstedt. I also wanted to return to the community that has been so kind to me, and I particularly, wanted to highlight the important, innovative, and productive performance of the College of Engineering spearheaded by Dr. Agrawal," Jacobson said.
Jacobson sees his donation as vital in helping UTSA reach Tier One status. He believes contributions like his can help attract the resources necessary to bring in top-notch faculty and students. And these newfound resources carry enormous spin-off opportunities for the University and the city.
"It's a tedious and incremental process to achieve credibility and acclaim, but the effort is worthwhile and the rewards, at all levels, are good for the university and the city," Jacobson explained.
Although he isn't a UTSA Engineering graduate, Jacobson sees value in the work being done here. He's visited with the students and faculty on several occasions and knows the caliber of research taking place.
"Its dynamic growth and commitment to teaching and practical application of learning and invention impresses me the most about the college," Jacobson adds. "My interaction with the students has awed and inspired me, and raised my enthusiasm for supporting the college."