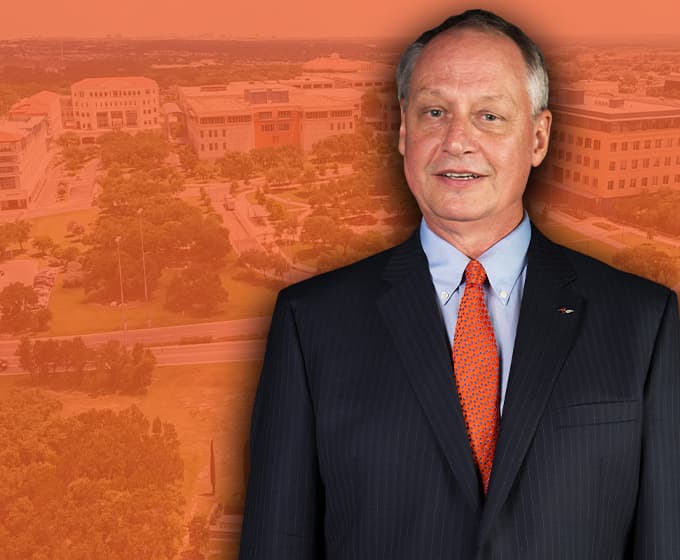 SEPTEMBER 8, 2020 — Editor's note: The following message was sent today via email from President Taylor Eighmy to all students, faculty and staff:
I hope that you have settled in to the fall semester and are enjoying the sense of discovery that comes with a new academic year. I am truly amazed by how far we've come since March and our ability to rapidly adapt the ways we learn, live, teach, work and research—with truly remarkable results. I can't overemphasize how proud I am of our community for persevering through the upheaval of the past six months brought by the pandemic.
Collectively, we are navigating this challenge with remarkable resilience. I know it hasn't always been easy, but I continue to have great faith that we—as a community and a university—will come out stronger and better on the other side.
---
"We are modeling the university of the future."
---
---
In the meantime, we march forward. Our tactical teams continue their work to guide UTSA through our "new normal" and into a new era for higher education. From our innovative course delivery approaches to our momentum around retaining and graduating more students to our thriving research enterprise, we are modeling the university of the future.
Progress and Bold Next Steps
I'm happy to report that UTSA continues to make great strides toward our destinations, creating bold futures for our students, for San Antonio, for Texas and beyond. Several of the initiatives we launched over the past year are coming to fruition, and we have some exciting new efforts on the horizon:
UTSA's Reaccreditation and Quality Enhancement Plan: On the heels of our successful accreditation site visit this summer and as a part of the implementation of our Classroom to Career initiative, we are moving forward with bringing our next Quality Enhancement Plan to fruition. Career FUEL (Find Understanding through Experiential Learning) will involve programming to enhance our students' career readiness and marketable skills through experiential learning.
Graduate Student Success for Faculty Excellence: The task force behind this initiative has completed its report and work will commence to implement recommendations, including enhancing our approaches to admissions, graduate assistantships and funding packages, academic programs, postdoctoral training and much more.
Integrated Design Initiative: Our task force has completed the first phase of their work exploring identity, community engagement and benchmarking, and they are now developing various organizational structures for our new college that will be the administrative home for our programs in architecture, construction, planning and engineering.
Academic Success District: Following the recent completion of the Student Success Center advising complex, this new initiative will increase the visibility and navigability of key academic support areas and create new collaborative learning environments for our students and faculty.
Promoting Equity Advocacy: Later this month we will formally launch our Equity Advocacy Initiative, which will be guided by Provost Espy with support from our college and division leadership, and builds from our 21st Century Learning task group report. This initiative, which will include specific efforts led by the academic colleges and divisions, will focus on connecting our commitment to diversity and inclusion with our academic programs, core curricula and degree pathways to define the Roadrunner student experience.
Faculty Strategic Hiring: We welcomed a new cohort of outstanding faculty to UTSA this year, including five new department chairs and many who were recruited through our strategic hiring programs. Of the 64 new tenured/tenure-track faculty who joined the university this fall, 86% earned terminal degrees at Carnegie R1 institutions—some of the most prestigious universities in our nation. More data on this stellar group will be shared in the coming weeks.
Over the past 18 months we launched several important campus initiatives to address fundamental aspects of our campus culture. You can expect updates in the coming weeks from campus leaders overseeing our efforts around Preventing Sexual Assault & Misconduct, Inclusive Excellence and Enriching Campus Wellbeing.
In tandem with these vital initiatives are some related upcoming activities and announcements, including new institutional statements on inclusive excellence and land acknowledgement, a campus climate survey for faculty and staff (with plans to administer a student survey this spring), and ongoing work around community/UTSA Police partnerships.
Soon we will also release details around our December commencement celebration. Given continuing COVID-related uncertainties, we will hold December commencement virtually, as we did last spring, on Saturday, December 12. Students who graduated in May 2020 and those graduating this December will have an opportunity to walk in a future in-person commencement ceremony at the Alamodome. I am firmly committed to ensuring all our 2020 graduates have their special moment to "cross the stage" just as soon as we can conduct this large ceremonial event in a safe manner.
Looking Ahead to Spring 2021
While the evolution of the pandemic continues to be a moving target, our planning for the spring semester cannot wait. At this point we expect that modalities for our spring courses and campus operations will look very similar to this fall—mostly online. When registration for spring 2021 launches in a few weeks, the course modality listed in ASAP will reflect how each course is expected to be delivered when we return after break in January.
That said, our plans are adaptable and may adjust as we draw closer to the end of the calendar year, depending on current COVID-19 conditions at that time. Just like this fall, we will keep you updated as our plans evolve and new information becomes available.
Finally, I want to offer my deepest appreciation to you all for adhering to our Roadrunner Pact and Five Principles. I see so many of you working very hard to keep each other safe. We are seeing some heartening trends regarding COVID-19 cases in Bexar County, but we can't afford to let our guard down. THANK YOU for wearing your mask and socializing safely. These actions are truly signs of respect and imperative to a safe semester for all Roadrunners.
I wish you all much fortitude, productivity and (most importantly) good health this fall. As always, thank you for believing in UTSA and in the strength of our community.