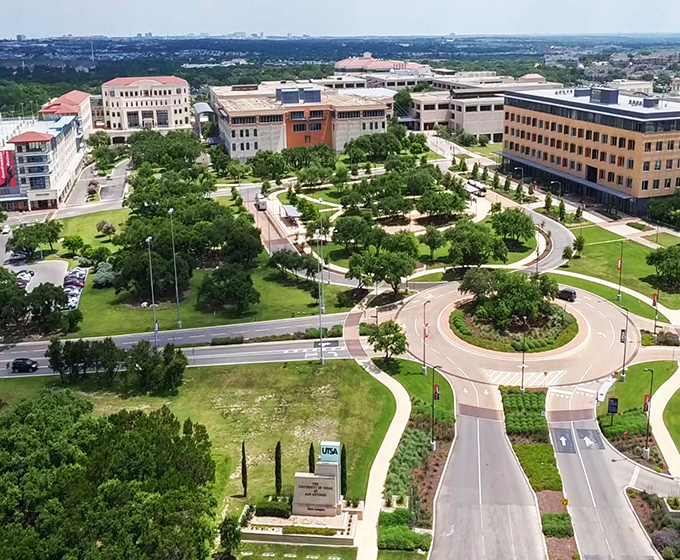 MAY 7, 2021 — Editor's note: The following message was sent via email today from Vice President for Research, Economic Development, and Knowledge Enterprise Bernard Arulanandam and Dean of the College for Health, Community and Policy Lynne Cossman to all faculty, staff and students:
On behalf of UTSA's Public Health Task Force, we are writing today to share our latest report guiding campus operations and the UTSA community through summer 2021.
Although the information we're sharing today pertains primarily to the summer term, please know that the task force will meet through the summer and continue to monitor the potential effects of existing and future variants of the virus. We expect to issue guidance for the fall 2021 semester in the late summer.
As with previous iterations, this latest report—version 4.0—was developed with the aid of our Public Health Expert Advisory Group and based on research and guidance available from local, state and national public health and governing bodies, including the Centers for Disease Control. UTSA's Recovery Operations Committee will continue to operationalize these recommendations with oversight from the university's senior leadership team.
Below are some key takeaways from the report regarding summer 2021 operations. We encourage you to review the report in its entirety for more comprehensive information.
Face coverings / masks – UTSA's face coverings requirement will continue this summer for all public and common spaces. Regardless of vaccination status, all campus visitors must wear a face covering while inside buildings, and also wear them outdoors when social distancing is not possible. Gaiters, bandanas and scarves are not acceptable substitutes for face coverings.


Social distancing – Three feet is required during general interactions/activities, and six feet during physical fitness/recreational activities. There are exceptions for unique activities/facilities (i.e., athletics, certain events, and while within the Campus Rec Center or Child Development Center). Please refer to the report for additional details.


Vaccinations and testing – All students, staff and faculty are strongly encouraged to be vaccinated for COVID-19 as soon as possible. For those who cannot be fully vaccinated, we advise testing for COVID-19 prior to returning to on-campus residences and activities. The proactive testing program for student residents in Laurel and Chaparral Villages will continue this summer.


Social gatherings – There are increased opportunities this summer for youth camps and other campus visitors. Revised guidelines for reviewing and approving events will be provided in the coming weeks on the event guidelines web page.


Quarantine requirements – The quarantine period has been shortened from 14 days to 10 days. Additionally, exceptions may be made for fully vaccinated individuals who remain asymptomatic.


Domestic and international travel – Travel guidance has been updated to allow for expanded activity (for those fully vaccinated, in particular), as well as processes/procedures for approval.


Campus Visitors – Visitors with a business purpose are permitted on a limited basis. For now, UTSA is continuing to limit nonessential visitors, volunteers and activities that involve external groups or organizations coming to campus. We will evaluate this policy as we progress into the summer months.


Facilities – Entry and exit points have been rearranged to increase social distancing. Laboratories and research facilities are open with added availability of sanitizing equipment and supplies.


Student Life – Housing and Residence Life have expanded options for in-person residence life activities.


Athletics – Activities have been updated to include the latest guidance from the NCAA, the state of Texas and Conference USA.


Recovery Level – Based on our designated recovery levels, UTSA's campuses will transition from Level 3 to Level 2: Moderate On-Campus Activity for the summer months.
Please note that modalities for summer courses will remain unchanged, and classes will be held as listed in ASAP.
Those of you planning to learn, teach, live, work or research at UTSA this summer may have questions or want to learn more about the updates included in the 4.0 report. We will host two town halls to give our community an opportunity to ask questions and get additional information.
There is renewed optimism with COVID infection rates remaining low in our county. However, we must remain vigilant, and we are still relying on all of you to do your part by taking personal responsibility and following public health recommendations.  
Our task force's guiding principles and charge have remained steadfast since we formed in the spring of 2020: to ensure the health and safety of the university community and to minimize the pandemic's effect of the academic progress of our students. We want to thank all the members of our task force and advisory group for their continued work and commitment over the past year to safeguard the UTSA community.