Event Planning and Guidelines
In order to slow the spread of COVID-19, the University of Texas at San Antonio is currently limiting meetings, events, activities, and other gatherings to  10 people or less. This does not apply to academic classes. "Events" is a broad term used to include, but not limited to meetings, recruitment/intake, programs, activities, and social gatherings.
In addition to all applicable guidelines found in the  Public Health Task Force report and the  State of Texas Department of Health Services, the following should be applied and enforced by event hosts to all meetings, events and other gatherings of 10 people or less:
All meetings are recommended to use online technology and not meet in person, if possible. Use these guidelines to help you decide which tool is best.
 
In order for UTSA to further reduce risk by limiting nonessential visitors, volunteers, and activities involving external groups or organizations to campus,  events in consideration will be for UTSA students, faculty and staff use only. 
 
All student organization and department tabling, including for fundraisers, is suspended. 

This will be reviewed as city/state protocols are adjusted.


 
Events are not allowed in academic classrooms. Events should be requested for indoor/outdoor spaces designed for events and follow proper cleaning and sanitation protocols.
 
Facility coordinators may monitor events to ensure compliance with all applicable protocols.
 
Event organizers must submit all space reservations through  25Live and RowdyLink.
 
Expressive Activities (Texas Education Code, Sec. 51.9315) must comply with the  Roadrunner Pact five principles and  UT System Board of Regents Rules and Regulations. Any events falling into this category are encouraged to contact the following offices in the pre-planning stage: 


Any in-person event will be considered on a case-by-case basis with plans in place to maintain appropriate health protocols.
 


Criteria: The safety of our campus community is a top priority for our university. To prevent the spread of COVID-19 and reduce the potential risk of exposure to our campus community, all event organizers interested in hosting an event with more than 10 people submit an exception request before moving forward with any planning. It is vital that all event organizers participate in this process to take precautionary measures to protect the campus community. In order to effectively plan for a large event, it is important to utilize the  CDC Events and Gatherings: General Readiness Assessment & Planning Tool for planning for mitigation elements. All protective measures outlined by UTSA Covid-19 Event Guidelines will be required as part of this event exception request process. 

In Rowdylink Event Submission, please answer the following to defend why your event cannot occur virtually:



Why must it occur in-person? 
How will the UTSA Return Plan and Event Guidelines be followed?
Are you planning to offer food, beverages, giveaways or activities during your event?
What other items will be included in your event risk mitigation plan? 
How will you be tracking attendance?​
 

Any events beyond these criteria measures must submit an event exception request answering the same. An event exception request form can be requested from and submitted to the appropriate campus events office:

Requests will be routed by the appropriate Events Management Team to the divisional vice president and the Resource Management Team for review and approval.
Approval/Denials: Once an event exception request is submitted through RowdyLink, the screening committee will review and determine if the event is approved, denied or remain pending. Pending requests will be determined also based on any new city/state phases or mandates. The scheduling office over your space request will inform event organizers, via RowdyLink of the status of the event. See UTSA Space Contact Directory.

If the University makes a decision to move back to a previous phase, then it is possible that previously approved events will be canceled due to the new circumstances. The screening committee may also inform requesters of additional steps that they will need to take for their event.

Enforcement: There will be random checks to ensure that all event participants are following the UTSA Event Requirements during events and gatherings. Failure to follow can result in the early ending of the event and could affect the status of future events.
 
PRE-EVENT PLANNING
Event organizers should use the following guidelines in all pre-event planning for all on-campus events of  10 or less:
Limit the duration of the event and number of attendees. Do not meet any longer than needed to complete the task.  
 
Set a diagram with your Event scheduler. View social distancing calculator for planning options. 
 
All in-person events require a risk management plan and a set-up diagram regarding Covid-19 mitigation measures and be submitted through RowdyLink at a minimum of two weeks prior to the event. 
 
Review additional policies and procedures by space for compliance during your event. It is up to space managers to approve and review all events in the space. 
When selecting space, the more open and well-ventilated space, the better.  Consider options for outdoors.  
 
Send communication to all event participants ahead of time with the guidelines below, encouraging individuals to take  COVID-19 Health Self-Assessment Tool, and not to attend if they are sick or high risk. Clearly explain expected hygiene during the event and expectations for social distancing. Discuss cleaning procedures before and after the event.  
 
Any individuals who are sick or experiencing symptoms of illness should not participate. Immunocompromised and high-risk individuals should consider virtual attendance or other adjustment or accommodation. 
 
DURING EVENT
Event organizers should use the following guidelines during all on-campus events of  10 or less:
Event check-in is required at all events, meetings, and social gatherings. Event schedulers managing space will enforce registering events through the Event Check-In Pass on RowdyLink. Click here for information on tracking attendance and other functions in this UTSA event software. 
 
Follow the  Roadrunner Pact five principles at all events. 
 
Conduct a safety briefing before each event/gathering. "As a reminder..." 
 
Ensure access to hand-washing stations or hand sanitizer.  
 
Limit barriers and touchpoints at your event.  
 
Seating arrangements, queueing, activities and check-in must  accommodate appropriate physical distancing of six (6) feet separation, including ADA and fire code requirements; and be maintained throughout the event.  
 
Avoid food service when possible or select individually packaged options only.  
 
Post signs in highly visible locations (e.g. building entrances, restrooms, and dining areas) that promote protection measures, communicate entrance/exit locations, and describe in clear language how to stop the spread of infection. See UTSA Signage Kit.
 
AFTER EVENT
Event organizers should use the following guidelines following all on-campus events of  10 or less:
After an event,  perform cleaning of all event items. Read the CDC's Environmental Cleaning and Disinfection Recommendations.  
 
Document notes for event best practices, in preparation for the event during future phase openings.
Submit questions about mitigation strategies to your event scheduler. We want you to ensure safeguards are in place to protect the public health of our university community. Other questions should be submitted to  EMCSevents@utsa.edu.
---
SOCIAL GATHERINGS ON AND OFF CAMPUS
Acknowledging that social gatherings and parties can increase individuals' risk of contracting COVID-19, it is important to make thoughtful social decisions. UTSA complies with all City and County ordinances and students should follow all City and County ordinances on and off campus. 
Additionally, students must refrain from hosting or attending parties on or off campus or on other university property that are contrary to the UTSA Student Code of Conduct and/or Public Health Task Force Guidelines. We encourage all Roadrunners to be active bystanders and look out for each other. Disciplinary procedures have been and could be initiated for large gatherings or behavior that would be contrary to, or a breach of, the event guidelines above and/or the UTSA Student Code of Conduct, which includes following local ordinances. Violations should be reported to Student Conduct and Community Standards.
The university will take all reported violations seriously; however, reporters may not be notified of the outcome of a reported behavior due to FERPA federal privacy laws.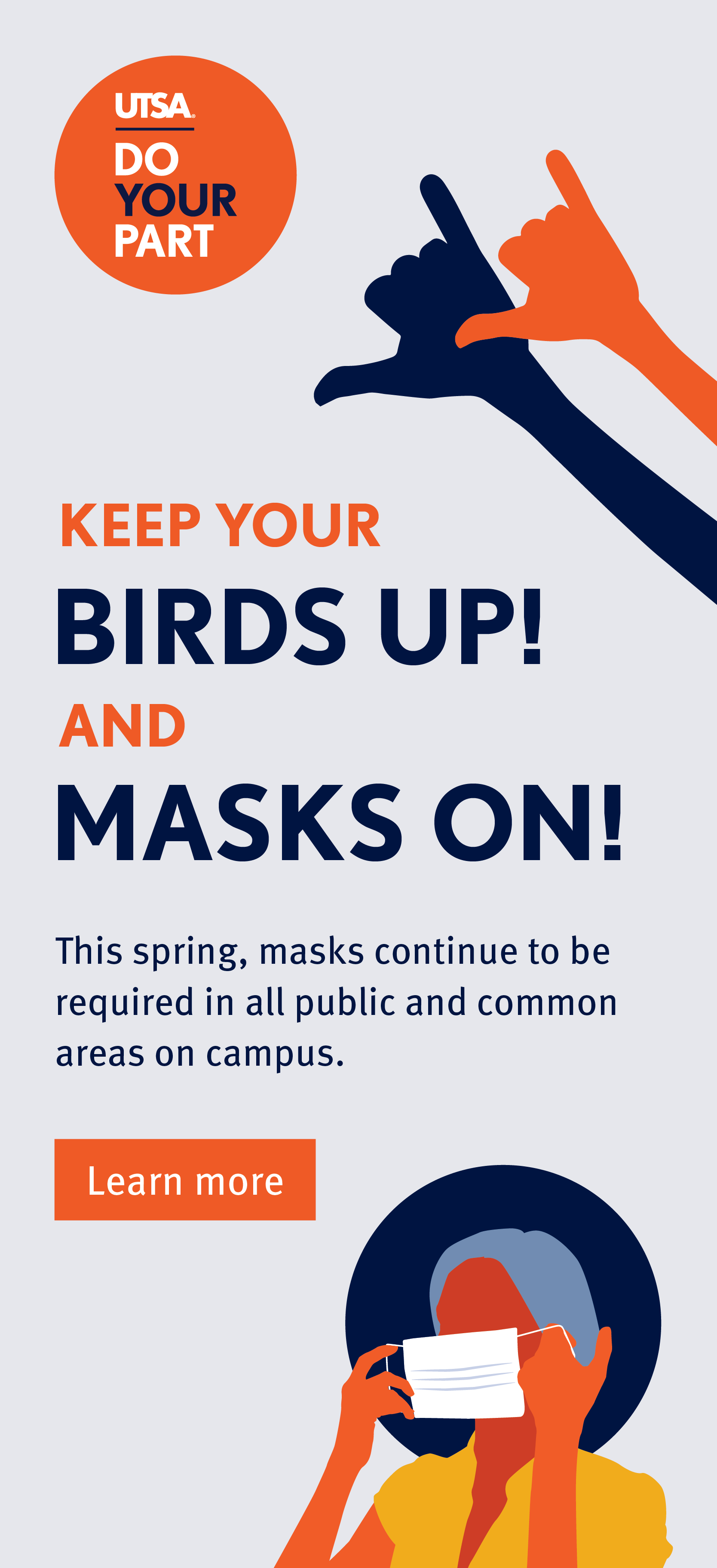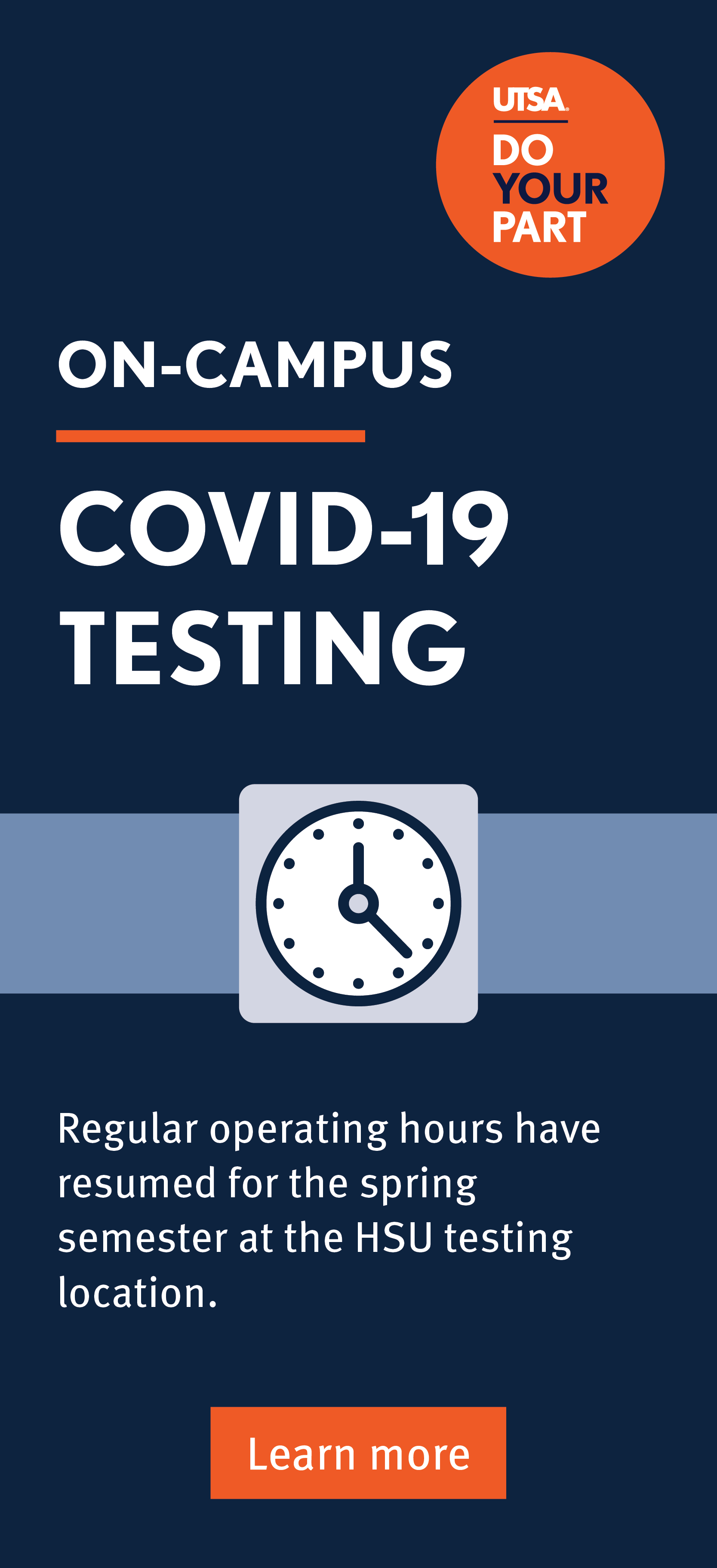 Protect yourself and the people around you from the flu this year… Do Your Part, and get your flu shot.