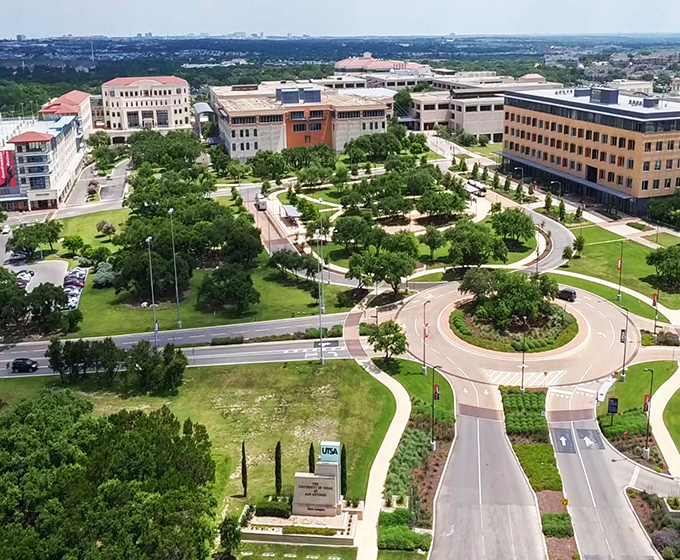 JULY 14, 2021 — Editor's note: The following message was sent today via email from President Taylor Eighmy, Provost and Senior Vice President for Academic Affairs Kimberly Andrews Espy and Chief Financial Officer and Senior Vice President for Business Affairs Veronica Salazar Mendez to all faculty and staff:
We are eagerly anticipating the fall semester and the return of so many of the traditional UTSA experiences we all know and love. Our collective efforts and vigilance to do our part by following public health protocols and getting vaccinated against COVID-19 have paved the way for largely returning to pre-pandemic operations for this upcoming semester.
Health & Safety

UTSA's Public Health Task Force has issued its latest report—version 5.0—offering guidance for the fall semester. We'd like to share some of the main takeaways from the report as UTSA transitions to Level 0: Normal Campus Operations. As always, our pandemic management plan is subject to change based on current conditions. We are keeping a very close eye on COVID-19 variants and will make adjustments as necessary to ensure the health and safety of our campus community. 
Vaccinations and Clinics – We strongly urge all Roadrunners to get vaccinated now for COVID-19 so you're fully protected by the start of the semester. On-campus vaccination clinics will continue through the summer and fall, and we will also offer flu vaccination clinics this fall, and will be staying abreast of the development and availability of vaccine boosters.


Transmission Management – On-campus COVID-19 testing, contact tracing, and confirmed case reports will continue to be available this fall.


Masks – Masks are not required on our campuses, but we recommend that masks be worn in indoor public/common spaces, especially for those individuals who are not vaccinated or at high risk.


Prevention Efforts – You can look forward to many campus improvements to reduce the risk of infection transmission. Hand sanitizer and wipes will remain available across campus, and departments can continue to request care kits with PPE supplies. Facilities is working to maximize airflow and improve filtration in campus buildings, and classrooms and lecture halls will be sanitized throughout the semester. In the John Peace Library, restroom renovations are in progress to add touchless faucets and other upgrades. Additional improvements are underway throughout campus to provide an enhanced experience, including classroom renovations, new corridor furniture and more.
For the most comprehensive information, we encourage you to review the full report and direct any questions you may have to phtf@utsa.edu.
On a related note, later this summer we will be hosting a community conversation where we'll hear from infectious disease experts at UTSA and UT Health San Antonio on the latest information regarding vaccine effectiveness, variants, boosters and more. The event will be open to the entire San Antonio community. Save the date for Thursday, August 12, from 11:30 a.m. to 12:30 p.m., and watch your inboxes for more information coming soon.

Campus Operations

This fall campus life will function very much like it did before the pandemic. Any questions regarding campus services and activities can be directed to Recovery Operations at recoveryops@utsa.edu.
For the 2021-22 academic year, UTSA's Roadrunner Roadmap website will continue to be the centralized source for current operational and public health information.
Thank you for doing your part to help our academic community navigate through the pandemic. You have shown resilience and the ability to adapt, which is a true testament to the strength of Roadrunner Nation. We look forward to welcoming you back for an energizing, productive semester and to enjoying old and new UTSA traditions with you all.