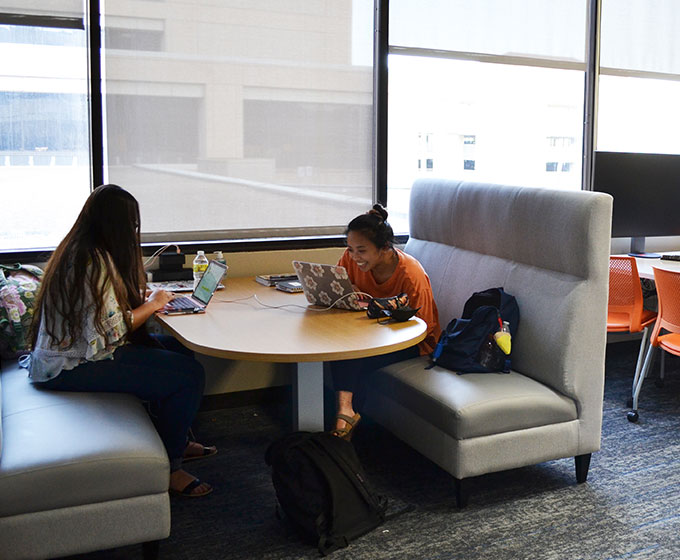 MAY 12, 2022 — As students returned to campus in fall 2021 after a year of remote instruction, they were greeted by resources that helped them reacclimate to campus life and promoted their academic success.
UTSA Academic Affairs has led the effort to intentionally align and connect broad-based, institution-wide programs with tailored college-centered services. As a result, students have access to a stronger, unified suite of services and assistance programs that advance their success from admission to graduation.
From large institutional-level initiatives like the Classroom to Career Initiative, Academic Success District Initiative or the Enriching Campus Wellbeing Initiative to faculty-focused grants, first-generation programs and classroom upgrades, UTSA's academic support divisions and colleges have aligned their priorities to be models for student success.
At the fundamental level, UTSA students can tap into a comprehensive network of institution-wide resources, programs and services designed to help them succeed at the university and beyond. All students have access to academic support services such as academic advising, academic success coaching, tutoring and supplemental instruction.
The university also has a number of mentoring-based support programs geared to specific student populations like first-year and transfer students, first-generation college students, students who are academically at-risk, students who live on campus, students who have a history of foster care and students poised to graduate. These programs are designed to support students academically while also providing them with a caring support network to foster a sense of belonging.
Creating dynamic spaces for deeper learning 
While support is still available online, these broad-based support programs have physical "hubs" where students study, collaborate, attend events and meet with peer mentors, professional staff and faculty. These hubs are part of the Academic Success District, a multi-layered initiative that relocated key physical spaces, resources and programs to ground-level storefront locations to make them more visible and easily accessible to students.
Central to the district are student success centers for each college. These individual centers coordinate and collaborate with the institutional support services while also offering customized programming and resources specifically geared to students within their college.
Students can attend workshops on academic skills and career-readiness, seek assistance on obtaining internships, access computers and other technology and have a dedicated space to meet with students and faculty from their own college. The college student success centers partner with academic support divisions of Student Success, Career-Engaged Learning, Student Affairs and others to ensure students receive consistent and comprehensive support to prepare students for their careers.
The district also includes 28 renovated classrooms and four outdoor learning environments. These dynamic and tech-ready spaces improve collaboration, accessibility and allow faculty to be more innovative with their teaching strategies across various course modalities.
In Fall 2022, Roadrunners will have access to the new Academic Innovation Center. The unique space will promote collaboration between students and faculty and help pioneer new technology and learning strategies. Inside the center, academic innovation's instructional designers will work with faculty to leverage UTSA's technology investments, like Adobe Creative Cloud, to foster deeper learning and career-readiness. 
Supporting academic success and personal well-being
One of the challenges faced by students starting college during the pandemic is finding a sense of belonging and getting into the rhythm of college life. Academic Innovation and Student Success, two academic support divisions, partnered to help ease the transition by offering mini-grants to support faculty-led activities with first-year students outside of the classroom. The program's goal is to help first-year students create connections outside the classroom with their faculty and peers and establish a stronger sense of belonging at the university.
One of the mini-grant recipients, Uchenna Emenaha, an assistant professor in the Department of Interdisciplinary Learning and Teaching, held a game night for College of Education and Human Development first-year and transfer students.
The event, co-hosted by the COEHD Student Success Center, gave students the opportunity to interact with upper-division students and faculty from the college who offered tips on navigating college life. Emenaha presented specific planning and organizational skills students can use to reach their academic and personal goals.
UTSA has also demonstrated its commitment to supporting students' physical and mental health by expanding health and well-being services. As an integrated student services area of Student Affairs, Wellbeing Servicescombines health education, promotion and support services to provide a comprehensive approach to student well-being, in addition to the integrated health care and counseling services brought to campus by UT Health San Antonio's Wellness 360 clinic.
Helping jump-start careers after graduation
From day one of a student's academic journey, the Division of Academic Affairs and its partners empower students to be ready to enter their chosen careers and chart their bold futures.
One example includes a new signature experience curriculum component put in place by the Margie and Bill Klesse College of Engineering and Integrated Design. 
Beginning in Fall 2022, the college will require all incoming students to complete an internship, study abroad experience, research project or service-learning project before graduation, as part of its commitment to helping undergraduates build their pathways from classrooms to careers. These opportunities promote hands-on experiential learning that challenges students to apply skills and knowledge beyond the classroom and prepare them for their desired professions. 
Another example is the new Najim Strategist program offered by the Najim Center for Innovation and Career Advancement, which offers high impact experiential learning opportunities for UTSA students from all majors and is a resource for students to explore their career potential.
The program provides interdisciplinary teams of students with paid, professional experience and training as they help local companies identify innovative ways to solve an issue and is representative of UTSA's ongoing efforts to provide new classroom-to-career educational opportunities for students. By offering tangible, meaningful training beyond traditional classwork, programs like these ensure that the university is building on its commitment to student success.
These initiatives—and many others—provide Roadrunners with valuable knowledge and experiences that prepare them for life-changing careers and the ability to conquer the many real-world challenges ahead.