Spring 2013
Student Spotlight:
College of Business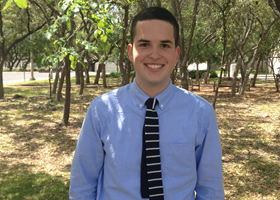 Brian Smith
---
Campus leader Brian Smith builds a legacy at UTSA
To honor his father, Smith dedicated his college years to supporting UTSA traditions
There are many reasons behind one's decision to attend a certain university over another. Marketing senior Brian Smith chose UTSA because of his father.
"My dad worked in the Facilities department at UTSA for several years," said Smith. "He would always tell me about all the great events happening at UTSA and what a great school it was. So to honor him, I chose UTSA."
This month, Smith will cross the commencement stage at the Alamodome as a tribute to his father, Bruce Smith, who passed away in the fall 2010.
"I wish he could be here to see all that I've achieved here at UTSA," remarks Smith. "It's kind of bittersweet, actually."
The Roadrunner is one of UTSA's most outstanding student leaders. In fact, he was awarded the prestigious Jane Findling Award for outstanding excellence in leadership and service to UTSA at the 2013 University Life Awards.
Shortly after Smith transferred from San Antonio College to UTSA in fall 2011, he became involved with the Campus Activities Board and found his stride as a natural leader. Through his involvement, he was responsible for overseeing the production and marketing of student-run campus events such as Roadrunners Late Night, Fiesta UTSA and BestFest.
Smith is a member of the UTSA chapter of the American Marketing Association, serves as a peer mentor in the Business Scholars Program and was recently inducted into the Omicron Delta Kappa Honor Society. Additionally, this year, he served as the marketing director for the UTSA Student Government Association.
"Brian not only does things to better himself, but he also cares deeply about enhancing the campus community," said Kelsey Bratcher, associate director of UTSA Student Activities. "Just like his father, he understands that it is often the planning and care that happens behind-the-scenes that truly builds the foundation for a campus environment that will last for years to come."
"I've grown to understand that being able teach and encourage the next generation of leaders to grow and achieve great things is what gives me the most satisfaction," said Smith.
What started as just a fun thing to do outside of class has turned into a lifelong passion for creating traditions and leaving a legacy. In fact, as a new member of the UTSA Alumni Association, Smith plans to stay involved in events on and off campus so he can continue to support and build upon the traditions that make UTSA a great place to be.
- KC Scharnberg
Do you know a fascinating UTSA student who is planning to graduate in December 2013? Share that story with us at news@utsa.edu.