December 2015
Student Spotlight:
Tawanda Kamucheka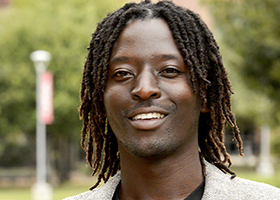 Tawanda Kamucheka
---
Zimbabwe native researched meningitis strain for honors thesis
Meet Tawanda Kamucheka. This biology major will remember UTSA fondly for its opportunities in research and professional enrichment.
Born and raised in Zimbabwe, Kamucheka has been drawn to the sciences, particularly health and medical sciences, for as long as he can remember.
"I was always interested in the sciences, particularly the biological ones," said Kamucheka, 31. "In my last two years of primary schooling, I began to seriously think about pursuing it as a career."
But Kamucheka and thousands of others were distracted from pursuing a university education as a result of political and economic turmoil in Zimbabwe during their youth. Instead, Kamucheka found work in the public health sector – close enough to what he'd originally wanted to pursue, so his scientific passions never waned.
"My official title was health education and promotion officer," Kamucheka said. "I was responsible for overseeing public health and education programs for mostly communicable diseases such as HIV and AIDS, or malaria. I was helping my communities gain control of their health."
Kamucheka worked as a public health official for almost two years, creating education programs for local communities about communicable diseases. When he wasn't out in the community, he was spending time at the hospital where he was based. That setting inspired him to pursue a degree in medicine.
"I saw first-hand what happens in hospitals, the good and the bad," Kamucheka said. "Being in the middle of health professionals working in my home country and seeing the challenges they faced influenced me to want to get into the medical field. I felt like medicine was something I'd like to be involved in so I could help."
Kamucheka left Zimbabwe in 2005. He traveled around the world for a few years, settling in South Africa for a spell then migrating to the United States where he hopped around Vermont, New York, Kentucky and Massachusetts as a tennis instructor. In 2010, he arrived in San Antonio.
"Traveling around, I always felt like I wanted to continue the pursuit of my education," he said, adding that he'd quietly pursued some educational opportunities during his globetrotting days. "But it wasn't until I came to San Antonio that I found the stability that allowed me to return to school full-time."
A little more than three years ago, Kamucheka enrolled at UTSA, ready to pursue the scientific learning he'd wanted to as a youth. And he's taken full advantage of his time at the university.
As a student in the UTSA Honors College, Kamucheka has worked closely with science faculty to conduct groundbreaking research into cryptococcal meningitis, a tissue infection that covers the brain and spinal cord, something of which he saw the effects first-hand during his upbringing in Zimbabwe. He describes his research in his honors thesis and wants to enroll in medical school after graduation.
"Having grown up in Zimbabwe, where HIV and AIDS is rampant, I saw the effects of cryptococcal meningitis on people with these diseases," said Kamucheka, who worked closely with UTSA Professor and Associate Dean Floyd Wormley on his research. "It's killed many of them and we're researching ways to prevent that. I'm grateful to be a part of research that can one day help the people back home. The experience is extremely enriching."
He added, "The research aspect of my time here at UTSA has been so rewarding. I've learned a lot from my professors and in the lab. The research opportunities UTSA presents its students are of the highest quality."
Kamucheka walked the stage at December Commencement, graduating magna cum laude with highest honors, an accomplishment of which he's proud.
– Jesus Chavez
Are you graduating in December 2015? Share your photos with us on Facebook or Twitter (@UTSA). #utsagrad2015

Do you know a fascinating UTSA student who is planning to graduate in May 2016? Share that story with us at news@utsa.edu.