The Family Association Newsletter provides you with insight into UTSA events, resources, opportunities, and talking points for supporting your student.
Highlights
Celebrate Graduating Roadrunners
The second weekend of December will be a time to celebrate our Roadrunners who have completed their time as a student at UTSA. Full details for Honors College Stole and Laurel, Doctoral Hooding, and the two ceremonies can be found on the Commencement Website. There are a few on-campus opportunities for families and friends of graduates to make memories and share in this great accomplishment together.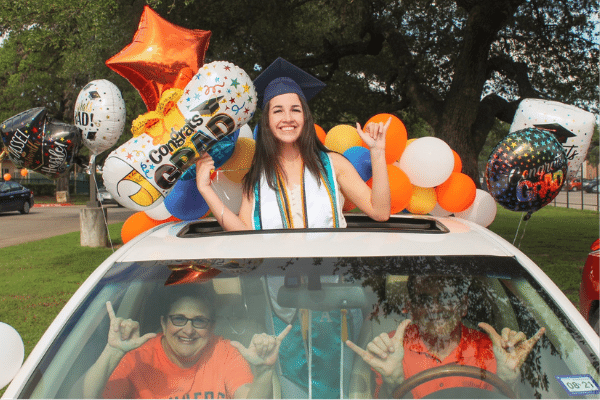 Commencement Drive
Graduates are invited to be part of a parade through campus for Commencement Drive on Friday, December 10 at 3:30 pm. Line up will begin at 3:00 pm at the Child Development Center.
Additional family members can cheer on the graduating roadrunners by joining the Family Association in the Ximenes Parking Lot near the intersection of Ximenes and Ford Avenues.
Photo Opportunities
Photos are a great way to remember this special occasion. Graduates and their families can walk through campus and take photos standing near the Roadrunner Statue, the Sombrilla Fountain, and the Monument Lights at any time.
The UTSA letters will be available outside the Recreation Wellness Center during the day on Friday, December 10 and outside the Alamodome in the North Plaza on Saturday, December 10. There will also be a few "Congratulations 2021 Graduates" signs on the UTSA Main Campus from Friday to Sunday.
Class of 2021 Memorabilia
If you are looking for a way to feature your diploma, decorate your home or future office with UTSA items, or show off a Class of 2021 shirt, be sure to check out some of the Class of 2021 UTSA Memorabilia at these locations: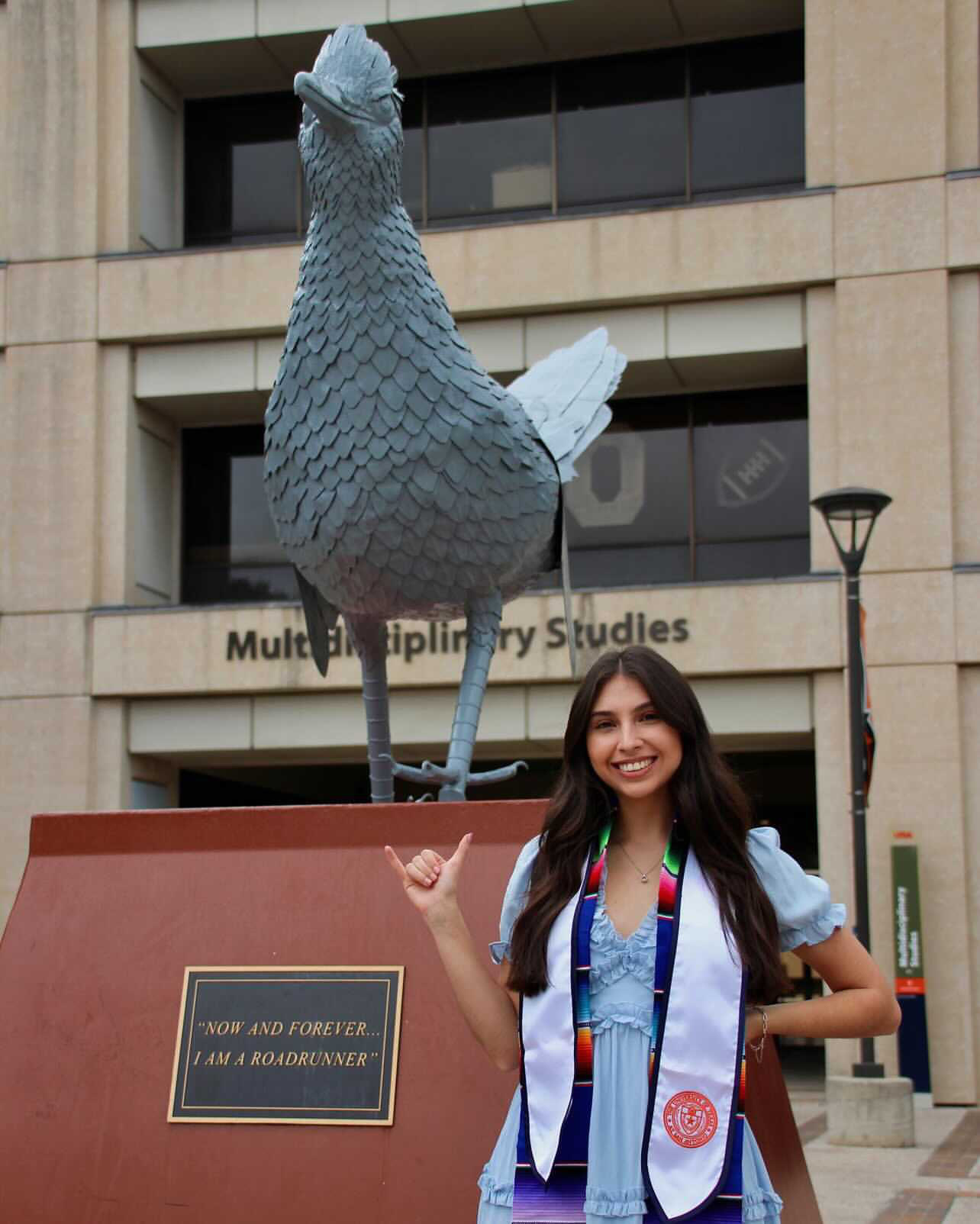 Study Union During Finals
The Student Union is here for students during finals. The SU has meeting rooms for students to get together and study. Roadrunners can study in the available meeting rooms during open building hours, Monday, December 6 through Friday, December 10 from 8:00 am to 12:00 am (midnight).
Study Breaks – Students can stop by the SU Window Lounge Monday through Friday from 9:00 to 11:00 am to get snacks to help them through the day! Late-night breakfast snacks will be given out at 9:00 pm. *All snacks will be on a first-come, first-served basis.
The Whataburger Resource Room will be open all week for students who need their services. Self-shopping will be Monday through Friday between 12:00 and 4:00 pm to grab some snacks or other essential supplies.
Questions? The Info Desk is open in the Student Union from 9:00 am to 6:00 pm from Monday through Friday.
Wellbeing Services Continue
Wellbeing Services will continue to be available to students over winter break. For additional information on hours and how to make appointments, visit their websites. We are here for our Roadrunners!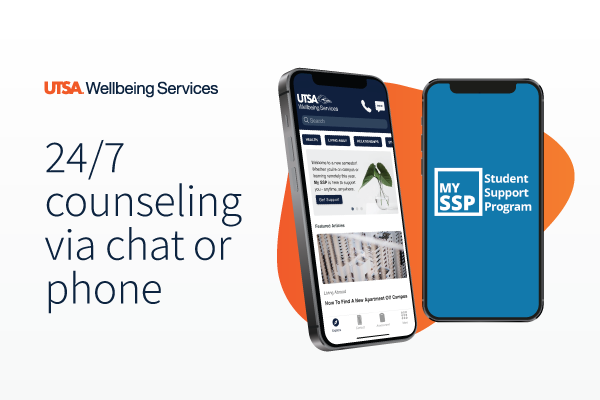 My Student Support Program
My SSP is your most accessible mental health resource at UTSA. Through the app, you can arrange virtual appointments and ongoing services. Download the My SSP app to call or chat anytime.
How will My SSP support your success?
24/7 real-time, single session support
Free, confidential access to a professional counselor
Availability by text, phone, or video
Self-directed digital wellness resources
Upcoming Events
2022 Roadrunner Days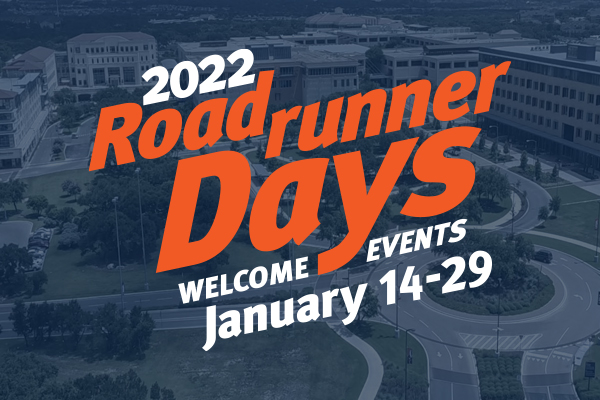 We can't wait for 2022! Hopefully, students will come back ready for Roadrunner Days after the rest and relaxation of the winter break. Roadrunners can keep up with @UTSAStudents on social media to see all the events, services, and programs that will be featured during Roadrunner Days from Friday, January 14 through Saturday, 29.
Go to a UTSA Basketball game!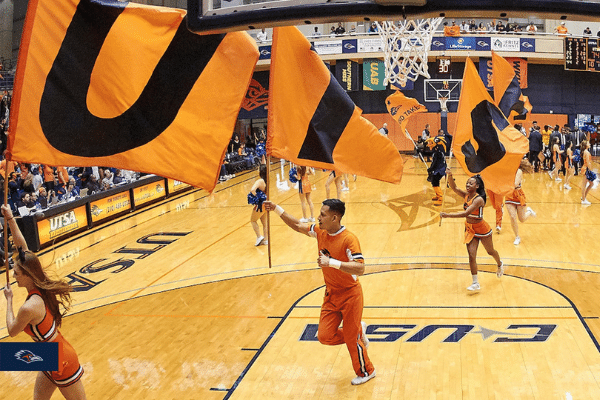 It has been an exciting time for UTSA Athletics! Keep that Roadrunner spirit going and support the men's and women's basketball teams at their games during the winter break. Student tickets are free and all home games are in the Convocation Center. Full Men's Basketball and Women's Basketball schedules can be found on GoUTSA.com.
MLK Jr. March
All UTSA students, faculty, staff, alumni, and families are invited to march in the UTSA delegation on Monday, January 17 as a unified community to honor the memory and work of Dr. Martin Luther King, Jr. in this citywide march. Sign up to ride a UTSA shuttle to and from the march.</p
---
Resources and Opportunities
Whataburger Resource Room

The Whataburger Resource Room will be open regular operating hours through Saturday, December 18. Beginning Monday, December 13, double food counts and an additional meal bag will be given with every visit. Regular hours will resume on Monday, January 10. Emergency kits will also be available at the Laurel Village Neighborhood Center during the break. For any questions during the break, email Nikki.Lee@utsa.edu.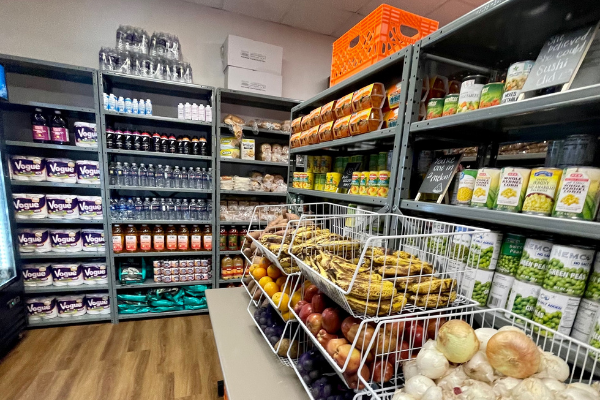 Live Q&A Sessions with One Stop

One Stop is hosting 30-minute question and answer sessions focused on answers to the most commonly asked questions. Continuing or new Roadrunner families are invited to join one or more of these sessions. Complete details for the upcoming sessions can be found on the One Stop website. Questions can be directed to onestop@utsa.edu.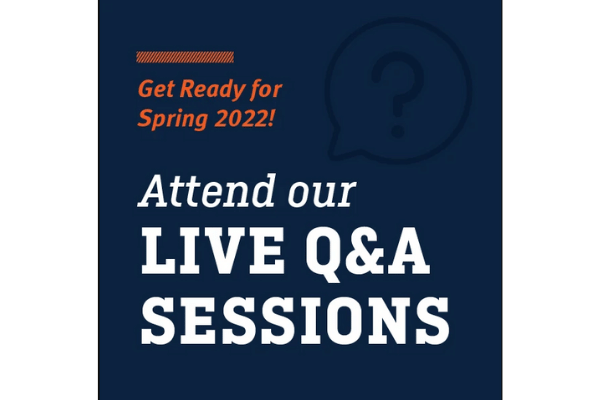 Financial Aid: Disbursements
How and when will my financial aid payout to my bill?
Wednesday, January 5, 2022 | 2:00-2:30 pm

 

Thursday, January 6, 2022 | 2:00-2:30 pm

​
Financial Aid
Using Doc Uploader, Checking Requirements, Submitting Payment, Submitting FAFSA…
and Your Additional Questions

Friday, Jan 7, 2022 | 2:00-2:30 pm
Resident Assistant Fall 2022-Spring 2023 Applications Open
The Office of Housing and Residence Life has started the hiring process for their Fall 2022-Spring 2023 Resident Assistant positions. In order to be considered for this position you must:
Have a cumulative GPA of 2.75 or higher.
Attend one of the RA information sessions where you will learn more about the position, day-to-day activities, and compensation.
Be able and willing to live on campus.
Attend at least one information session. Details about the information sessions can be found on RowdyLink.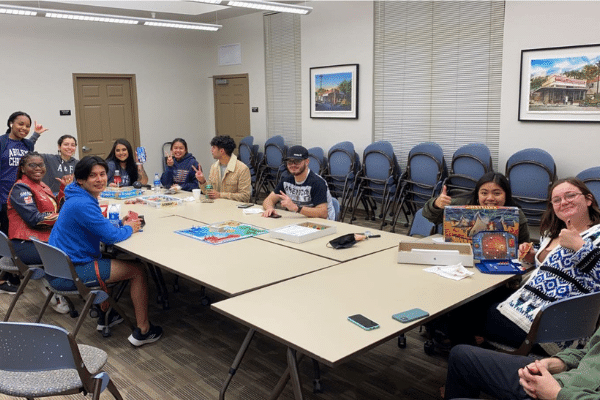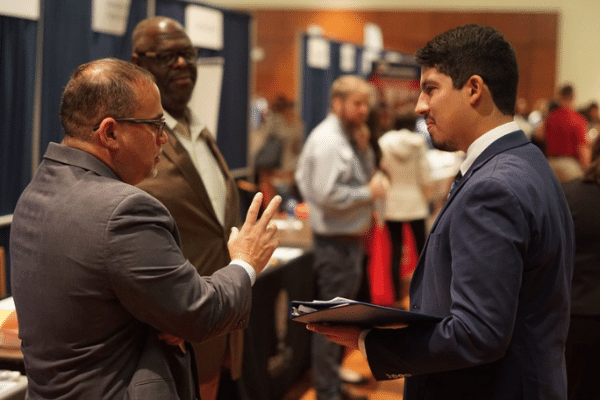 Work Study Jobs on Handshake
University Career Center maintains the
Handshake database
where students can post resumes, view career events, and search for jobs. Check out Handshake for work study positions, graduate assistantships, teaching assistant positions and more!
---
Quick Announcements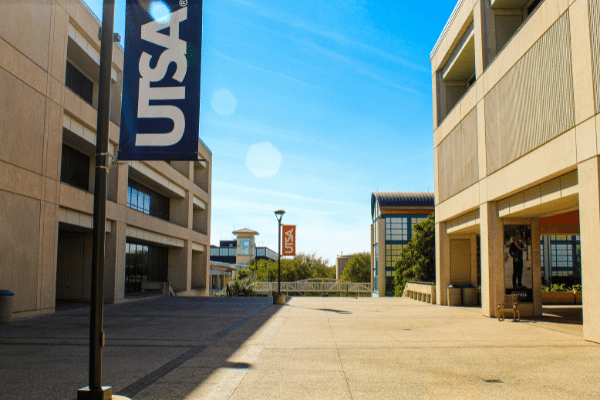 Winter Break Closure
All University offices and departments will be closed from December 23, 2021 at 5:00 pm until January 3, 2022 at 8:00 am.
Dining in the Roadrunner Café will end with dinner Friday, December 13, 2021. Operations will resume on the morning of Friday, January 17, 2022 with breakfast.
UTSA Housing Applications are Open for 2022
UTSA offers six on-campus student housing options—from traditional residence halls to apartment-style living. Applications for Spring 2022 and Fall 2022 are now available! Visit housing.utsa.edu to learn more and start your application now! Rooms fill up fast so don't miss out!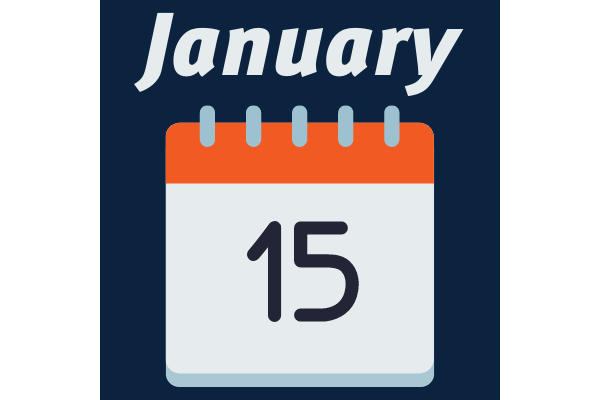 Financial Aid Priority Deadline for 2022-2023 Academic Year - January 15

The  2022-2023 FAFSA is open, so encourage your student to submit theirs as soon as possible. Applying for aid early can help your student get the most financial aid possible. The priority deadline is January 15 to maximize aid. Make sure they submit their FAFSA (or TASFA if they aren't a US citizen/green card holder but are a Texas resident) before then. Please visit onestop.utsa.edu/apply for more information.
---
Conversations With Your Roadrunner
As your Roadrunners return home for the holiday break, it is important for families and their students to have a conversation about each other's preferences and expectations for sharing living space again. We encourage you all to have the chat prior to your student's return or not long after they arrive. Whether it is a couple of days or a few weeks, you may all have a more pleasant experience this winter break with a quick check-in.
Conversation Starters
How are you feeling overall after this semester?
What went well and what did not?
How did the semester turn out compared to the expectations you had for your first semester?
What is one goal you have for spring?
Let's talk about house guidelines for when you are home. (Suggested topics: Going out, friends coming over, sleep schedule, helping around the house, etc.)
---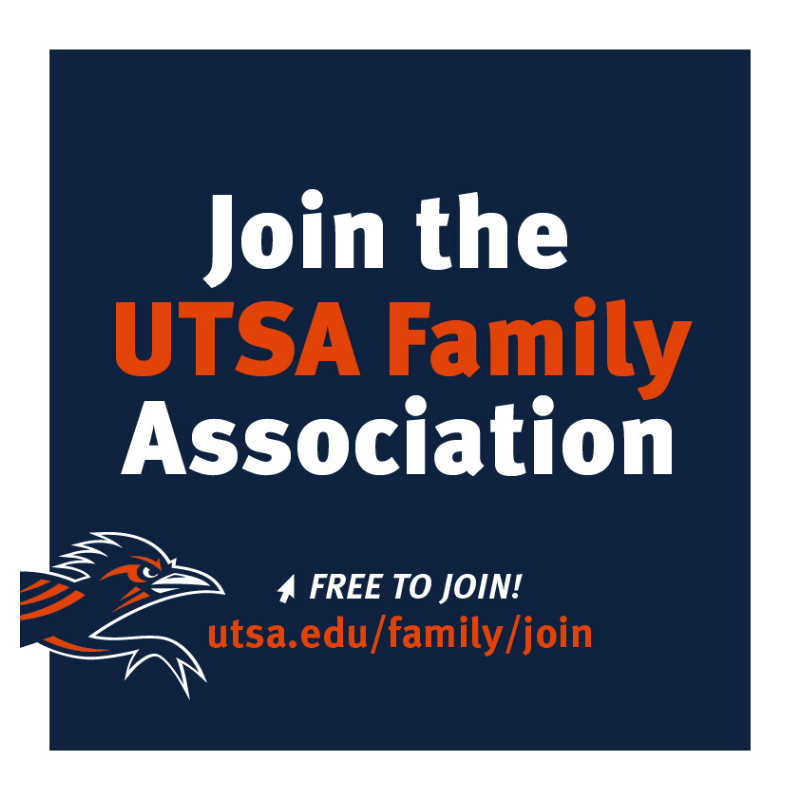 Not Yet a Member?
Join the UTSA Family Association Today!
Family Association Membership is free, and members receive:
Priority notice to register for Family Association events
Access to members-only student scholarships
Networking opportunities with Roadrunner families and staff
Email copy of the Family Association Newsletter
Join the UTSA Family Association
---
---