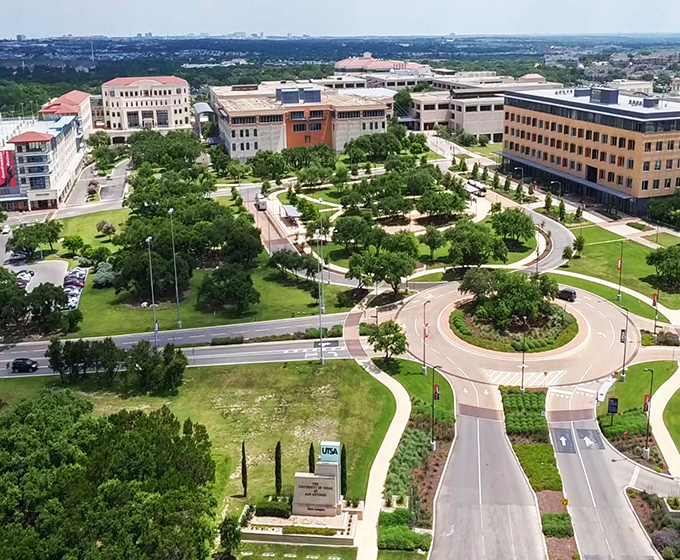 AUGUST 11, 2021 — Editor's note: The following message was sent today via email from President Taylor Eighmy, Provost and Senior Vice President for Academic Affairs Kimberly Andrews Espy and Chief Financial Officer and Senior Vice President for Business Affairs Veronica Salazar Mendez to all faculty, staff and students:
Since the very beginning of the pandemic, we committed to put the health and safety of our entire campus community first. Over the last year and half, we have learned a lot about managing life under the pandemic and the importance of masking, personal hygiene, vaccinations, contact tracing and quarantining. Our approach to planning for the fall semester involved balancing an open campus with a mix of course and work modalities to optimize learning, teaching and research while keeping our community healthy.
We shared recently that we have been closely monitoring the COVID-19 Delta variant surge here in San Antonio, in Texas and across the globe. We remain in daily communication with our colleagues, including our Public Health Task Force and their expert advisors at UT Health San Antonio, as well as the infectious disease experts at San Antonio Metro Health, UT System and government agencies. Unfortunately, the Delta variant has proven more contagious than previous strains, escalating risk levels to the severe level in San Antonio. This variant is especially impacting unvaccinated and younger individuals. It's a stark reminder that the very best way you can protect yourself, your friends and family is to get vaccinated.
Pandemic models, like the IHME model, are being used by the CDC agencies to look at this surge's magnitude, peak impact, arrival time and how quickly the surge may dissipate. A number of models suggest that this surge will peak in Texas later in August and then diminish into September and the fall. Several factors can change the model's outputs, but it is a good forecasting tool.
Our fall 2021 planning effort and registration process this past spring was informed by student learning needs and feedback, leading to a wider range of course modalities for faculty and students including many that involve in-person instruction. We know from public health data that airborne transmission of COVID-19 is more prevalent in indoor settings, and that large gatherings of people indoors—such as classrooms—pose a higher risk for COVID-19 transmission. Areas with fewer people, especially outdoors, have a much lower risk to human health and safety. Further, the temporary restraining order issued yesterday by Judge Antonia "Toni" Arteaga here in Bexar County that allows a mask requirement in schools is not applicable for a state institution such as UTSA.
Given all this, we must temporarily adjust our approach to opening our fall semester—balancing an evolving new normal around in-person learning with additional practical controls—until we see the Delta surge begin to diminish and return to less risky levels similar to what we experienced earlier this summer. We will continue to monitor the situation closely and will adjust the nature and duration of these modified operations based on a number of factors, including San Antonio Metro Health stress level and trends, the potential availability of vaccines for children, the trend in positive cases and the stress level within our hospital systems, vaccination trends locally and in Texas, as well as our campus impact trends around positive tests and vaccinations.
In consultation with UT System, our campuses will be open and the fall semester will begin on August 23 as planned, but with some temporary course delivery and operational modifications. These will be in place for three weeks, informed by surge modeling and to accommodate the potential impact of the Labor Day holiday. Two principle adjustments will be made:
Most courses will be held online for the first three weeks of the semester.
We will begin our semester with most scheduled classes meeting online from August 23 to September 12. This temporary change directly impacts the face-to-face instruction portion of those classes scheduled for traditional in-person or hybrid modality, which will be held online at their regularly scheduled times as listed in ASAP. This approach will make it less disruptive to pivot back to the original modality once our operational modifications conclude. See our pages on Fall Classes & Student Experience and Working, Teaching & Research for more information.


A mandatory COVID-19 testing requirement will be put into place for students, faculty and staff.
This testing program will be an important step to manage risk of transmission and help reduce the spread of COVID-19 among the Roadrunner community. As discussed below, the first phase will involve testing of students moving into campus housing. More information about the testing requirement will be released soon, including phased scheduling, policies for asymptomatic and symptomatic testing, testing locations, self-reporting and more.
In addition to the two items mentioned above, we will make some additional operational adjustments to reduce health risks while retaining as many of our services and traditional UTSA experiences as possible.
WORK MODALITIES
Supervisors may consider limiting on-campus personnel to only those employees who are needed to provide in-person services during the modified fall operations period. Departments will determine appropriate on-campus staffing levels according to service and staffing needs, and supervisors will inform employees if they are needed on campus. Wherever possible, departments should continue to offer virtual services.
Telecommuting agreements that were originally set to expire on July 31 have been extended through this period of modified operations. New Work Modality Conditions & Agreement forms that were recently executed will become effective on September 13, pending any extension to these operational modifications.

STUDENT LIFE & SUPPORT
We know that the campus experience is important to student success. During the modified fall operations period, UTSA will continue to provide robust on-campus services and assistance.
Campus Housing
On-campus residence halls will open as planned for fall 2021 with move-in dates scheduled for the week of August 16–20. Testing will be mandatory for residents and will be available on-site as a part of the move-in process. Learn more about UTSA Housing's COVID-19 safety measures and isolation/quarantine protocols, and visit our page for On-Campus Residents for more information.
Roadrunner Days
Roadrunner Days will continue to take place August 20 to September 3 to welcome and introduce new and returning students to the culture, traditions and values of UTSA. Safety measures will be in place to reduce density and opportunities for transmission, and masks will be encouraged.
Wellbeing Services
Student health, counseling and mental health services will continue to be offered in-person and virtually. See our page on Fall Classes & Student Experience for more information.
Athletics
UTSA Athletics continues to follow COVID-19 protocols recommended by the NCAA and Conference USA. We will conduct our football home games as planned, following any COVID-19 protocols implemented by the Alamodome.
CAMPUS OPERATIONS
Campus Dining
Campus dining will be available with modified hours of operation. Many locations, including the Roadrunner Café and multiple venues in the John Peace Library, will be open to support on-campus students, faculty and staff.
Events
Large on-campus gatherings will be limited to fewer than 50 participants or less than 50% of the venue capacity. Outdoor events will be managed to reduce density as appropriate. External visitors and on-campus events coordinated by external guests are discouraged.
Transportation and Parking
The Runner will be available with adjusted routes and schedules. Parking operations will return to normal as planned, and parking permits will be required to park on campus.
Additional Services and Activities
Many other services will remain available to maintain our on-campus experience and support our students, faculty and staff. The UTSA Libraries, Student Union, Campus Rec and Rowdy Campus Store will all be open with reduced density and enhanced cleaning and safety protocols. Research activities will continue normal operations, as previously announced. See our pages on the Student Experience and Campus Operations for more information.
As always, our ability to return to normalcy depends on our shared responsibility to get vaccinated, continue to mask while indoors, self-report COVID-19 exposure or diagnosis, and quarantine if needed.
We will hold a virtual town hall for students, faculty and staff on Thursday, August 19, from 1-2 p.m., which will provide an opportunity to learn more and ask questions regarding our modified fall operations plan. The town hall will be recorded and available to view after the event.
Our Roadrunner Roadmap website will continue to be the hub for the latest fall semester information and provide answers to frequently asked questions. It will be updated regularly as we approach August 23, and you can expect more details regarding these modifications to be released in the days to come.
Roadrunners, we know these are trying times. The last eighteen months have been challenging for our entire community, but especially those impacted by the loss of loved ones. If there's one thing that the pandemic has shown us, it's that you all have a remarkable capacity for resiliency and optimism. We will keep you updated as conditions evolve.