The Whitacres' generosity will support tutoring, student organizations, professional development programming and undergraduate research experiences. The direct impact of their gift will advance the retention, career placement, persistence rates and academic performance of the college's students.
"The Whitacres' unwavering commitment to the Klesse College and the creation of this endowment signify their generosity and serve as a foundation for our students' intellectual, personal and professional development," said Eric Brey, Edward E. Whitacre Jr. Endowed Chair in Mechanics, David and Jennifer Spencer Distinguished Chair, and interim dean of the Klesse College. "It fosters an environment for academic growth and crucial career opportunities, ensuring our students are exceptionally well-prepared to thrive when they enter the professional world post-graduation." 
Adelite Hategeka is a senior civil engineering major in the Klesse College and attributes much of her success to the resources provided by the Student Success Center.
"The Klesse College's Student Success Center has played a big part in the academic, professional and personal growth that I have had throughout my undergraduate experience. I have used their tutoring center almost every day for my foundational engineering classes," said Hategeka. "They also encourage and support student organizations like the American Society of Civil Engineers."
The professional development opportunities they offer like resume workshops and the Work, Intern, Network (WIN) Wednesdays program have helped me learn and develop skills essential to my field," Hategeka added. "It is truly an honor to serve as their ambassador and an amazing opportunity to grow outside of my comfort zone through activities like leading tours for prospective students."
---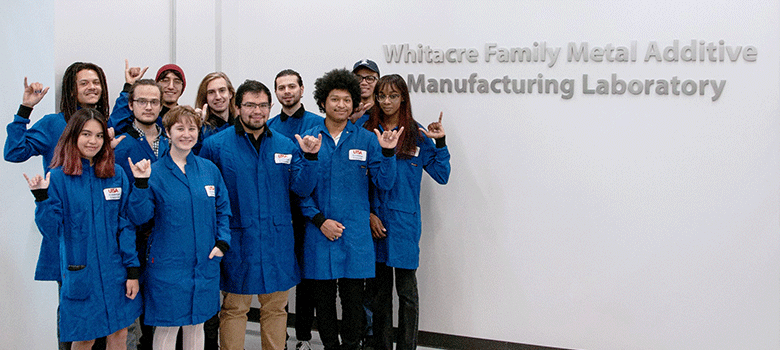 Ed and Linda Whitacre have supported the Margie and Bill Klesse College of Engineering and Integrated Design for many years.
---
The remaining $500,000 of the Whitacres' gift to UTSA will support the construction of a 50,000-square-foot basketball and volleyball training facility for the university's student-athletes. The new building will sit adjacent to the existing Roadrunner Athletics Center of Excellence and will feature two full-size NCAA practice courts, a 3,000 square-foot weight room, a 1,000 square-foot training room for sports medicine, locker rooms, and coaches' offices. Coupled with the Roadrunner Athletics Center of Excellence, this facility will continue to increase UTSA's competitive edge in recruiting and retaining the nation's best student-athletes and coaches, who are often attracted to universities by the caliber of their training and practice facilities.   
The Whitacres' gift supports Be Bold: A Campaign for Our Future, the largest fundraising effort in UTSA's history. The campaign supports all facets of the university. It is directly aligned with UTSA's strategic plan — A Vision for UTSA — and is focused around three primary destinations including student success, research excellence and innovation. In October 2023, UTSA reported that at the midway point of the campaign, $380 million had been raised by 46,137 donors from 22 countries who have made 142,501 gifts and pledges.
A key component of the Be Bold campaign is Bold Champions in The American, a fundraising effort launched to highlight UTSA's standing in the competitive arena of the American Athletic Conference. With $42 million raised to-date, the campaign is growing support for UTSA Athletics through increased activity in four areas. This philanthropy is supporting the Roadrunner Athletic Fund, increasing ticket sales to sporting events, enhancing and expanding athletics facilities, and developing stronger relationships with corporate sponsors.
"The Whitacre family's investment in our state-of-the-art basketball and volleyball training facility will elevate the training experience for our dedicated student-athletes and is exemplary of the limitless potential of Roadrunner Athletics," said Lisa Campos, UTSA vice president for intercollegiate athletics. "Ed and Linda's enduring support has played a pivotal role in propelling our relentless pursuit of excellence, both on and off the court, and is shaping the future of our athletes and our institution."
The Whitacres have generously supported UTSA over the past 20 years. In 2013, he created the Edward E. Whitacre Jr. Chair in Mechanics and committed $500,000 to support athletics facilities improvements. In 2019, he contributed another $500,000, enabling UTSA to purchase a metal 3D printer for the Klesse College's Makerspace. The Makerspace is a 17,000-square-foot environment that encourages engineering students and faculty to create, design, build and test their innovations. Later that same year, he committed another $1 million toward the construction of the Roadrunner Athletics Center of Excellence.
"Engineering opened many doors for me, including my first job. It has always been important for me to support students following a similar path," said Whitacre. "I also believe in elevating a university's stature through athletics. Collegiate sports not only showcase talent but also shine a spotlight on the institution, signaling to the world that we're here and we matter."