May 2014
Student Spotlight:
College of Liberal & Fine Arts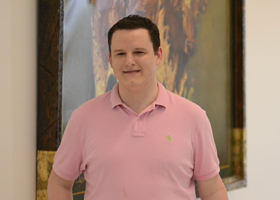 Daniel Crotty
---
Watch Daniel's Commencement Close-up below
---
The Rhode to success
COLFA grad Daniel Crotty is only the fourth Rhodes Scholarship finalist in UTSA history
When Daniel Crotty participates in the College of Liberal and Fine Arts Spring Commencement Ceremony he will carry the distinction of being the university's fourth Rhodes scholarship finalist to cross the stage.
Rhode Scholar nominations are based on high academic achievement, integrity of character, a spirit of unselfishness, respect for others, potential for leadership and physical vigor. More than 850 names were submitted last year, 91 finalists were selected and only 32 Rhodes Scholars were chosen to represent the United States. Scholarships cover students' expenses while they spend 2-3 years studying at Oxford University in England.
"I have rarely seen someone who is as intellectually sophisticated and politically engaged in real world struggles," said Ben Olguin, UTSA Professor of English and Honors College Assistant Director for National Scholarships and Fellowships. "Daniel is one of the very few students who I can call an organic intellectual, a scholar that can translate their learning into real-world solutions in both local and global struggles for equity and justice."
Crotty also held the distinction of being named a UT System Bill Archer Fellow, which helped him secure an internship in Washington, D.C. with the U.S. Senate Committee on Health, Education, Labor and Pensions. As an intern Crotty assisted in organizing Congressional hearings on retirement savings and raising the federal minimum wage.
His community contributions include serving at a homeless shelter, organizing a labor protest for custodial staff that felt a hotel was illegally confiscating their tips, and finding community members to testify about their experiences which resulted in the passing of the City of San Antonio's non-discrimination ordinance.
A member of the Dean's List every semester with an overall 3.95 GPA, Crotty also worked as a teaching assistant in introductory literature courses and is graduating with a bachelors of arts degree in English with minors in Legal Studies and Women's Studies.
To achieve his accolades, Crotty overcame personal hardships that included family turmoil, nomadic travel, and stints of homelessness and abuse throughout his childhood.
"It was after this difficult period of survival that I decided that I would dedicate the rest of my life to participating in collective efforts to help empower the voiceless, the exploited, and the ostracized members of society," said Crotty.
– Kris Rodriguez
Do you know a fascinating UTSA student who is planning to graduate in May 2014? Share that story with us at news@utsa.edu.