Racing to Reaccreditation
February 1, 2018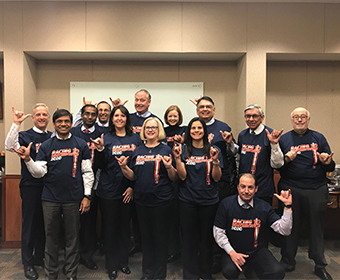 As you know, UTSA will undergo a Reaffirmation of Accreditation review from the Southern Association of Colleges and Schools Commission on Colleges (SACSCOC) in 2019-2020.
This review happens once every 10 years, and it is a very big deal.
I particularly like the Racing to Reaccreditation theme chosen for this initiative – it couldn't be more apropos. Although it may seem like we have a long time to prepare, we cannot underestimate the time and effort involved in putting together a successful report. It is time to buckle our seatbelts and hit the gas pedal!
My thanks go to Kasey Neece Fielder and the entire team of 40+ individuals from across the university working to get UTSA ready for review. This is an enormous job, and Kasey is doing wonderful work to coordinate the vast amount of data and information that must be gathered, assessed and narrated for our final report.
But Kasey and her team cannot do this alone. Based on the initial status check completed by the UTSA SACSCOC team last fall, we discovered 100 (yes, 100) items that need to be addressed to ensure compliance with the 2018 Principles of Accreditation.
Our window for fixing those issues is very short – only 9 months!
And so, race we must. Our reaccreditation takes the highest priority, and I know all of you who are working diligently on various pieces of our report are taking this effort very seriously. We simply cannot afford complacency when it comes to UTSA's accreditation.
I trust that the work being done to address the issues identified in our status check will only drive UTSA further toward excellence. This is the ultimate goal of the entire reaccreditation process, and with our collective focus and lots of hard work, I have no doubt of our success. Race on!