Freedom of Speech
September 10, 2018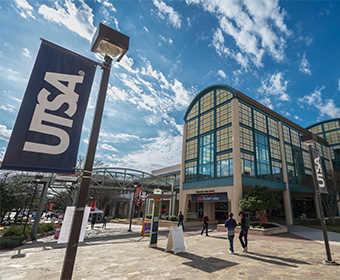 Dear Roadrunners,
At our new student Convocation last month, I spoke about one of UTSA's fundamental obligations: to prepare our students to be civically engaged so they can go forth and make the world a better place.
This principle gets at the very essence of a higher education, and is only becoming more important in light of escalating societal conflicts rooted in constitutionally-guaranteed free speech and individual values. How can we best prepare students for this complex world?
In my mind, graduating world-ready citizens means providing them with the tools for civil discourse. Learning how to engage in constructive, fact-based debates with those with whom we disagree is an essential skill for the leaders of today and tomorrow. In fact, I would argue that if UTSA students graduate without engaging with ideas and opinions different from their own, we have fallen short as an institution.
As someone who has spent his entire career in academia, I can tell you that freedom of speech is one of the most difficult issues for educators to navigate. It reveals how two of higher education's most intrinsic values—open discourse and inclusivity—can work against one another. I've been to many professional meetings for university administrators in the last year where this has been the main topic of discussion, and there are a wide variety of thoughtful perspectives on this topic that have informed my views.
Events of the last year have brought the issue to the forefront. The disruption and violence caused by the upsurge of extremist groups targeting universities—especially here in Texas—makes it difficult to separate our emotional reactions from intellectual reflections. The limelight has even spurred the Texas legislature to take an interest in the topic.
Given that free speech is a complex and sensitive issue, but utterly foundational to the fabric of higher education, it is a matter of priority for all university presidents and chancellors. As UTSA students, faculty and staff, you deserve to know where I stand.  
First and foremost, I believe in open discourse and first amendment rights. Universities are uniquely positioned—and obligated—to be places where ideas are shared and challenged, even when those ideas are difficult, unpopular or offensive. I will always fight to protect the right of individuals to express their views openly, as I will fight for the right of others to contest or condemn those views.
This does not mean that individuals should be permitted to say anything they want at any time, in any location or under any circumstance. We cannot allow our students' safety to be put at risk, nor can we tolerate harassment, intimidation or threats. Similarly, we will not abide violations of the law, actions that invade privacy or any instances that impede the ability of the university to function. These are not acceptable in a learning community, and our policies regarding peaceful public assembly and major events are designed to provide those protections while facilitating freedom of expression on our campus.
While I believe passionately in the principles of free speech, I also want you to know that I fully reject the notions shared by groups who promote intolerance, bigotry, hatred and violence. Their tenets are antithetical to my values. They are also antithetical to UTSA's core values of integrity, inclusiveness and respect.
This year UTSA will offer some programming to help our entire Roadrunner community deepen understanding and build skills around this topic. To kick things off, the Student Government Association in collaboration with the Student Leadership Center and Student Activities will host a workshop called Free Speech 101: Understanding the First Amendment on Campus to take place on Constitution Day, September 17. In addition, starting next month the Student Life Initiatives Office will host a series of workshops on communication to aid in civil discourse. We also have a speaker series in the works that will bring free speech thought leaders to our campus – watch for announcements in the weeks to come. 
Shining a bright light on these difficult issues—discussing them openly and without fear—is essential to building a strong community. Thanks to all of you for living out UTSA's core values, and for treating one another with civility and respect. 
With appreciation,
Taylor Eighmy