Classroom to Career Presidential Initiative
October 1, 2018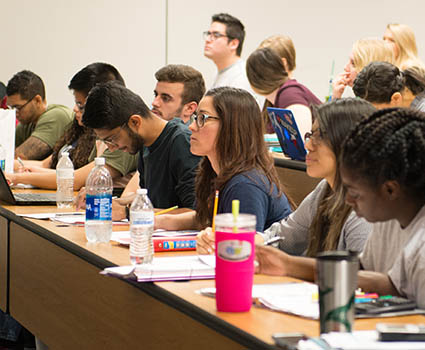 Dear Roadrunners,
Learning happens everywhere — not just in the classroom.
The sentiment behind this statement is far more than a mere platitude. I believe that experiential learning opportunities can greatly enhance classroom instruction and have a profound impact on student learning outcomes. These signature learning experiences—including internships, service learning, undergraduate research and study abroad—directly contribute to a student's success in college and in his or her chosen career.
My convictions regarding the power of experiential learning run deep, and I see it as a key component to driving UTSA toward our destination as a model for student success. As such, I am pleased to announce the launch of the Presidential Classroom to Career Initiative. This initiative has wide-ranging benefits, and will drive our institutional goal to have 75% of students graduate with some form of experiential learning by 2028.
I have asked UTSA Provost and Vice President for Academic Affairs Kimberly Andrews Espy to oversee this important effort. A Classroom to Career Task Force will set the planning phase into motion under the leadership of Heather Shipley, vice provost for academic affairs and dean of University College. Because University College supports all undergraduates across disciplines, it is well positioned to serve as a central connection point for the various experiential learning opportunities that already exist at UTSA and the new ones that will be created as a result of this initiative.
Undoubtedly, there are numerous experiential learning opportunities already available at UTSA thanks to the hard work of many faculty and staff in academic and support units across campus to build these programs from scratch. The role of the Classroom to Career Task Force, which comprises many of our experiential learning campus champions, will be to develop a framework to identify and connect existing programs and facilitate the creation of new ones. As a critical part of this process, the task force will reach out widely to community partners to gather their input.
Career preparation is closely related to this initiative. The more we can interweave students' classroom learning with real-world applications, the better positioned they will be to pursue their career goals. To strategically align our academic enterprise with career readiness, the UTSA Career Center will become a part of University College under Dr. Shipley's leadership.
The Classroom to Career Task Force will deliver its report by the end of the fall semester so that we can begin the critical work of implementation beginning in January 2019. As always, my thanks go to the task force members on behalf of the many UTSA students who will reap the benefits of their work.
With appreciation,
Taylor Eighmy