CFR Global Policy Tour at UTSA a Reminder to Go Vote
February 16, 2020
Rivard Report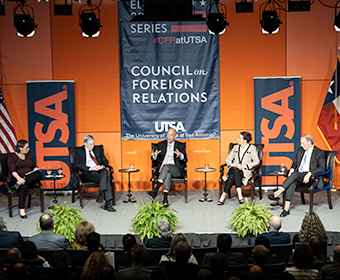 For one evening last week at the University of Texas at San Antonio, I was transported back to my days as chief of correspondents at Newsweek magazine as well as the years I lived in New York and was a member of the Council on Foreign Relations.
The council (CFR) is the nation's premier nonprofit, nonpartisan foreign policy and international affairs organization, think tank, and publisher of Foreign Affairs. Its members include senior government officials, career diplomats, scholars, journalists, educators, and business and religious leaders.
For the five years my wife, Monika, and I lived and worked in New York, from 1985 to 1990, I often walked from Newsweek's offices on Madison Avenue and 50th Street to CFR's home at the historic Pratt House at 68th Street and Park Avenue for talks delivered by presidents, prime ministers, autocrats, military generals, Nobel Prize winners, ambassadors, royalty, revolutionaries, and human rights leaders. It was a front-row seat to the world and the very people orchestrating the end of the Cold War, the collapse of the Soviet Union, and the struggle for freedom and democracy sweeping Latin America.