UTSA and Southwest School of Art Update
March 31, 2022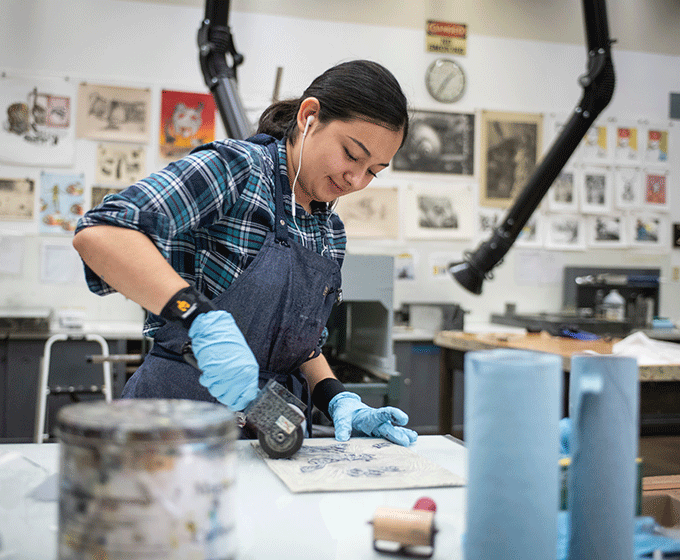 Dear UTSA community colleagues,

With San Antonio's beloved Fiesta recommencing this weekend, an update on the significant progress of the merger of the Southwest School of Art (SSA) with UTSA is particularly timely. Over the last few months, we have made significant progress in the practical matters of combining our great institutions. Since August, we have gained a greater understanding and appreciation of Southwest School of Art's solid reputation of excellence and deep connection with the artist community. By joining forces, SSA's well-recognized impact will make us stronger as we build a model for arts education that elevates our institution in alignment with UTSA's strategic destinations: a Model for Student Success, a Great Public Research University, and an Exemplar for Strategic Growth and Innovative Excellence. The State of Texas and the UT System are committed to expanding the number of top tier institutions—outstanding arts programs are absolutely integral to this goal. For us, cultivating excellent and comprehensive arts programs with vibrant community engagement is central to our strategic destinations, where innovative artists provide the creative power that enables our progress forward.
There are several notable exemplars in comprehensive arts education from which we draw inspiration—one such example is Virginia Commonwealth University. Nestled in a rich, urban-serving research university, VCUarts is home to the nation's top-ranked traditional arts programs, which grounds its other creative arts programs in differing aspects of design, digital arts, communicative arts, art history and arts education, and connects to expressive arts programs in music, dance and theatre. Whether traditional, digital or performing, the arts are at the forefront of VCU's identity as a university and a key element in their impact on their city, region and the national arts community. VCUarts students and faculty are skilled in their respective areas of creative practice while also able to explore the development of hybrid-based fields—incorporating the elements of business, science, medicine, engineering, education, public administration and civic planning that a research university enables.

Recalling the goals we articulated last summer as we began this journey, UTSA remains resolute in our vision to build upon the fused strengths of our two institutions by ensuring the long-term continuity and advancement of arts education and degree programs in San Antonio and expanding community-focused creative arts education to its fullest. Furthermore, through the campus in the heart of San Antonio's downtown arts district, we are committed to extending SSA's impact and the university's engagement with our communities through the wide range of programs and events that promote our vibrant arts culture in San Antonio, our region and state. 

Over the past months, there have been many opportunities for UTSA and the SSA community to connect, including town hall meetings with faculty and staff, community students and community instructors. During these important conversations, we have provided updates, answered questions and listened to feedback. Additionally, we have collected questions from our meetings and town halls for the FAQ section of our transition website for the benefit of others. We summarize below some of the details of the activities and outcomes of our efforts to date.

Student Transfers and Fall Admissions Update
Our enrollment team, which includes SSA recruiter Lauri Garcia Jones, has spoken with each BFA student individually and worked to facilitate a smooth transfer process at every step of the way to ensure those who applied are ready to continue their studies in fall 2022. Later this month, consideration for all UTSA scholarships will be given to applicants who met the scholarship deadline of January 15, and SSA students with a previous multi-year SSA scholarship who have maintained the renewal criteria will receive a UTSA scholarship. Earlier this month, we hosted a well-attended welcome breakfast and tour of the College of Liberal and Fine Arts and university facilities for BFA students transitioning to UTSA. The event was well received, with enthusiastic responses from faculty and students.

Faculty and Staff Hiring Updates
The process of appointing faculty is one of the most important activities undertaken by the university as it is one means by which we advance our high scholarly standards and expectations for impact. A respectful, thorough and objective review of faculty accomplishments was conducted. Each faculty member had the opportunity to personally share their work and artistic impact with their UTSA colleagues as a part of the process. SSA faculty met one-on-one with the Dean and Chair to discuss workload responsibilities, fall 2022 and spring 2023 teaching assignments, and the hiring process. Follow-up conversations with the chair, dean and/or hiring authority have ensued to finalize appointments in preparation for the start of the 2022–2023 academic year.

We continue to make excellent progress with our staff transition process. Last month, the UTSA Talent Acquisition team and SSA staff held productive one-on-one meetings to gain better insights into their current positions, professional experience and career goals. Since then, we have worked closely with hiring managers throughout the university to develop and finalize job descriptions. Talent Acquisition has hosted workshops to develop resumes and interview skills, supporting the success of SSA staff as they prepare to apply for positions with the university.

This week, we began posting staff positions and collecting applications. Staff are welcome and encouraged to apply for any open positions that meet their interests and qualifications. Interviews will take place in April and May, and we look forward to working through these next steps together. To answer any questions, a member of the Talent Acquisition team is available on the SSA campus every Wednesday, and all are encouraged to visit the FAQ to learn more about the staff hiring process.

Bachelor of Fine Arts Program
The UTSA faculty, collaborating with SSA colleagues, have worked diligently to create a new curriculum for the Bachelor of Fine Arts degree program that links and expands complementary assets, and prepares students for creative arts expression in a mixed media world. The new curriculum, inspired by SSA's instructional model, includes individually-guided artistic exploration. One particularly exciting element of the new curriculum is the linkage of the BFA curriculum and the Community Arts Program instruction through our Classroom to Career Initiative (C2C). The C2C initiative is designed to prepare students for their professional career through experiential learning activities and promote the development of marketable skills in alignment with the Texas Higher Education Coordinating Board (THECB) strategic plan: Building a Talent Strong Texas. Engagement in community arts is the backbone of SSA's lasting impact, and this innovative approach is an exemplar of the power of our institutions coming together in developing new offerings to best serve our students, region and state.
Charting the Course for a New School
Resulting from the continued engagement, planning and announcements as a part of the College of Liberal and Fine Arts (COLFA) Phase II Visioning process, the College will launch a national search for a Founding Director of our new school in May. A Search Advisory Committee composed of UTSA and SSA faculty, leaders, staff and students, as well as key community supporters, will be convened to provide input into the selection, and an art-specialty search firm consultant will promote this exciting opportunity and help identify an ideal candidate with the expected leadership and experience. During the period while the search is underway, interim leadership will be named to ensure continued progress in furthering our integration and shared culture. We also plan to conduct campus visits and engage with national experts and community constituents to learn from exemplar universities and programs, such as VCUarts, to guide us in growing the School.

After the Founding Director joins us sometime during the Spring 2023 term, the new leader will convene members of our university and arts community in a strategic planning effort to define and chart the realization of the vision of the new school. We expect that the plan, led by the School Director, will utilize best practices and inspirational models learned during campus visits and engagement of national experts, and include creative exploration across the broad range of visual artistic expressions and media, including traditional arts, as well as arts reflected through the disciplines of design, digital, communication, history, and education, to name just a few.

School Organization within COLFA
The SSA–UTSA alliance also brings new opportunities for COLFA to engage the community not only across the arts, but also for the humanities and social sciences.  With the arrival of Dean Glenn Martínez last summer, the Phase II Visioning process seized the opportunity provided by the merger of SSA to actively identify COLFA'S greatest strengths and opportunities, lay the groundwork for future strategic planning, and coalesce a shared identity and interdisciplinary programmatic mechanisms among its academic units as a model for an urban- and Hispanic-serving research university of the future. Dean Martínez shared an update on the Visioning process with college faculty and staff earlier today.

The new COLFA vision and programmatic structure is built on three pillars: reimagining the humanities; recommitting to arts education; and bolstering social science research centered around approaches that are publicly oriented, community engaged, digitally enabled and equity infused. This College-level visioning process sets the framework for subsequent area-level strategic planning to enable interdisciplinary connections amongst the new School and other art forms (e.g., music, dance, theatre, creative writing) to contribute to a vibrant, thriving arts education ecosystem that spans the Main and Southwest campuses and leverages collaborative downtown opportunities to connect with partners in new and richer ways. It will showcase and expand SSA's community education model, as an example for other art programs to embrace our communities by nurturing and shaping creative expression and successfully expanding education in its many forms.

To advance this broader goal for the arts, the College also will launch a national search for an Associate Dean/Executive Director in May. This individual will be a member of the dean's leadership team and will be charged to both support the development of the new School and lead the cultivation of robust connections and collaboration across the arts-related programs in other schools in COLFA and collaborative opportunities with other Colleges. Centered on the community-focused engagement and activities that are the hallmark of SSA, this new position will be responsible for enabling and supporting community engagement in the arts ecosystem, anchored in the downtown area to advance our urban-serving mission.

Community Programs Update
Staff of UTSA's Professional & Continuing Education (PaCE), the administering unit that supports community education programs, have been working together with COLFA and SSA's program directors Barbara Hill and Patricia Morales on the logistics of the transfer of the adult and youth programs. We committed to programmatic continuity and will take on the leadership in June prior to the start of the summer programming. To this end, community instructors are finalizing the process to become UTSA contractors, with a completion date of May 1. Outreach to community adult and youth students occurred in February, and registration for summer youth programs opened for Friends of SSA on March 22 and for the public on March 29. The adult program registration opens for Friends of SSA on April 12 and for the public on April 19.
Exhibition Planning
UTSA is pleased to continue the exhibition program and eagerly anticipate the Kukuli Velarde exhibition, Corpus, organized by the College of Charleston, scheduled for exhibition in San Antonio September 9–November 5. The exhibition, made possible by the generous support of the Alturas Foundation, was contracted in 2020 by Paula Owen and includes large-scale ceramic sculpture, textiles and film. The much-anticipated exhibition, now in collaboration with the College of Liberal and Fine Arts, is led by Dr. Scott Sherer, UTSA Gallery Director, who is working diligently with SSA, the College of Charleston, the Alturas Foundation and the artist to ensure that the exhibition reflects the care and excellence that has been a hallmark of SSA and UTSA art exhibitions. While plans are under development to hire full-time gallery staff, UTSA Main Art Gallery staff Martín Rodriguez and Dane Paterson will work with SSA's Chris Sauter and other faculty, interns and students to assist with exhibition practices and preparation. A public opening and reception with the artist, as well as student engagement opportunities and a public lecture are being planned for October. We are also enthusiastic about opportunities to restore community engagement and interaction with future exhibitions and artist visits on the campus.

Fiesta Arts Fair
Since 1973, the Fiesta Arts Fair has been a family favorite Fiesta event at SSA. With an annual attendance of approximately 12,000 people, the 2-day event showcases the contemporary art of more than 100 artists from across the United States and features works in a variety of media. Under the administration by the team in Development and Alumni Relations, in collaboration with the COLFA and the new School, UTSA looks forward to continuing this tradition in 2023 and beyond. We are looking forward to participating in the 2022 Fiesta Arts Fair this weekend, April 2 & 3, with sponsorship, volunteers and recruiting efforts.

Venue Rental Transition
UTSA's Executive Director of Events, Conferences and Camps, Debra Justice, is working with SSA's Marta Solís and the SSA rentals team to transfer currently booked events at SSA facilities to UTSA. Our partnership with SSA has provided the opportunity to create a new, unified events operation under Debra's leadership to support a seamless process across facilities that are available for community use.

Donors, Trusts, and Development Outreach
Recognizing the strong and enduring support from individuals, corporations and foundations that has been a staple of SSA's success, the UTSA development team has worked closely with SSA's Ed Conroy and Stephanie Peché Canales to continue communications and outreach to these treasured partners. Efforts are underway to further develop relationships with donors through communications, cultivation and one-on-one meetings. We have worked with UT System and SSA staff to inventory all endowments/trusts and begin the process of transferring management of those asset proceeds to UTSA in support of SSA. With an eye on the future, UTSA has incorporated SSA in overall fundraising efforts, such as the upcoming UTSA Giving Day, with a focus on support for operations, scholarships and community programs.

The SSA Board of Trustees have been instrumental in providing guidance to the leadership of SSA through the years. To continue that momentum, UTSA seeks to transition the SSA Board into opportunities to serve on the inaugural advisory council for the new School, joining our other academic advisory councils across campus in promoting philanthropy and sustaining an engaged connection to our constituents across San Antonio and beyond. The new advisory council will be constituted throughout the summer, with the first meeting to be held in early fall 2022.

Club Giraud
Since its inception, Club Giraud has philanthropically supported SSA. We value that support and will continue to build on it for SSA's people—especially students—and programs that will continue through our partnership. The lease between Club Giraud and SSA—extended this past summer until 2028—will transfer to UTSA in June. UTSA very much looks forward to continuing this relationship into the future, supporting place, function, and history. Club Giraud will still—and always—be a place for member families to enjoy special dinners, holiday events, weddings, bridal showers, Fiesta celebrations, private parties/events, birthday celebrations and more. Additionally, annual philanthropic support will continue to be directed to support students and programs at the Southwest campus, as we believe that the philanthropic intent is for that specific purpose.

Facilities Update and Campus Name Change for SACSCOC
UTSA's Real Estate, Construction & Planning team has been hard at work reviewing SSA facilities and exploring future needs, working closely with SSA colleagues. This summer, the university will begin work on a variety of infrastructure and facility projects at the Southwest campus. As part of our dedication to student success, internet capabilities will be enhanced to provide convenient access for coursework and studies. To support the safety of our campus community, parking lots will receive expanded security camera coverage, upgraded light fixtures and additional light poles. Select areas of parking lots will be resurfaced to improve accessibility. Each of these projects will follow UTSA's standards, while also carefully considering the important historical presence of the Southwest School of Art property.

Additionally, we have reached a key milestone in our path forward: the identification of a campus location name, required as a part of our SACSCOC accreditation. Implementing this name assists us in continuing our momentum, as it allows us to proceed with campus planning and preparation, course registration and more. After careful consideration, and to honor the history of SSA while welcoming the site to the UTSA family, we are pleased to announce that the campus location will be known as UTSA Southwest.

In the coming months, you will begin to see new signage with the UTSA Southwest campus name. It is important to note that the campus location name and the name of our new merged school (which has yet to be determined) are separate and distinct matters. For example, the UTSA Downtown Campus houses many academic programs and units administered by different colleges and schools. The name for our new School will be considered later this summer. The name will be developed initially as part of the ongoing COLFA Visioning process; members of the UTSA and SSA communities, our community of supporters and friends, and key individuals then will have an opportunity to offer input before a final decision is made.

As we look ahead and prepare for the fall 2022 semester, we have learned so much about SSA's unique and special programs that elevate arts education in our community. We are thankful for the dedication, commitment and hard work by all involved—UTSA and SSA alike—it is what has propelled us toward achieving our shared goals. As we enter the second half of the transition process, we are confident that together, through ongoing dialogue and deliberate engagement, we will build a bright future for the arts in our region that can become an inspiration for others.
Sincerely,
Taylor Eighmy
President
Kimberly Andrews Espy
Provost and Senior Vice President for Academic Affairs
Veronica Salazar
Chief Financial Officer and Senior Vice President for Business Affairs
Karl Miller-Lugo
Vice President for Development and Alumni Relations