UTSA and Southwest School of Art Update
June 19, 2022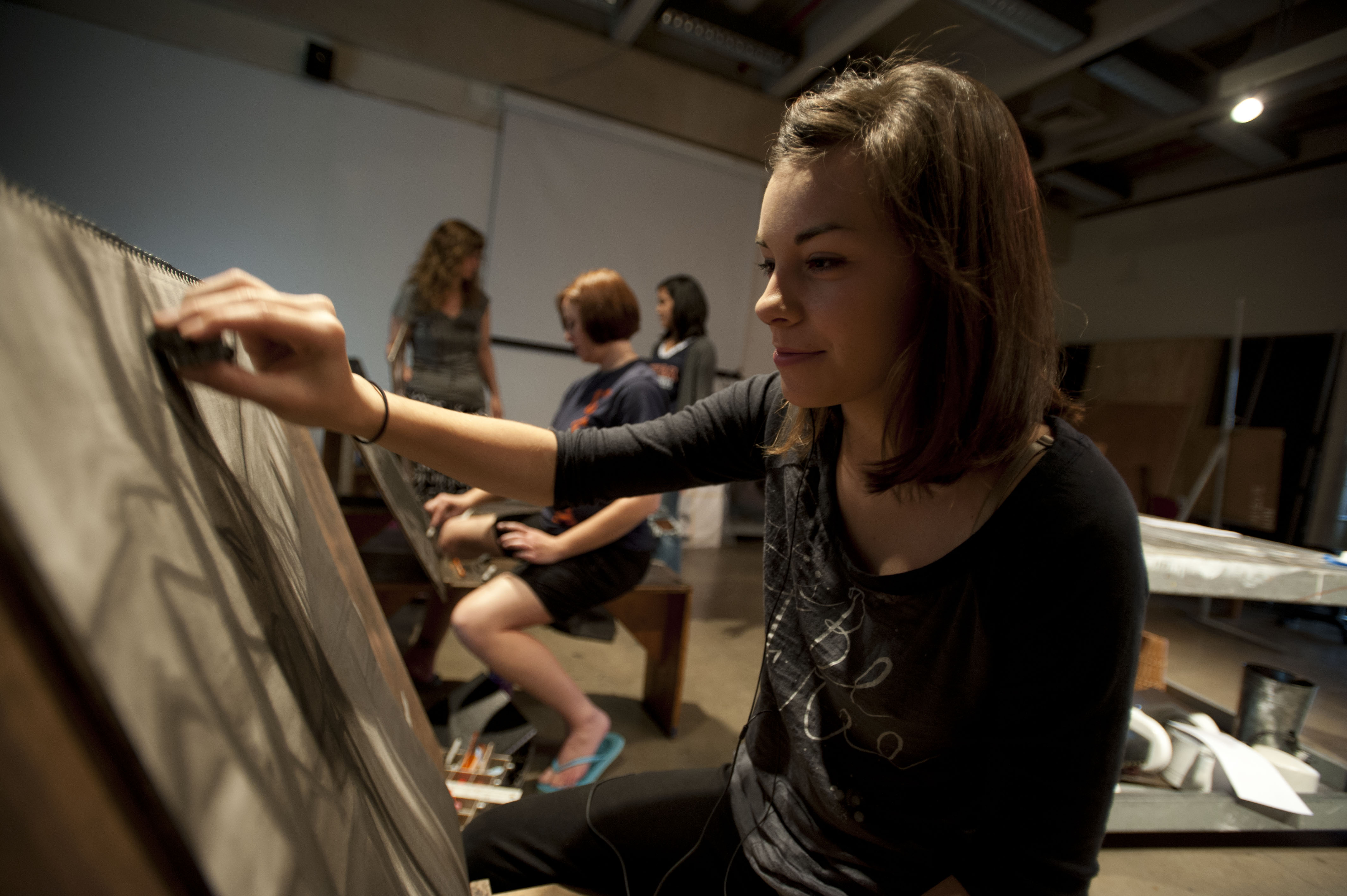 Dear SSA Friends and future UTSA Community Partners,

We hope your summer is off to a terrific start! We are delighted to share news of our progress since our last message.

Community Art Classes
Traditionally summer marks a particularly noteworthy time for the happenings at the Southwest School of Art  — including last week's kickoff of the Summer Art Studios for kids and teens and the Summer Adult Community Classes, which this year are being jointly administered by our UTSA and SSA colleagues.  This transition is another indicator of the exciting progress to date of our collective work to merge our two institutions to serve our community. 

As we continue to emerge from the two-year pandemic, enrollment in SSA's summer classes is strong. To date, more than 725 students are registered for summer, with more expected over the coming month. A huge thanks to SSA's Barbara Hill, director of community programs, Patricia Morales, director of young artist programs, and UTSA's Melissa Mahan, associate vice provost for academic innovation, and Greg Elliott, Art and Art History department chair, and all their teams for working so tirelessly to develop and offer a full slate of community classes this summer.
>> VIDEO: Director of Young Artist Programs Patricia Morales talks about what SSA students can expect from the merger with UTSA

This team now is working toward the kickoff of fall open registration, which is set for Aug. 16. Just like summer, a full range of community art classes will be offered at the Southwest Campus for fall. UTSA is deeply committed to carrying on SSA's role of serving the needs of the artists in our community and all seeking artistic enrichment and education, particularly for low-income families. To further signal that commitment to our broader San Antonio community, we are working on a dedicated marketing campaign to promote the fall community art classes when registration launches in August, as well as classroom-to-career experiences connecting BFA and MFA students to community art program instruction. More to come on those efforts!
New arts school
In May, the UTSA College of Liberal and Fine Arts (COLFA) shared an update on its Tactical Visioning effort related to the SSA merger. Central to the creation of a new, merged school of arts has been the development and approval of a new BFA curriculum that incorporates key elements from both the previous UTSA and SSA BFA programs, including a focus on interdisciplinarity and career-engaged artistic formation.

>> VIDEO: College of Liberal and Fine Arts Dean Glenn Martínez talks about UTSA's commitment to the SSA mission

We have now kicked off the process to select a name for our new school focused on the arts that both 1) honors the longstanding mission of the Southwest School of Art as a catalyst for unlocking the creative potential of our community and 2) advances the vision for the new school to be a national exemplar for arts education. A UTSA-SSA-Community Advisory Committee, composed of both internal faculty and staff and external community members, has been convened. 

In this two-phase process, the community stakeholder members will provide input for the formulation of a new name, assess the significance of the "Southwest" name and brand, and make recommendations on the best way to honor that meaning moving forward. The result of the external community advisory committee members' work will then be shared with the internal members of the advisory committee consisting of faculty and staff from SSA and from UTSA's Department of Art and Art History. The internal members of the advisory committee will weigh options related to the school's academic offerings and suggest potential naming options.

Finally, the multiple options suggested by the advisory committee will be integrated and presented to a broader constituency of internal and external stakeholders for further feedback. After receiving this advisory information, and following consultation with others as needed, a name will be finalized in accordance with UT System policy.

We look forward to announcing the name of the new school in August, prior to the start of the Fall 2022 semester.

More information on the COLFA Tactical Visioning process can be found on the college's website.

Director search
In May, we launched the national search for the founding director of the new school. UTSA will work with executive search firm Koya Partners, one of the leading arts and culturally focused search firms in the US, and a member firm of Storbeck Search.  Koya managing director Naree W.S. Viner and senior search associate Tenley Bank will serve as our partners. Naree is regarded as one of the leading search consultants in the field, and she and Tenley both have particular expertise working with art and cultural institutions, as well as institutions of higher education, to identify and recruit experienced, diverse executive talent. Representative clients include the George Washington University/ Corcoran School of Art; Haystack Mountain School of Crafts; the Smithsonian Institution's Archives of American Art, Hirshhorn Museum and Sculpture Garden; Texas Christian University's College of Fine Arts; Virginia Commonwealth University's School of the Arts and Institute of Contemporary Art; UT Austin's College of Fine Arts; Harvard Art Museums; and Yale University Art Gallery.

To kick off the development of the position profile, the search firm will engage with community and university stakeholders to identify their aspirations and characteristics desired in the new school leader. A search advisory committee composed of faculty, staff and student representatives and community stakeholders will be named later this summer. The search process will afford multiple opportunities to meet and interact with candidates, as well as provide input into the selection.

Student transition
Dedicated UTSA staff in Admissions, Advising and Financial Aid are continuing to assist SSA students in UTSA orientation, registration and student support. SSA students have also been referred to other individualized points of contact of other UTSA services, such as Student Disability Services and the Multicultural Student Center for Equity and Justice, to support students to start Fall 2022 classes with the needed connections.

Additionally, UTSA's Director of Scholarships is meeting individually with SSA students to review their financial aid award packages, including available scholarships and grants. Through the generous support of donors and the range of funding sources available as an accredited public research university in the UT System, UTSA has been able to match the scholarship percentage for each SSA student, and with the eligibility for federal financial aid, many are being awarded additional aid on top of their existing scholarships that reduces their cost of earning their degree at UTSA.

Transferring SSA students also will have access to a multitude of benefits at UTSA, including on-campus health, wellness and wellbeing services; free and unlimited bus service throughout the greater San Antonio area as a result of UTSA's partnership with VIA through our VIA U-Pass program; a full slate of student engagement activities and leadership opportunities; and so much more.

More information on the student transfer process can be found on the FAQ for SSA students.
Staff hiring
This month, the UTSA People Excellence team is finalizing the transition to join UTSA for all SSA employees who have accepted job offers. We look forward to welcoming our talented new colleagues as UTSA employees on July 1!

As part of the agreement between SSA and UTSA, UTSA has offered employment opportunities to all SSA employees. This spring, UTSA posted a variety of positions for which only current SSA employees were eligible, and SSA staff were welcomed and encouraged to apply for these, as well as any open positions at the university that met their interests and qualifications. The university began receiving applications and conducting interviews in April, and extending job offers in May, all of which have now been accepted. 

The Talent Acquisition team has worked with each employee to provide support through the transition process and a member of the team is available every Wednesday on the SSA campus to answer questions from current SSA employees. More information on the employee hiring process can be found on the FAQ for Staff & Faculty.

>> VIDEO: UTSA talent acquisition specialist Sharon Martinez talks about onboarding SSA employees
Transition coordination
Finally, we are so pleased to share that SSA Development Director Ed Conroy will serve as On-site Southwest Campus Transition Coordinator beginning July 1. In this temporary role, Ed will be the primary point of contact for questions or assistance for all whose work is onsite at the Southwest Campus to support the successful transition. Though our teams have been meticulous in their planning over the last year, Ed can help respond to any unanticipated issues as they arise and elevate unresolved issues to university leadership to ensure they are addressed. These responsibilities are expected to last for just a few months, until employees are more fully integrated into the ongoing work of their respective areas. We are grateful to Ed for serving in this capacity and know that, with his years of experience at SSA, he will be a great resource to his old and new colleagues alike.

Looking ahead
Our teams continue to plan for the upcoming Kukuli Velarde exhibition (Sept. 9–Nov. 5), as well as the annual Gala (Nov. 3) — we expect to share more details about both soon. As the summer progresses and we reach more milestones in this transition, you can always find the latest updates on the UTSA+SSA transition website. Additionally, we will be adding more videos to this site over the summer to highlight the work of the many individuals who are contributing to this tremendous effort.

Please know that we remain immensely grateful to you for your efforts and ongoing support. We look forward to working with you for many years to come to advance an art school that continues to cultivate a thriving arts community for the benefit of all San Antonio.
Sincerely,
Taylor Eighmy
President
Kimberly Andrews Espy
Provost and Senior Vice President for Academic Affairs
Veronica Salazar
Chief Financial Officer and Senior Vice President for Business Affairs
Karl Miller-Lugo
Vice President for Development and Alumni Relations