Welcome to the start of a new academic year!
August 24, 2022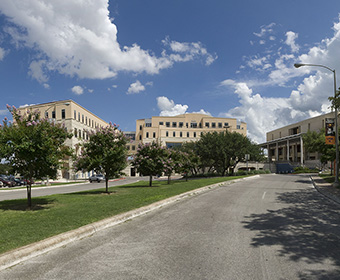 Colleagues,
Welcome to the start of a new academic year! For those of you just beginning your positions as new faculty and staff, we are grateful you have chosen to become part of our university community. No matter how long you've been a part of our team, I hope you will join me in embracing all the excitement and opportunities that a new academic year brings.

Together, we've overcome great challenges over the last two years particularly persevering through the ongoing COVID-19 pandemic and, I'm optimistic this year will bring greater normalcy. I recognize the challenges you've turned into opportunities, and I'm deeply grateful for your ongoing support.
---
As a university community, we have so much to look forward to this coming year. To name just a few:
Celebrating UTSA Southwest — Our Newest Campus

In July, we completed our integration with the Southwest School of Art. This semester marks a new chapter, welcoming faculty, staff and students to the Southwest Campus for fall 2022 classes. We're excited to get to know the newest members of our Roadrunner community and look forward to all the good work ahead to advance the arts throughout our city.

Opening San Pedro — Our Newest Building

Construction of San Pedro I - located in Downtown San Antonio is now complete, and preparations are underway to outfit the building for use by January 2023. The building will house our new School of Data Science, and the National Security Collaboration Center will anchor the top two floors with its ecosystem of government contractors and partners. We can hardly wait to see hundreds of Roadrunner students and faculty enjoying this new state-of-the-art facility when we commence our spring semester.

Launching BE BOLD — Our Comprehensive Campaign

This October, UTSA will enter the public phase of its $500 million BE BOLD comprehensive campaign. I'm proud to say we've already made incredible progress toward our goal, and I look forward to sharing new details on how you can get involved in the near future.

Strategic Plan Refresh

As mentioned in my update email to you in May, our strategic plan refresh will begin this fall and carry into the spring 2023 semester, and will involve participation across the institution and throughout our colleges. More details will be shared about the kick-off in October.
Advancing Our Campus Climate Plan

Over the past two years, we collected valuable information through our first faculty and staff Campus Climate Survey, as well as follow-up focus groups and conversations. Much work has already been completed to create plans that address institution-wide and division-specific initiatives, and our work continues this fall as we develop action plans to address your feedback on making UTSA an even greater place to work. We will continue to update you on our progress throughout the year.

Identifying the Next Leader of our Research Enterprise

Over the summer, I announced the launch of a national search for our next Senior Vice President for Research & Economic Development. This individual will build on our tremendous momentum towards our strategic destination as a great public research university. This search is already well underway, and I will share updates as they become available.

Bold Discoveries Dr. Packham and the James Webb Space Telescope

In July 2022, Dr. Chris Packham, professor and astrophysicist in the UTSA Department of Physics and Astronomy, received the newly revealed galactic images from the James Webb Space Telescope to conduct research alongside international scientists on supermassive black holes. The team he co-leads Galactic Activity, Torus and Outflow Survey (GATOS) is one of a select number of teams awarded access to the Webb telescope for research, a total of 53 hours to collect data.

2022-23 Roadrunner Football Season

Roadrunner football is back and our student-athletes are eager to kick-off this season our last in Conference USA before we make the move to the American Athletic Conference in July 2023. The entire San Antonio community rallied around our winning team last season, and we can't wait to do it all again soon! Make sure to check out the 2022-23 schedule and cheer on our Runners!
---
Lastly, as noted in our recent update on Monkeypox campus protocols, we are closely monitoring this developing situation and will continue to work closely with Recovery Operations and other campus partners to provide support to our campus community.Our commitment to shared governance remains key to our ability to effectively respond to developing situations and we will continue to communicate regularly to keep our community informed and safe.

As you can see, we have a busy semester ahead, and I look forward to celebrating alongside you at many of these gatherings. I wish for all of you a productive year full of professional accomplishments, good health and much collegiality. Thank you for all you do for our students and the university!
With appreciation,
Taylor Eighmy
President