History of the Roadrunner Creed
In 2010, Dean of Students Kevin Price asked Student Life staff members John Kaulfus and Charlin Jones to initiate a student driven process to establish a UTSA Roadrunner Creed. A student committee was formed which included:
Felicia Ruiz, Student Government
Darian Garcia, Interfraternity Council
Simon Fraser, Interfraternity Council
Tanya Tijerina, Honors Alliance
Emilio Rodriguez, Honors Alliance
Kelly Gambill, Honors Alliance
Elissa Dougherty, Honors Alliance
Students were surveyed to determine what values, qualities, and characteristics they believed best defined what it meant to be a UTSA Roadrunner.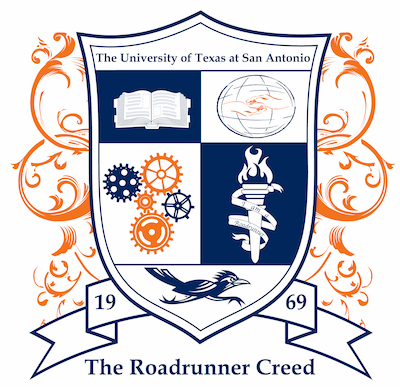 A writing committee comprised of students, faculty, and staff was formed to craft the results of the student survey into a creed. This committee included:
Kevin Price, Dean of Students
Charlin Jones, Special Events Center, Chair
John Kaulfus, Associate Dean of Students
Jan McKinney, Assistant Director, Student Judicial Affairs
Janis Bush, Biology Faculty
Emilio Rodriguez, Honors Alliance
Jeffery Cisneros, Student, History Major
Jodi Ierien, Student, English Major
The final version of the UTSA Roadrunner Creed was presented to the Student Government Association which voted to endorse the Creed on September 23, 2010. It was then forwarded to the University's administration and was approved by President Ricardo Romo and UTSA's vice presidents on November 15, 2010.