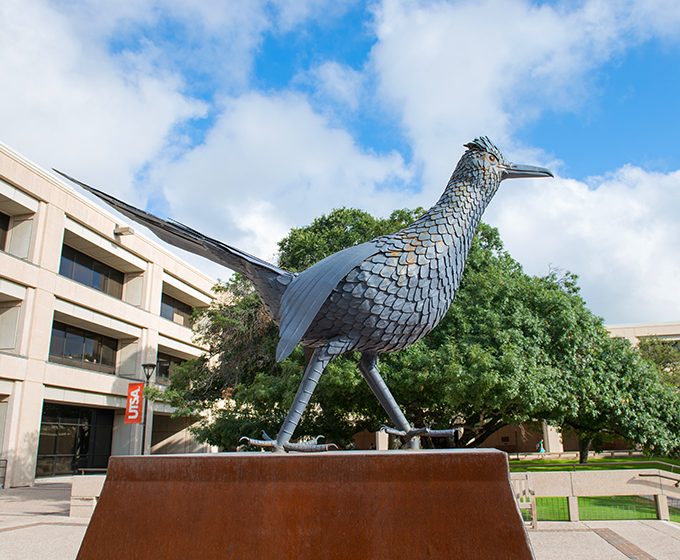 APRIL 22, 2021 — Since UTSA first announced plans in March for Commencement activities to recognize May 2021 graduates as well as graduates of the Class of 2020, significant progress has been made in the fight against the COVID-19 pandemic in the U.S. and Texas.
Notably, vaccine eligibility has expanded to include all people 16 and older, the vaccine is more readily available to those individuals who choose to receive it, and the Centers for Disease Control and Prevention has amended its guidelines regarding social distancing.
In light of these improvements in the public health outlook, the university today shared revised protocols for students participating in the in-person ceremonies to be held on campus. Each graduate will be allowed to bring up to two guests to the ceremonies.
Guests must arrive with the graduate, and they will be checked in and seated together, apart from other graduates and guests per current guidelines. Doors will open one hour prior to each ceremony, and graduates and guests must be in place no later than 15 minutes before the ceremony start time. Graduates and guests will be screened for COVID symptoms upon check-in.
As a reminder, in-person Commencement ceremonies for May 2021 graduates will be held May 14–16. In-person ceremonies for graduates who earned their degrees in May 2020 and December 2020 will be held the following weekend, May 21–23. These ceremonies will be college-based and will be held at various locations on Main Campus.
All other previously announced ceremony details remain the same:
All ceremonies will be livestreamed and recorded and posted online for later viewing and sharing.


Masks will be required of all graduates, guests and support staff (except during official photos).


Caps and gowns will be required for all graduates. Regalia is available for purchase at the Rowdy Campus Store (bookstore) on Main Campus.


Ushers will assist with seating and managing egress.


A full list of guest protocols and information for graduates is available on the Commencement website.


Ceremony times and locations remain the same. Check the date and time to confirm your correct ceremony.
In addition to in-person ceremonies, graduates can participate in both the Commencement Drive on Friday, May 14 and the Virtual Commencement, which debuts on Saturday, May 15.
Full details on all Commencement activities are available on the Commencement website.