Roadrunner Nation Tailgate
A rowdy good time!
T
he UTSA Alumni Association's Roadrunner Nation Tailgate is back! Roadrunner fans are invited to kick off the 2022 football season at Hoefgen Lot (499 Hoefgen Ave, San Antonio, TX)
. Anyone who wants to get "rowdy" is welcome to join the party.
The tailgate will start three hours before each home game. Enjoy food, drinks, activities, and giveaways, along with visits from UTSA Cheer, the Spirit of San Antonio Marching Band, and UTSA's beloved Rowdy the Roadrunner.
Tailgate Pricing
Orange Level
$45

Tailgate entry with FOOD TICKET & OPEN BAR.

Blue Level
$20

Tailgate entry with FOOD TICKET & CASH BAR only.

Students

(including children 13-18)

$10

Tailgate entry with FOOD TICKET & NON-ALCOHOLIC 

DRINK only.

Children 12 and Under
Free

Tailgate entry with FOOD TICKET & NON-ALCOHOLIC DRINK only.
Membership Discounts
Annual, 3-Year, New Grad Members

$10 off tailgate ticket

Apply ID number in the promo code field to receive discount

Life Members
$20 off tailgate ticket

As a special treat for your loyalty you will receive additonal perks when attending tailgate, like access to a private bar. Please have your digital card downloaded to take advantage of these perks.

Apply ID number in the promo code field to receive discount. 
Ticket FAQs
Where can I find my Member ID number?
Your Member ID number can be found on your digital membership card. Look out for an email coming your way from Cuseum with the subject line "Your New Membership Card" and download the card into your mobile wallet. Issues downloading? Please watch ou

r Watch How-To Video.
Where is the promo code section located on the Eventbrite website?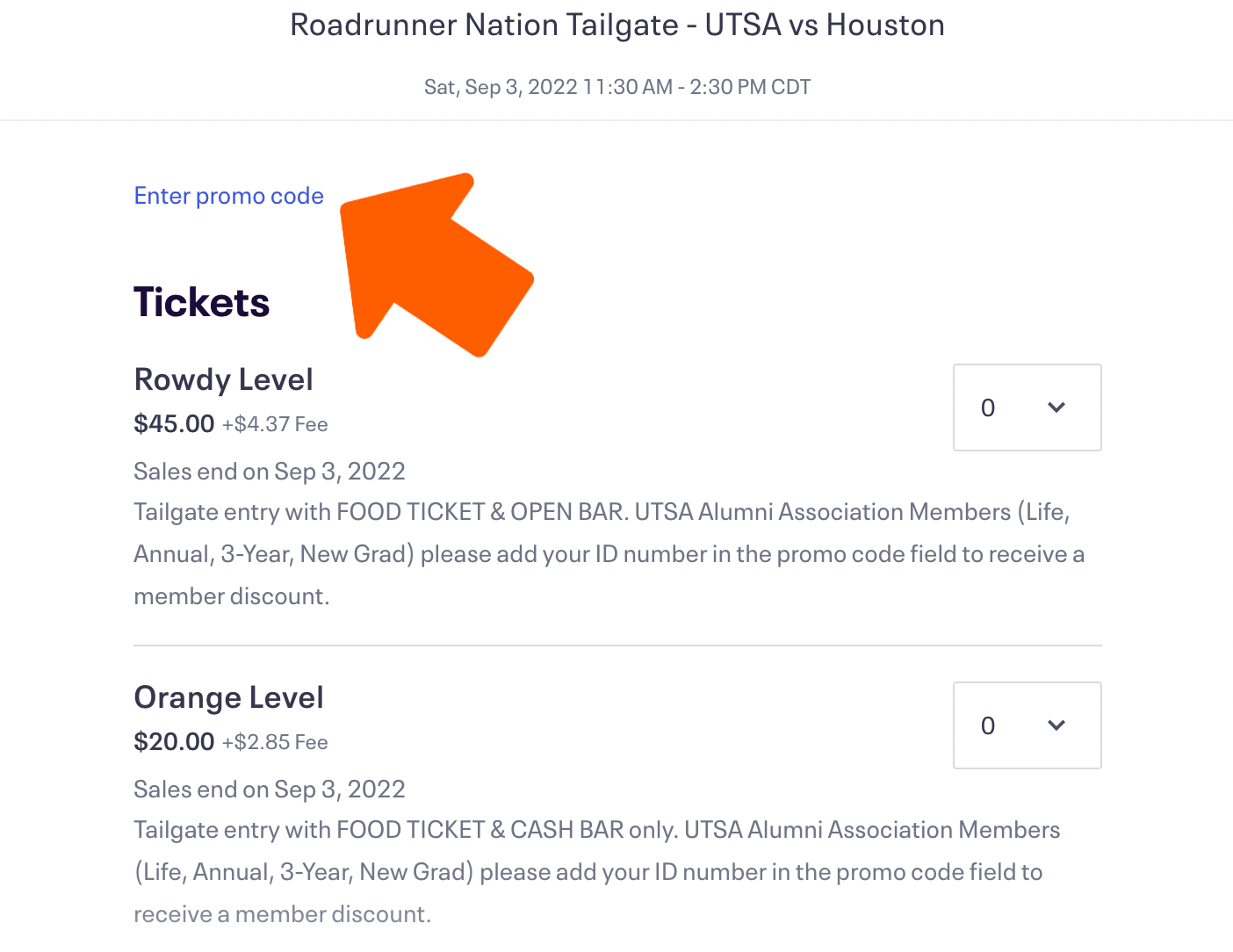 Is this event rain or shine?
Yes, this event is rain or shine. Tents are provided in case it does rain.
Can I get a refund on tickets?
There are no refunds for this event. If you have any questions regarding your membership or ticket info, please email alumni@utsa.edu, and we will be in touch.
Upcoming Tailgates
Upcoming Roadrunner Nation Tailgates
(Tickets will be available one week before each tailgate.
Please keep an eye out for an email and social posts with ticket link)
CHAMPIONSHIP GAME
UTSA vs. UNT

Lot C
3:30pm-6:30pm
GET TICKETS
Bowl Game
TBD
Volunteer
We are looking for volunteers to help at our Roadrunner Nation tailgates this season. It's a great way to meet new people, receive volunteer hours, and get FREE food and drinks! As an extra thanks, volunteers who help at registration will also get one free ticket to the game. Make sure to wear your orange and blue!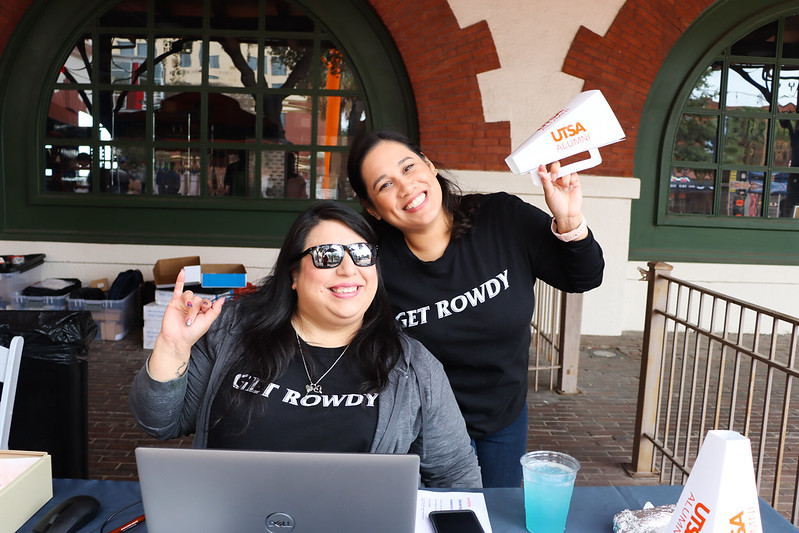 Watch Parties
Are you ready for some football?! We love seeing our alumni gather for a football watch party in their local areas! We'll be turning San Antonio orange and blue. Bring your Roadrunner spirit and enjoy food, drinks, and giveaways.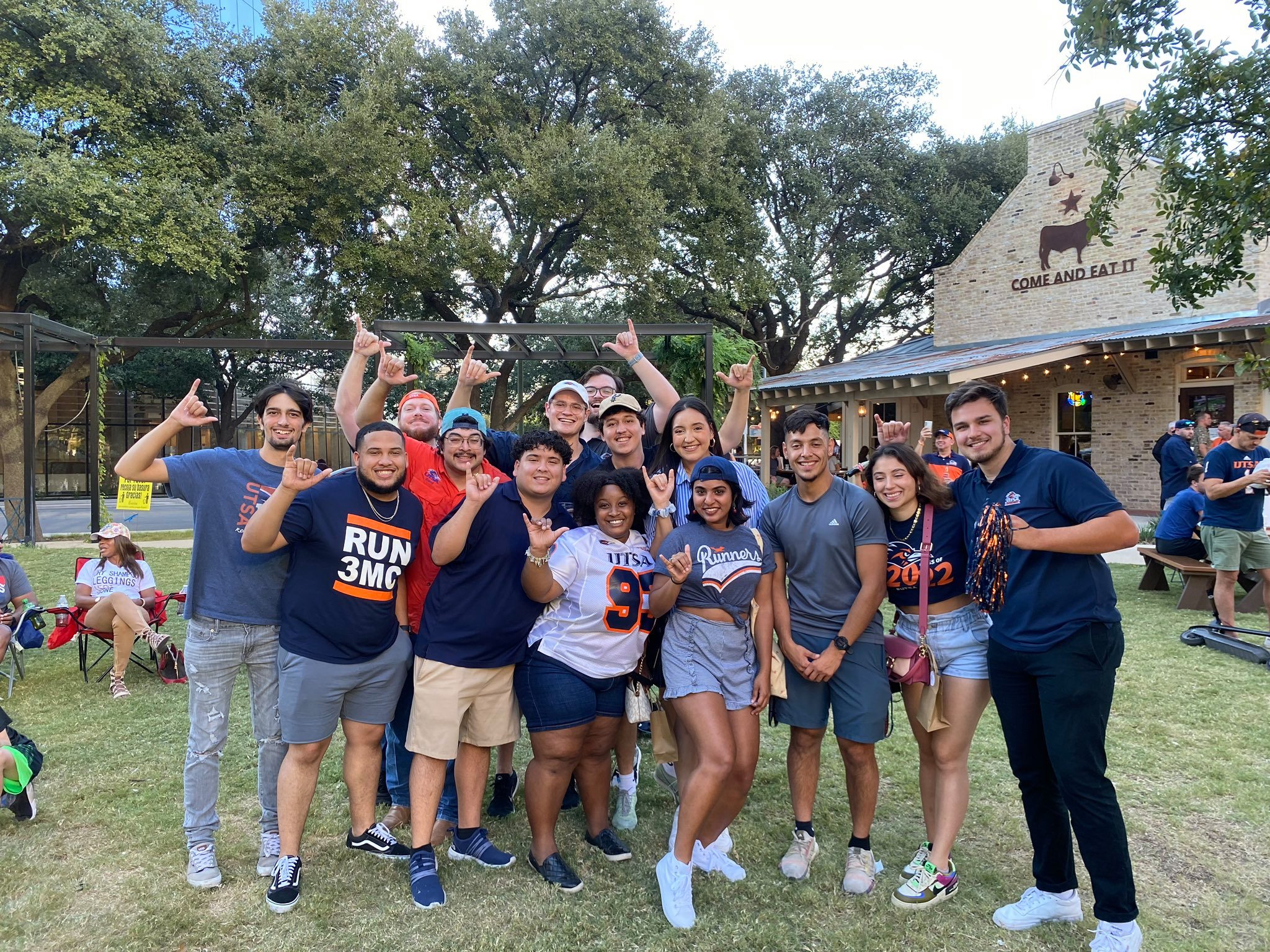 Let go 210
The energy going into our 2022 season is strong, and the Roadrunners need your support to keep the city spirit and momentum going.
The Let's Go 210 initiative is asking businesses and fans, like you, to show support for our UTSA Football team.
You can help set the tone for this season – please consider purchasing a banner to hang in your most visible public spaces.
With your help we can make Let's Go 210 a rallying cry for our city and cheer our Roadrunners on to more victories this season!
Shop the Let's Go 210 Collection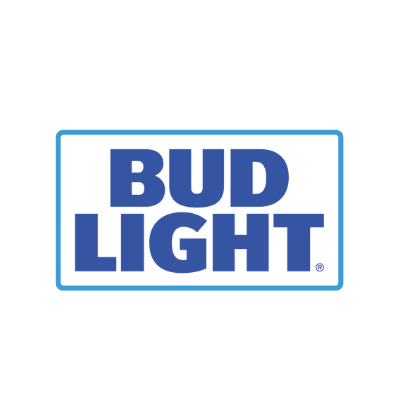 Bud Light/Silver Eagle Beverages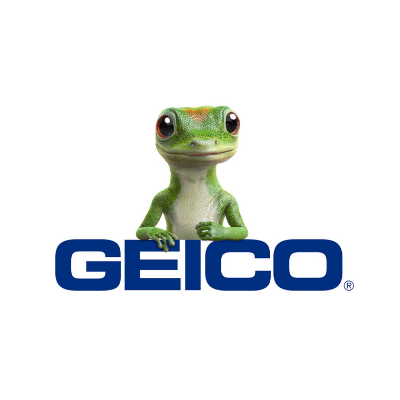 GEICO
Williams & Chase Insulation
Texas Farm Bureau Insurance
Walmart