Restructuring of Student Affairs
May 22, 2019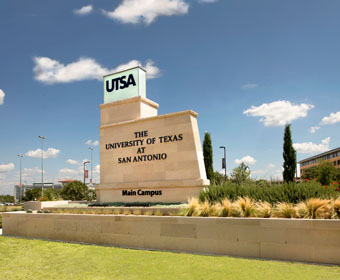 Dear Roadrunners,
The success of our students is our very highest priority at UTSA. As president, I take every opportunity possible to evaluate how we can advance our efforts in this regard. I am writing today to share some significant structural changes to our Student Affairs area that will result in stronger organizational alignments for the benefit of our students.
These decisions were made in light of Vice President for Student Affairs Sam Gonzales sharing with me his intent to retire from UTSA at the end of 2019. Throughout his 42 years and many roles at UTSA, Sam has made an indelible impact on this institution. I am deeply grateful for Sam's leadership and wisdom, and I look forward to celebrating all of his contributions as his retirement date draws near. Starting June 1, Sam will move into a new role as Special Assistant to the President where he will serve in a bridging capacity and oversee strategic projects to enhance the well-being and success of our students.
One of the many principles reinforced through our student success initiative last year was the strong positive relationship between students and their academic experience, which occurs both in and out of the classroom. Universities across the country are reconsidering how to incorporate learning and development into every aspect of the student experience, from application to graduation. Integrating learning experiences into the full range of student life—student activities, student services and residential life—promotes a sense of belonging that is key to college persistence and to realizing full personal and academic potential. The educational progress of our students is furthered when living and learning are unified, undergirding everything we do.
Not only must UTSA's organizational structure be able to effectively meet the demands of our Student Success Implementation Plan, it must also operate with the highest possible efficiency from an operational perspective. As a public institution, careful stewardship and strategic use of our resources to achieve our educational goals is paramount.
As such, we are altering the reporting lines for those units that currently fall under Student Affairs, and the Vice President for Student Affairs position will be retired.
The units that focus on student development, health and well-being will move as a new division under Academic Affairs, allowing for seamless, collaborative integration of living-learning facets of the student experience. 
The units that provide operational and business services to students will be moved under Business Affairs. The alignment of these compatible functions will maximize UTSA's efficiency in providing services to the campus community.
This reorganization, as outlined below, will take effect on June 1.
Programs and Service Areas Reporting to Academic Affairs 
» View organizational chart
Dean of Students & Senior Vice Provost for Student Affairs
The Dean of Students & Senior Vice Provost for Student Affairs will report directly to the Provost and Vice President for Academic Affairs. The Student Union, Campus Recreation, Counseling Services, Student Health Services and Student Ombudsperson Services will move under the Dean of Students & Senior Vice Provost for Student Affairs. Other units that currently report to the Dean of Students will continue to do so: Student Leadership Center, Student Conduct and Community Standards, Student Center for Community Engagement and Inclusion, Student Activities and Student Life. Bringing these units together into a focused organizational structure within Academic Affairs will allow for more collaboration and synergy between all the divisions charged with enhancing student life and personal development.


Student Disability Services

 


Student Disability Services will be moved under the division of Undergraduate Studies to better align their services with the other areas in Academic Affairs that focus on our students' academic support needs.


Residential Life
Housing and Residential Life, which currently operates as one unit, will split into two with Residential Life reporting to the Vice Provost for Student Success and Housing reporting to the Vice President for Business Affairs. Linking Residential Life with the other programs in the Student Success division, such as First Year Experience and Roadrunner Transition Experience, will result in a more united approach that encompasses both academics and personal growth.
Programs and Service Areas Reporting to Business Affairs
» View organizational chart

Housing
As referenced above, our Housing functions will be separated from Residential Life and moved under Business Affairs. This change will bring together the operational aspects of housing with similar functionalities that already exist within Business Affairs.
Campus Services
Campus auxiliary services that are currently housed within Student Affairs will move to Business Affairs to leverage greater operational efficiencies and existing infrastructure. These services include UTSA Dining, Transportation, Parking, Distribution Services, Bookstore, Vending and the UTSA Card.
Staff members who presently work in the central Vice President for Student Affairs office will have new reporting lines according to their areas of expertise. No staff members will lose their jobs as a result of this reorganization, though some vacant positions may be eliminated.  
In tandem with these changes, I have made some additional personnel appointments, all of which will take effect June 1.
After serving as our Interim Dean of Students for the past seven months, I have named LT Robinson as the permanent Dean of Students & Senior Vice Provost for Student Affairs. LT has proven to be an outstanding leader in this role, and I am grateful for the great sense of integrity and passion she brings to this multidimensional position.
In addition, I am elevating Kimberly Andrews Espy to Provost and Senior Vice President for Academic Affairs, and Veronica Mendez to Senior Vice President for Business Affairs. Their new titles acknowledge the expansion of their areas of responsibility as a result of this reorganization.
I expect that these changes will result in substantial enhancements to the student experience, as they reflect similar organizational structures in place at many of our peer model institutions. The hard work and overall excellence of the staff within our Student Affairs area does not go unnoticed, and I am confident that under this new structure they will have even more opportunities to thrive. A reorganization of this magnitude will take time and patience to fully realize as new teams come together, but the synergy that will ultimately result is sure to be transformative for UTSA.
With appreciation,
Taylor