Expressive activities on campus
November 4, 2019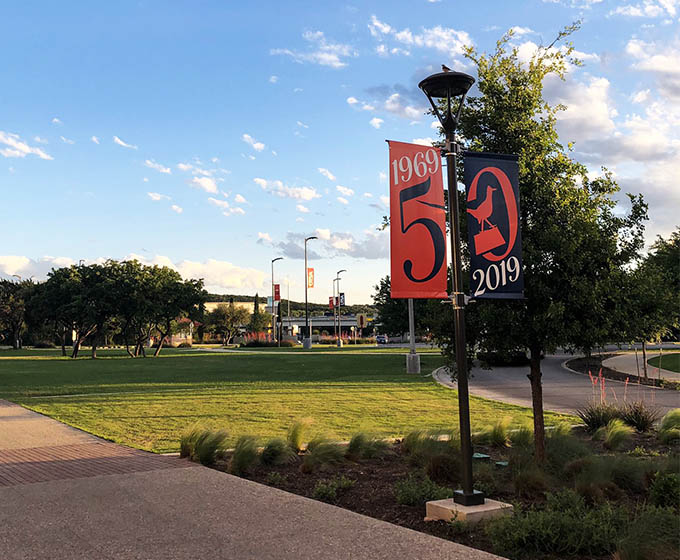 Dear Roadrunners,
We are writing to let you know about a new Texas state law regarding free speech on university campuses and how the law affects us here at UTSA.
On September 1, 2019, a new law went into effect regarding Protected Expression on Campus. The law will have several noticeable changes for Texas public university campuses, including:
Reclassifying common outdoor areas from limited public forums to traditional public forums.


Permitting any person (even those not affiliated with the university) to engage in expressive activities on campus. The right to engage in these activities is subject to reasonable time, place and manner restrictions designed to avoid disruption of institutional operations.


Requiring institutions to adopt a policy detailing campus free speech rights and responsibilities, including a grievance mechanism to address complaints alleging policy violations.


Specifying that the policy, once adopted and approved by the institution's governing board, be made available to faculty, staff and students. The policy must be in place no later than August 1, 2020.
Most of the intended outcomes of the new law are already in practice at UTSA. We have a strong commitment and moral obligation to protect the principle of free speech, and readily welcome members of the university community and beyond to engage in respectful expressions on campus.  
Over the next few months, our Office of Student Affairs and Office of Legal Affairs will work to formally incorporate the new law into our policies and procedures. By March 2020, we anticipate finalizing appropriate revisions to our policy on Peaceful Public Assembly as the overarching free speech policy on campus. We are also working on appropriate changes to UTSA's Student Code of Conduct and other relevant policies and procedures.
It's important to us that this policy work be done collaboratively with input from you – our students, faculty and staff. The Office of Student Affairs will engage students and student organizations to discuss and address any concerns that may be shared throughout this process.
Likewise, our Respectful Discourse Initiative will educate and foster dialogue within the university community regarding policy changes.
We are confident that the proactive measures we are taking in this area will enable UTSA to serve as an exemplar for creating an institutional culture built upon respect for others. We encourage you to visit our Civic Discourse and Engagement webpage for ongoing updates regarding these efforts and for additional resources.
With appreciation, 
 
 
Taylor Eighmy
President
LT Robinson
Senior Vice Provost for Student Affairs and Dean of Students