Roadrunners Take on Hunger and Homelessness
November 19, 2021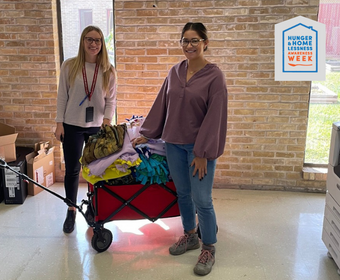 Hunger and Homelessness Awareness Week is designed to educate the public, draw attention to the problem of poverty, and build up the base of volunteers and supporters for local anti-poverty agencies. Leadership and Volunteer Services partners with various departments to host multiple events for the awareness week.
The week kicked off at the UTSA Football game by handing out orange ribbons and donating food items to the San Antonio Food Bank. Roadrunners had the opportunity to donate time, toiletry items, or make items. During the week students made over 25 blankets that were donated to the City of San Antonio Outreach Team.
"Bringing awareness to Hunger and homelessness, specifically in the San Antonio area, is something that has not only been rewarding but has been eye-opening. Throughout the week we have been able to extend a helping hand to the individuals in our community that are often left behind. One of the most exciting things to me was donating blankets to the City of San Antonio Homeless Outreach Team, who will be delivering the blankets first hand."  – Laura G.
The Volunteer Organization Involving Community Education and Services (V.O.I.C.E.S.) heard from Trevor Baker, Homeless Outreach Clinician with the City of San Antonio.
Mr. Baker explained homelessness can look different for everyone and it will pass. "Now isn't forever, homelessness is temporary and there is available resource in the city and at UTSA. My goal is to break the stigma around homelessness." Gabby B., V.O.I.C.E.S officer said works at the downtown campus as a peer advocate that helps homeless youth. "It's truly different for everyone. Everyone has their own struggles. As a community we can come together and break the stigma and bring awareness." – Gabriella B.
Students set a record for making the Thanksgiving Meal Bags provided by the Whataburger Resource room. Bagging took one hour and ten minutes, a new record because of the amount of support from students that stayed and volunteered their time. The UTSA community also donated over 200 toiletry items that will also be donated to the Whataburger Resource Room.
To round out the week a group of students will be volunteering their time at Habitat for Humanity. Volunteers will be building homes for first-time homebuyers. Roadrunners can follow Leadership and Volunteer Services and V.O.I.C.E.S. on Instagram for more opportunities to give back to the city of San Antonio.
Explore further:
Learn more about UTSA volunteer opportunities
Learn more about UTSA V.O.I.C.E.S