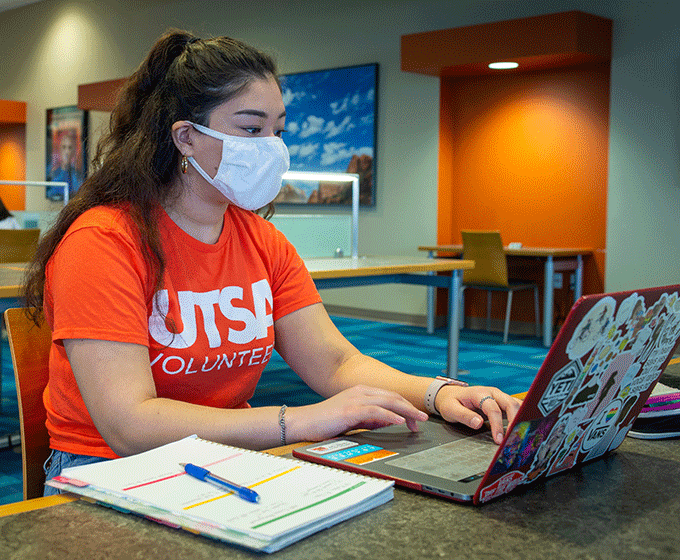 ---
---
AUGUST 23, 2021 — Today marks the first day of classes for more than 34,000 UTSA students. Approximately 75% of the UTSA student body is expected to take at least one in-person class this semester, but with the Delta variant still causing concern, the university is taking several public health measures to ensure the safety and academic success of the Roadrunner community.
Chiefly among them, UTSA has temporarily modified course delivery and operations. Most classes will be held online for the first three weeks of the semester, and a mandatory COVID-19 testing requirement has been put into place for residents in five UTSA-managed communities. You can read more about adjustments to fall classes and campus operations, as well as testing information at the Roadrunner Roadmap website.
The university is strongly recommending the use of masks by all students, faculty, staff and visitors on campus. Classrooms, lecture halls, touch points and high-traffic areas will be regularly sanitized by UTSA Facilities. HVAC systems will continuously move filtered air, replacing air in classrooms several times per hour to prevent a buildup of contaminants, and portable hand sanitizer and cleaning wipe stations will be available for use around campus.
UTSA is also transitioning to a fully integrated student health program called Wellness 360 to provide a wide range of physical and mental health services. Among its offerings, the Wellness 360 program provides Moderna COVID vaccinations and flu vaccine clinics to the UTSA community.  Pfizer and Johnson & Johnson vaccines will also be available through the On-Campus COVID-19 Vaccination Clinics taking place this week.
---
---
UTSA President Taylor Eighmy welcomes students to UTSA for the fall 2021 semester.
---
---
In addition to the thousands of freshmen taking their first classes at UTSA this semester, nearly 40 new faculty members are making their debut. These high-caliber researchers and instructors earned their doctoral degrees from such prestigious institutions as Columbia University, Cornell University, Tufts University, Stanford University, and Duke University. They'll provide expertise in fields of study such as biomedical and chemical engineering, economics, educational leadership and policy studies, social and environmental challenges, public health and physics and astronomy.
A newly established college will be making its grand introduction as well. The UTSA College of Engineering and Integrated Design (CEID) combines the academic departments and programs previously under the College of Engineering and the College of Architecture, Construction and Planning. CEID will be home to approximately 4,300 students, 120 faculty members and 40 staff members. The new college will fully leverage the university's expertise across architecture, construction, planning, historic preservation, interior design and engineering—bringing together frequent collaborators at the university and better preparing students for the workforce.
The CEID is offering a master's degree previously unavailable at UTSA, the M.S. in facility management. It's one of two new master's programs at the university, along with the M.S. in cybersecurity offered by the College of Sciences. That same college is launching its B.A. in environmental studies this year. CEID also launched an undergraduate certificate in design communication and fabrication, as well as a graduate certificate in career technology and engineering teaching. University College has also added undergraduate and graduate certificates in data science.
Near the southeast entrance to the Main Campus, the $95 million Science and Engineering Building (SEB) will finally be in full swing this school year. The cutting-edge facility is home to instructional laboratories, research laboratories, an innovative first-floor Makerspace, new classrooms and an expansive collaboration space for UTSA's academic and research programs in brain health, chemical engineering, computer and electrical engineering, biology, and chemistry. The SEB will serve as a hub for Roadrunners with science, engineering and technology interests as they get hands-on experience and share their ideas and discoveries.
From the southwestern portion of the Main Campus, Roadrunners will see a brand-new facility carving out its spot in the skyline. The Roadrunner Athletics Center of Excellence (RACE) opened earlier this month to advance the academic success, health, wellness and performance of UTSA's student athletes. Aiming to recruit, retain and support high-performing individuals, the nearly 95,000 square-foot facility includes academic spaces, a sports medicine center, strength and conditioning facilities, locker rooms, meeting rooms, staff and coaches' offices, an equipment room and practice fields.
---
---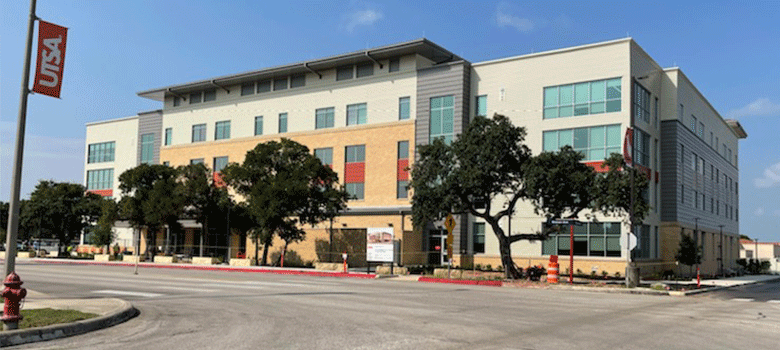 Guadalupe Hall, a residential community, is the newest addition to the UTSA Main Campus.
---
---
Another recently completed building on the northern edge of the Main Campus was designed with student success at the forefront. Guadalupe Hall is UTSA's newest residential community, boasting nearly 200 double-occupancy bedrooms, as well as common areas, study spaces and other rooms meant to facilitate meaningful interactions and collaboration. Guadalupe Hall will house the Honors Residential Community, where first-year freshmen in the Honors College will have the support of a close-knit peer group that will help usher each other to success.
Although construction was finished last summer, the Student Success Center is also opening its doors to students for the first time. An integral part of UTSA's strategic plan to support each undergraduate student's academic journey from start to finish, the center aims to improve first-year retention rates, second- and third-year persistence rates, and four- and six-year graduation rates for students. The facility, located next to the North Paseo Building, houses streamlined student success units such as Academic Advising, Academic Success Coaching, the LEAD and SOAR student success programs, and Transfer & Transition Student Success Services.
Construction at the university is far from finished though. The John Peace Library has reopened on the Main Campus, and crews are hard at work replacing large concrete panels on the north and south portions of the third floor with large floor-to-ceiling window panels. At the Downtown Campus, work on the long-awaited School of Data Science (SDS) and National Security Collaboration Center (NSCC) Building continues. The 167,000-square-foot, six-story structure on 506 Dolorosa St. will anchor UTSA to the city's prospering high-tech corridor and serve as a catalyst for workforce development and job creation. Construction is expected to wrap up in July 2022.
With so many new things in the works at UTSA, remember to soak in the university's traditions—whether it's safely participating in Roadrunner Days events or snapping a selfie in front of the Sombrilla Fountain. After all, this is the first week of school and you should cherish all that it means to be a Roadrunner.