Student Employment and Internships

UTSA students can participate in meaningful student employment and internship opportunities throughout Business Affairs. Our career-engaged learning opportunities align closely with the Business Affairs strategic pathways to cultivate an inspiring and empowering workplace and connect and engage with our community.
Student Employment
Internship Experiences 
Through our internship opportunities, Business Affairs builds meaningful connections with UTSA students and provides valuable career-engaged learning opportunities that support students' academic curriculum. Recent interns have been from the departments of Communication, Public Administration, Construction Science and Management, and Criminology and Criminal Justice.
Internship opportunities are posted on Handshake and interested students are highly encouraged to apply. Internship experiences within Business Affairs offer hands-on learning, mentorship, and valuable opportunities for students to network both internally within the university and externally within the larger San Antonio community.
Student Success Stories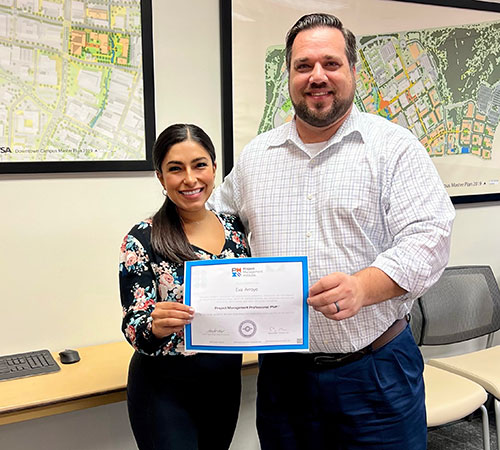 Eva Arroyo – Real Estate, Construction and Planning
Eva Arroyo was an intern with Real Estate, Construction and Planning (RECaP) in fall 2022. In this photo, she is holding her Project Management Professional (PMP) Certification. The RECaP team is beyond proud to celebrate her success not only in passing her PMP exam, but also graduating from UTSA.
---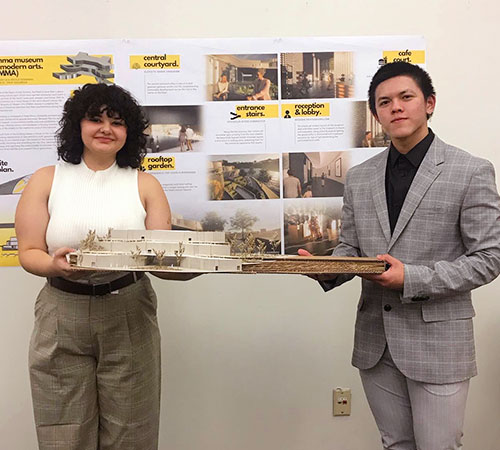 Toan "My" Le – Real Estate, Construction and Planning
Toan "My" Le was an intern with the Real Estate, Construction and Planning (RECaP) department in the fall of 2022. He recently presented his class design project, which is a Pearl concept. RECaP is proud to support My by providing real world design experience that he can incorporate into his class projects. He presented his concept Pearl project to the RECaP team in January 2023.
---