Do you know of a staff member or team still working on-campus? Recognize them by submitting a "candid" photo of them working on-campus. Make sure to include their name, office name, and a short description of what they are doing. Photos and descriptions can be sent to Matt.Keneson@utsa.edu. 
Updated 7/7/20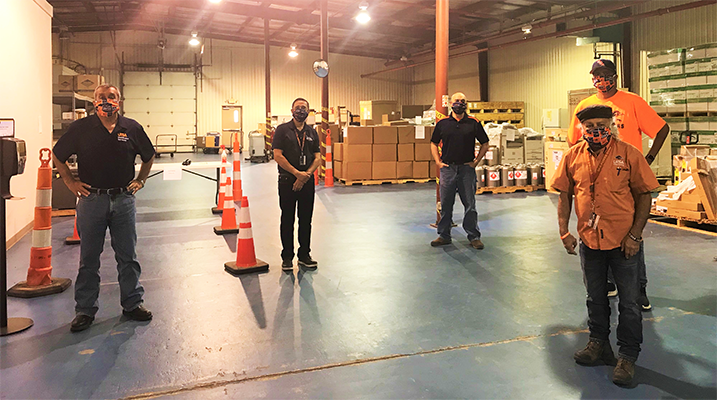 Juan Escobedo, Frank Salinas, Damien Wilkerson, Javier Gonzales, and Carlos Garcia with the Central Receiving Warehouse show off their new UTSA spirit masks while working onsite to ensure no delivery to campus is missed.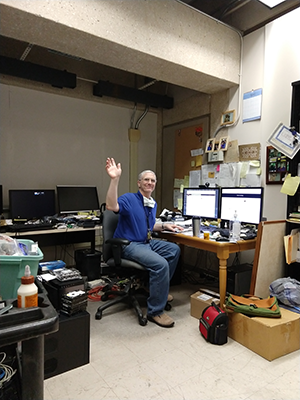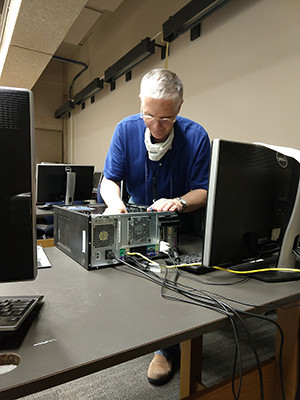 V Stuart Foote (Senior Systems Administrator, College of Sciences Dean's Office)
Routine days on campus, keeping server and network services active for the classroom/labs. Lots of Teams and Zoom meet-ups with individual faculty and students. The occasional off-campus run to drop off this or that as folks ask.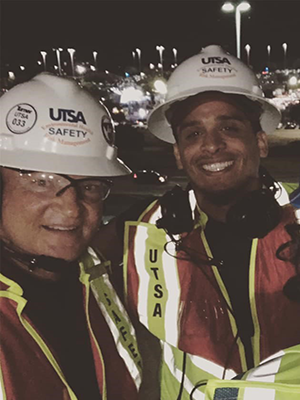 John DeLaHunt, Scott Swetnam, Randy Spencer, Adelaida Torres, Xavier Santos (Risk Management & Life Safety)
The risk management and life safety (RMLS) team has been integral in keeping our campus up and running during the period of telecommuting, by conducting fire prevention and equipment inspections, hot work permits, insurance claims, and support for campus construction projects. Additionally, the RMLS team has assisted with occupational safety, PPE training, and job hazard assessments for our essential on-campus employees. Well done, RMLS team in the Office of Risk & Emergency Management! (Pictured: RMLS team working to support campus operations at events before COVID-19.)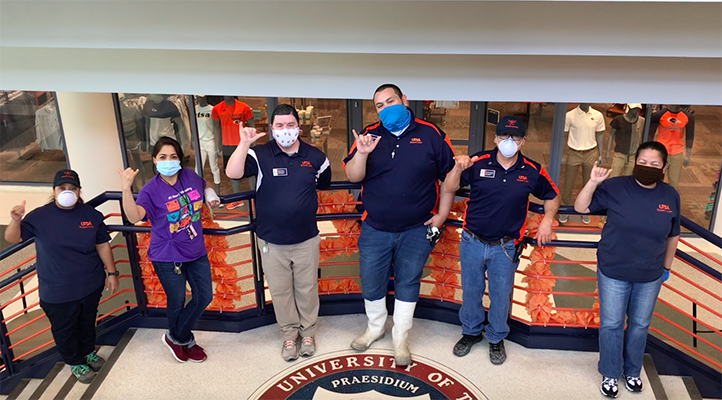 Maria Gonzalez, Elizabeth Estrada, Austin Green, Robert Cardenas, Alice Crowder, Antonio Gonzalez (Student Union Operations)
The Operations team in the Student Union are essential workers for UTSA. Each day they continue working hard to maintain the building and help prepare food bags for the Roadrunner Pantry.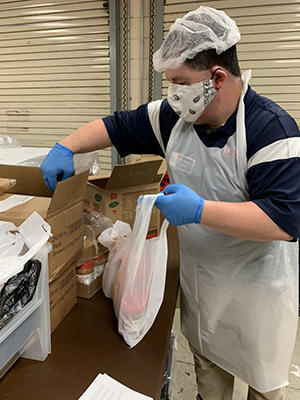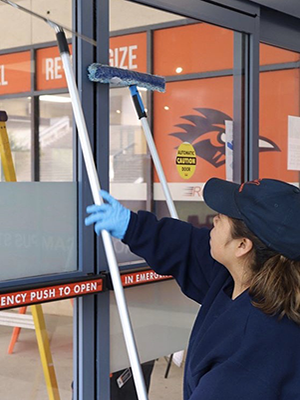 Austin Green prepares food bags for the Roadrunner Pantry.
Maria Gonzalez cleans the entrance to Student Union Building 2.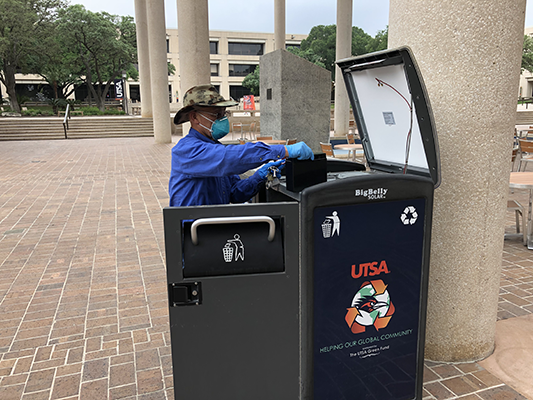 Anastacio Alvarez, from the Facilities Environmental Management team, is servicing a BigBelly solar powered recycling and trash receptacle located at the Sombrilla.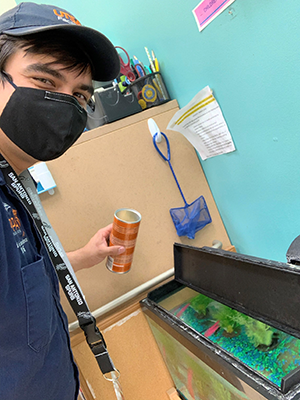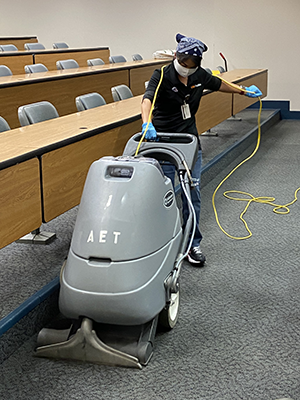 Brandon Hall, an Electrician I assigned to the Facilities Operations and Maintenance department, volunteered to feed the fish at the Child Development Center while the staff was telecommuting.
Zoraida Brady, from the Facilities Custodial team, is cleaning carpets in a large classroom located in the Business Building.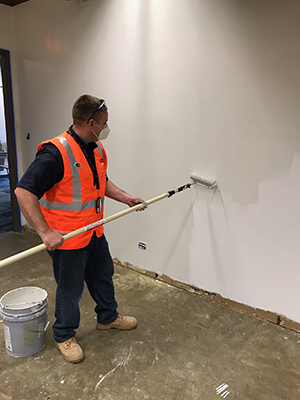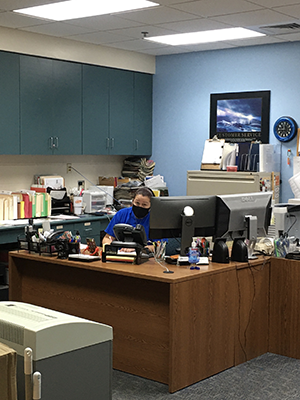 Ryan Troxell, a Physical Plant Services Worker II, helped improve the physical environment by painting several classrooms in the McKinney Humanities Building.
Jessica Sauceda, a Senior Administrative Associate, provides exceptional customer service to the Downtown Campus and office support to the Downtown Campus Facilities team.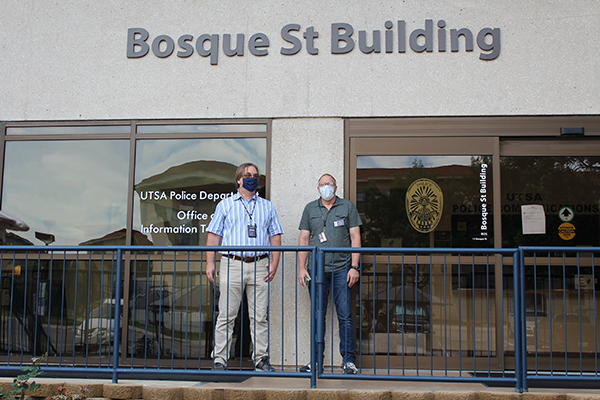 Paul Carney and Bill Simonis working hard during the pandemic at the Bosque St. building to meet the needs of the telecommuting workforce. Both employees are a great asset to the University Technology Solutions (UTS) and have demonstrated strong dedication towards the #Roadrunner community.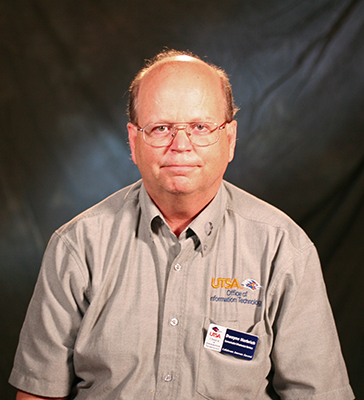 Dwayne Herbrich worked tirelessly during the pandemic to ensure that we were all able to work from home. Dwayne is a great asset to University Technology Solutions (UTS) and the #Roadrunner community.
The UTSA Housing and Residence Life Team (from left to right: Krystal Findley, Administrative Associate I; Nicole Poole, Sr. Administrative Associate; Daniel Gockley, Executive Director Housing Services; Sharon Cropper, Administrative Associate I; Alex Stoetzer, Complex Coordinator; Joe Uter, Associate Director of Housing Operations; Yoli Helm, Administrative Associate I; Van Rolle, Complex Coordinator; and Em de la Rosa, Associate Director of Residence Life) on the grounds of Laurel Village on Main Campus.
UTSA Housing and Residence Life Staff offer a variety of housing solutions for on campus living, supporting three campus living communities. The team also facilitates unique special interest housing programs to promote student's academic and personal development. The HRL staff work together to create an environment focused on student success.
PSO M. Ingraham on patrol at the Institute of Texan Cultures.
Assistant Chief D. Kiley on patrol at the Downtown Campus.
UTSA 2nd Shift Personnel at their shift briefing on the Main Campus.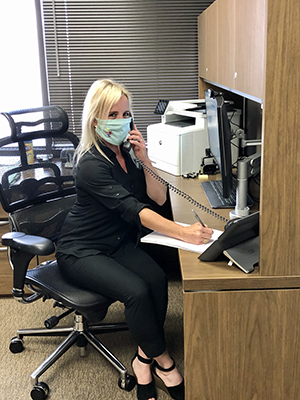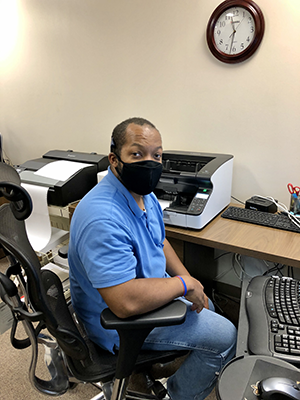 Disability Specialist Victoria Armendariz working with students with disabilities and making sure their virtual classes are accessible.
Adaptive Technologist Brandon Skidmore working to make books and reading materials accessible for students who have visual impairments.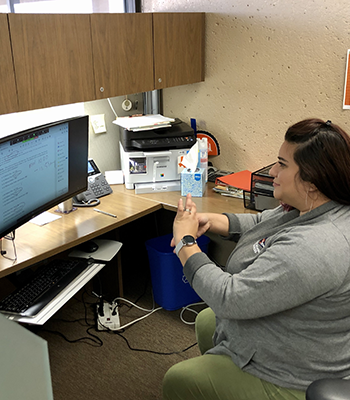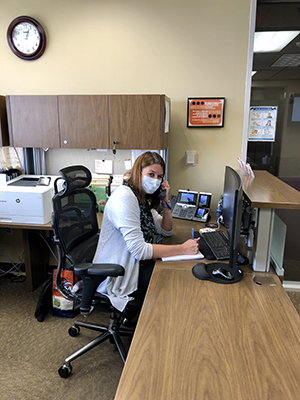 Staff Interpreter Lizeth Ramos providing virtual sign language interpreting to students who have hearing impairments.
Administrative Associate Traci Woolston making sure Student Disability Services staff stay connected to students with disabilities taking virtual classes.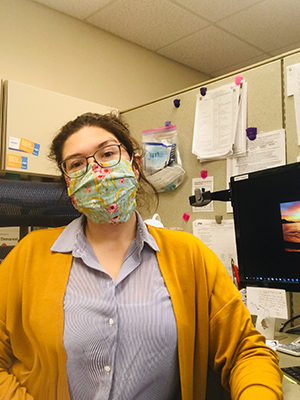 Jolyn Demarest, the Occupational Health Nurse in Human Resources, provides medical surveillance and guidance for all individuals working within UTSA animal facilities, and those with potential exposure to certain biological, chemical, and other physical hazards. Jolyn is highly involved in monitoring COVID-19 exposure on campus, as well.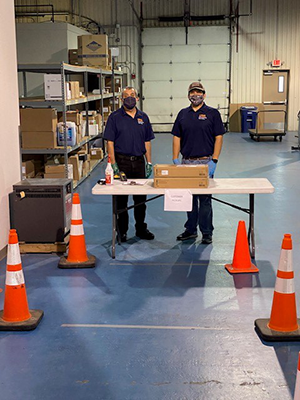 Juan Escobedo and Beto Aleman working in the Central Receiving Warehouse.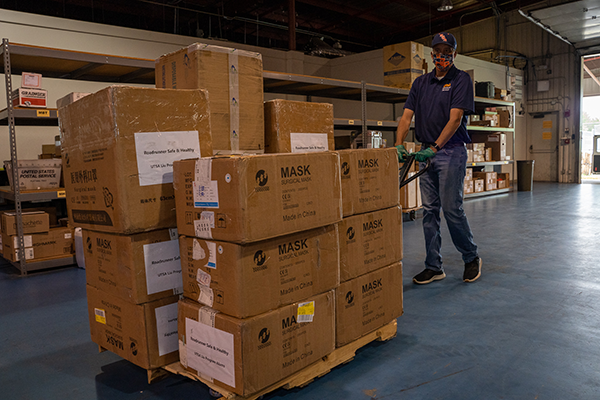 Javier Gonzales working in the Central Receiving Warehouse.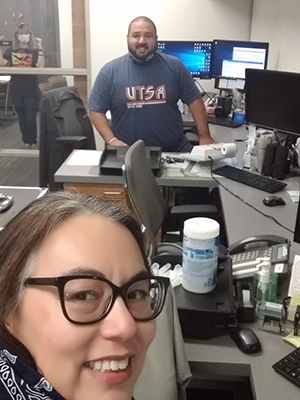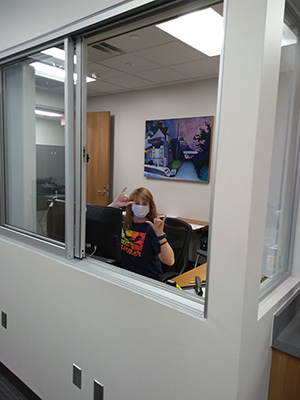 Angelique Gregory, Robert Herrera, and Peggy Lasater (Fiscal Services) are in the office on Tuesdays and Fridays to handle business for the university.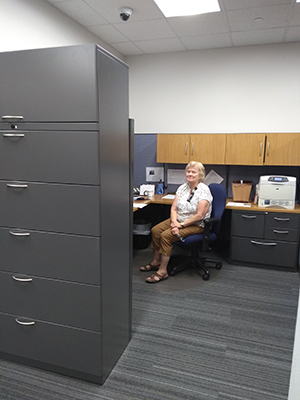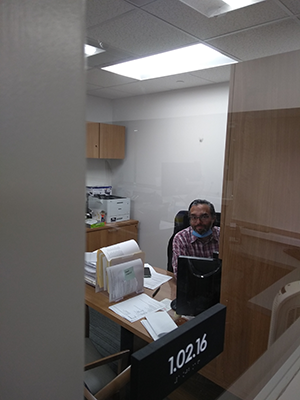 Marilyn Judy, an Accounting Technician for Fiscal Services, working in the "south forty."
Chris Valles, Associate Bursar for Fiscal Services, hard at work in his office.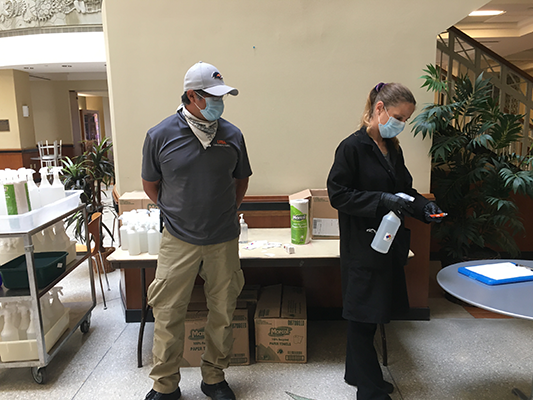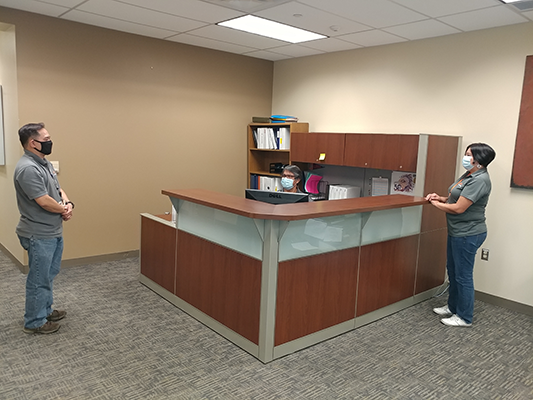 Dianna Olukotun, Quy Fung, Natalie Metzger, Alex Santillan, Cynthia Galindo, Richard Garza, Keith Slater, Israel Falcon, and Luke Salazar with the Laboratory Safety Team distribute safety materials to faculty and students. The Laboratory Safety Team has been on campus throughout the shutdown keeping critical research safe and supported.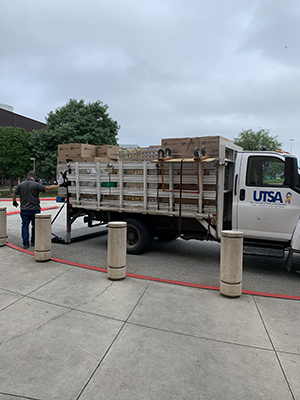 Joe Alderete, Juan Villarreal, Eddy Baggerman, Ryan Troxell, James Villanueva, & Juan Morales with Facilities help deliver food to the Roadrunner Pantry. Since March 10th, this rotating team has had an amazing attitude in helping the cause. Once an order is scheduled for pick up, they alternate to drive the truck, or two, all the way to the San Antonio Food Bank and help load thousands of pounds of food. Once they arrive on campus, they help the Student Union Operations Team unload the truck(s) with dollies, palette jacks, and forklifts.
This support started from the top of the Office of Facilities Senior Executive Leadership Team. Since March, this team has delivered 8 shipments of food weighing 41,955 pounds to the Roadrunner Pantry! We absolutely could NOT have ordered this food from the SAFB resource without them! I truly appreciate everything they continue to do each and every time. I can always depend on them and can be assured that when we see them at the Student Union, that it is with huge smiles and huge hearts.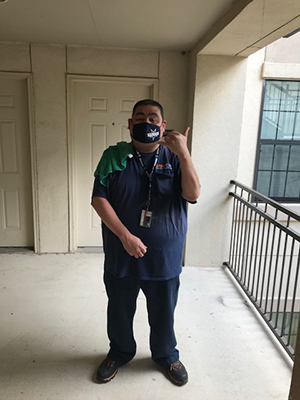 Debra Salas (Building Attendent II) and George Sifuentes (Building Attendent I) with Housing and Campus Services working in the Residence Halls.
Herlinda Tovar (Building Attendent II) and John Slaughter (Mechanical Maintenance Tech I) with Housing and Campus Services working in the residence halls.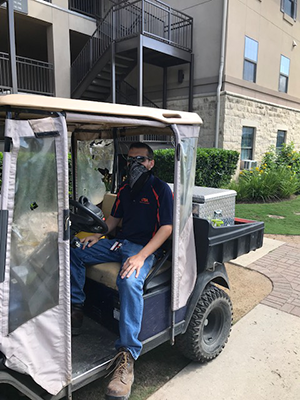 Jacob DeHoyos (Maintenance Tech I) with Housing and Campus Services working outside the residence halls.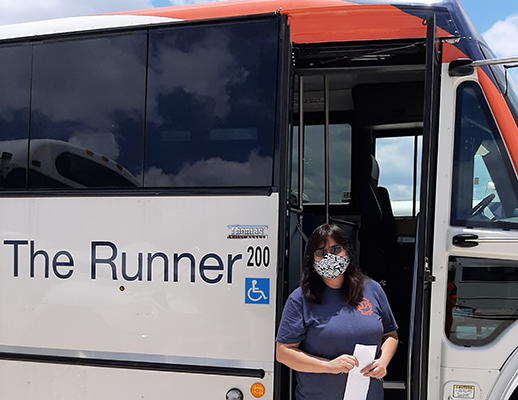 Brenda Ramos (Driver with Campus Services) conducting bus exercises on campus.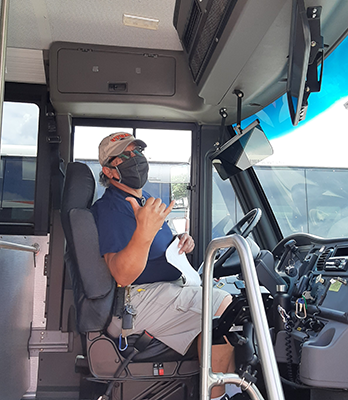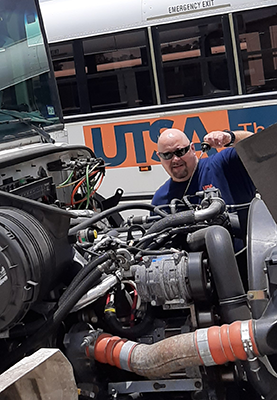 David Castillo and Eddie Santiago with Campus Services conducting bus exercises and maintaing equipment.
Campus Services staff Sandra Sanchez, James Rodriguez and Christopher McCombs working in the residence halls preparing the rooms for students.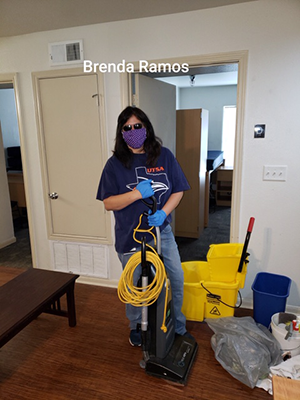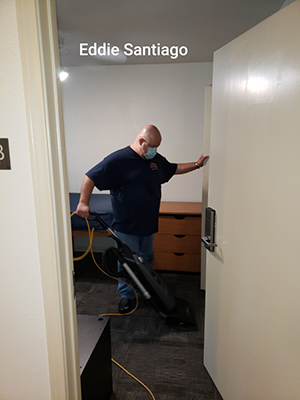 Brenda Ramos and Eddie Santiago working in the residence halls preparing the rooms for students.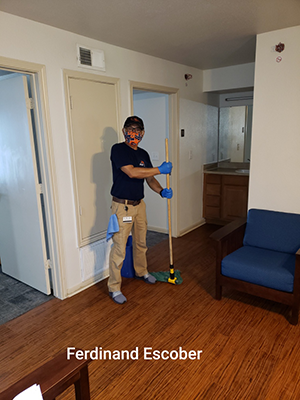 Ferdinand Escober and Javier Munoz working in the residence halls preparing the rooms for students.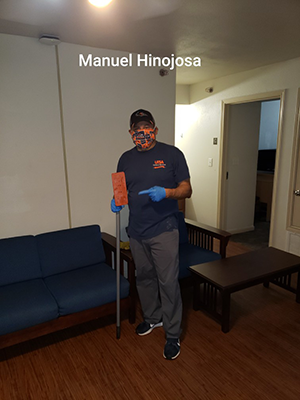 Jonica McKinley and Manuel Hinojosa working in the residence halls preparing the rooms for students.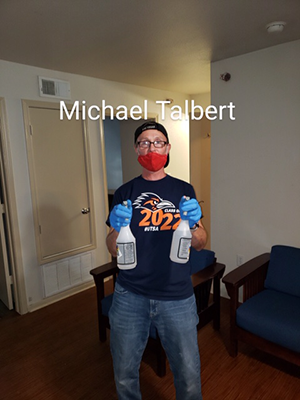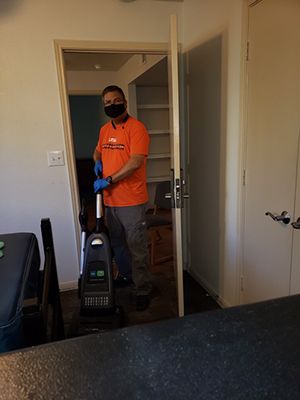 Michael Talbert and Mike Silva working in the residence halls preparing the rooms for students.
Sandra Sanchez working in the residence halls preparing the rooms for students.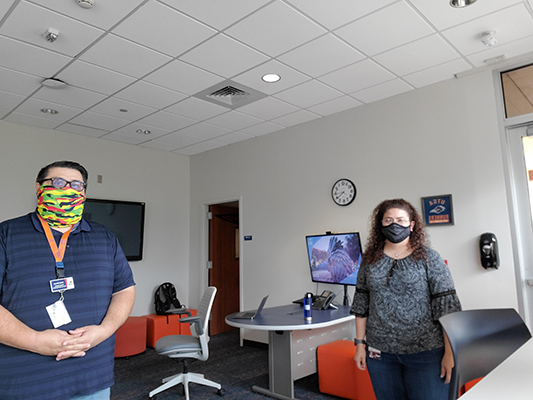 Vince Rivera and Irene Garcia, two Desktop Support Technicians, work at Tech Café with University Technology Solutions (UTS) to support all Faculty and Staff with their technology needs.
Ricky Castillo and Reggie Lee from University Technology Solutions are sharing the responsibilities of supporting our Faculty and Staff at the Tech Café while the campus works remotely.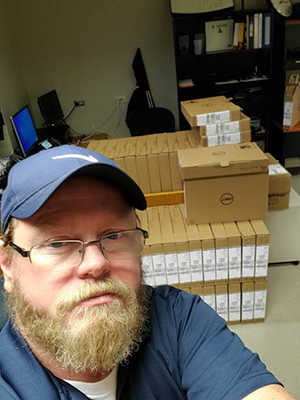 Paul Spargur from University Technology Solutions is working on imaging laptops for UTSA telecommuters at the UTSA Downtown Campus.