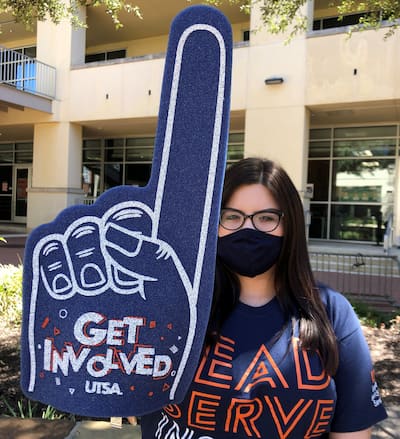 Participate in a series of experiences to jump-start your involvement journey through leadership development, student success, culture and belonging, health and wellbeing and pride in our UTSA community. The beginning of a new semester is the perfect time to discover new opportunities and experiences.
Our Goals:
Students will be able to gain a sense of community at UTSA.
Student will be able immerse themselves into the community of UTSA.

Student will be able gain knowledge on the campus and it's resources.
We have identified 6 domains in which we hope for you to get involved. Once you complete the domains, you will be able to get a giveaway. We hope for the you can meet with an Involvement Ambassador to get acquainted with the program and help guide you.
How to start your Pathway to Getting Involved
Meet with an Involvement Ambassador to help guide you through the pathway. Fill out a form about their interest, hobbies, academic major, and past/current involvement. 
Enroll in Pathway to track your progress
Attend events, programs, and reflect on your participation!
Collect your giveaway items as you complete domains!
Get Involved & Belonging
Find your way through campus life by jumping into annual events and/or programs that are a part of the Roadrunner Traditions.
Leadership Development & Community Engagement
The growth you'll do here in college can be all about taking advantage of programs outside of the classroom that are dedicated to helping enrich and add to your leadership skills. 
Student Success
Connect. Collaborate. Commit. Your academic and professional goals matter and this is to give aid, guidance and a push that will support AND challenge you.
Intercultural Learning
You step through our doors with many identities and we want to foster each identity you hold as well as learn about others. 
Health & Wellbeing
All dimensions of your wellbeing matter. They say it is hard to take care of others if you have forgotten to take care of yourself. Get familiar and utilize the resources at hand to push you in growth.
UTSA Pride
As a member, you are helping sustain a Roadrunner Nation that is proud, connected and forever Rowdy. Visit different areas on campus, events, faculty, staff, and landmarks and snap a picture and share your Roadrunner Pride!