There are a variety of ways in which Leadership and Volunteer Services recognizes the outstanding contributions of our students in the fields of volunteerism and campus leadership. We encourage students to nominate or apply to those that you feel are particularly deserving of these recognitions.
---
---
Current Recipients
Dean of Students Leadership Award —
Victoria Veloz
Victoria Veloz is currently a Junior majoring in Psychology and is involved in VOICES, Roadrunner Productions, Involvement Ambassador, the Psychology Student Association, and the Roadrunner Student Alumni Association. Nominator Bethany, says as I have seen through working alongside Victoria, a leader is not one who always knows the answer to every question, but knows that through hard work and dedication, an answer can be found.

When asked what makes Victoria Veloz stand out from her peers, nominator Bethany Arancelovic stated, she ensures that everyone around her feels wholeheartedly appreciated and heard.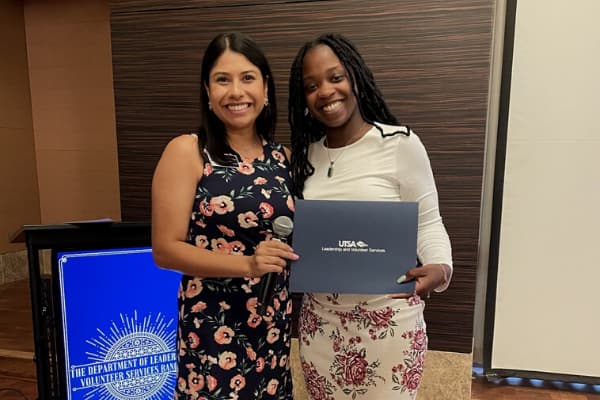 Sandra Cisneros Endowed Scholarship — Taiye Ojo
Taiye is a Nigerian, native-born Houstonian and a hard-working woman who's incredibly passionate about health disparities and health inequities in minority communities; which is why decided to major in public health. As someone who was raised and surrounded by strong black women, she always wanted to do something that gave back to that community especially considering how overlooked, undervalue, and historically been treated.  
Taiye shares her most memorable act of service was Taking it the Streets; an event in which we pack meals for those who are displaced and unhoused in downtown San Antonio. Taking it to the Streets was particularly my favorite because I enjoyed how we were so quick to create a sense of community and connect with those who had amazing stories, lessons, and advice to share. The most challenging event was the migrant center because of the language gap; nonetheless, this was the most humbling experience that has taught me the most in critical thinking, patience, and it just overall allowed me to get to meet those with different types of experiences."