Awards are a meaningful way to recognize employee contributions, create a sense of belonging and positively impact institutional culture. The Business Affairs awards program is an important part of our larger recognition program and aligns with our strategic destination to cultivate a compassionate, inspiring and empowering workplace.
Area Awards
Each major area within Business Affairs recognizes outstanding employees on their teams through a quarterly award. Business Affairs team members are invited to nominate individuals and teams for these awards, with nominations accepted on an ongoing basis. Only UTSA employees (full-time or part-time) are eligible for these awards.
Student Awards
Business Affairs is excited to recognize exemplary student employees throughout our functional areas. Anyone can nominate students for awards in the following categories: Rising Star, Innovator, and Roadrunner Spirit. Nominations are accepted for student awards once a semester.
Nomination Forms
Access the nomination form for your department below.
All nominations are reviewed quarterly by area review committees using a
rubric
. Winners information is shared with the Office of the Senior Vice President for Business Affairs for recognition and to advance to the divisional award.
Area Award Winners
Administration & Operations - Strategic Communications - People Excellence Website Overhaul Team
Elyse Brown
Martha Hinojosa
Raina Perez
Ruben Ortiz
Campus Services - Housing Building Attendants
Herlinda Tovar
Debra Salas
Ana Cortes
Fidencio Oviedo
James Palmer
Sandra Sanchez
Marissa Willborn
Facilities
Financial Affairs - Distribution Services Department
Diana Macias-Ollervidez
Javier Gonzales
Ed Garza
Debra Villanueva
Public Safety - Peer Support Team
Belinda Hernandez
BSCS Public Safety Officer George Dilworth
Cpt. Manuel Gutierrez
Real Estate, Contruction and Planning
Administration & Operations
Fire and Life Safety Team
Campus Services 
Facilities
Financial Affairs
Public Safety 
Administration & Operations
Campus Services
Facilities
Financial Affairs
Public Safety
Real Estate, Contruction and Planning
Division and University Awards
All department award winners will be automatically forwarded for consideration in the Business Affairs Impact Award. These special recognitions are offered once a year, with winners announced in January.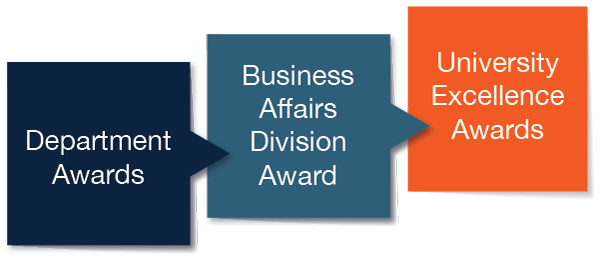 Winners from the Business Affairs Impact Award may be considered for the UTSA University Excellence Awards, contingent upon meeting eligibility requirements, which are hosted each April. Additional nominations are encouraged from all areas within Business Affairs for representation in the University Excellence Awards.
Business Affairs Award Winners