December 2015
Student Spotlight:
Jack Richey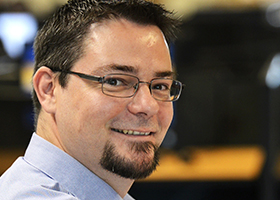 Jack Richey
---
Army veteran is getting his engineering degree to give his children a better life
Meet Jack Richey. He's a father of three and an Army veteran with big dreams.
At 37, Richey is a tad older than the average undergraduate student. He's married with twin 5-year-old daughters and a 2-year-old son. He graduated with a degree in electrical engineering.
Richey says that having a family at home definitely made a difference when it came to his studies.
"Being an older student means I have to work at it," he said. "I don't have the natural ability some of these students do. It's easier to learn new material when you're younger, and if you have no kids or obligations, you can pull all-nighters. But I live by a vigorous schedule."
As Richey has worked to complete his degree, his wife and children were his biggest motivation. He wants to be a good example to his children so they'll also get a good education and pursue the careers of their dreams. Originally, though, Richey was motivated to go back to college simply to create a more stable life for himself.
Richey joined the military when he was 18 years old and served for four years. After he completed his service, he decided to move to New Zealand and explore a job in property development. One afternoon, he was driving home from the beach when he collided head-on with a car that had been racing another vehicle. The accident put Richey in a wheelchair for six months and on crutches for another six. His job at the time required him to be mobile, but he was unable to work.
Richey was frustrated that he could no longer stand on his own but thinks it helped him as a person.
"After going through that, I knew I could do anything," he said.
He went home to San Antonio for his rehabilitation, where he ran into his high school prom date; he had proposed to her when they were both nineteen. She had declined because she thought they were too young to get married. They reconnected and are now married with three children.
Being a father gave Richey even more drive to get back into school, and his lifelong interest in engineering brought him to UTSA.
"Engineers do so much interesting work, and the direction they're taking is really exciting," he said. "It was just the perfect fit."
Richey found a mentor in electrical and computer engineering professor Mo Jamshidi, who oversaw his robotics studies in the Autonomous Control Engineering (ACE) Laboratory.
"I can't really think of a single professor that didn't go out of their way to help me succeed," Richey said. "Professor Jamshidi especially helped me and pushed me when I needed it."
Richey now builds robots with his children and is looking forward to starting his career as an engineer. Above all, he wants to make sure his kids know the importance of a good education.
"When I was a kid, I wanted to be an astronaut," Richey said. "But it's kind of past my time. Now, one of my daughters is really keen on science and engineering. She says all the time that she wants to be just like me and do what I do. I'm starting to think her destiny is in the stars."
– Joanna Carver
Are you graduating in December 2015? Share your photos with us on Facebook or Twitter (@UTSA). #utsagrad2015

Do you know a fascinating UTSA student who is planning to graduate in May 2016? Share that story with us at news@utsa.edu.