December 2015
Student Spotlight:
Valerie Rocha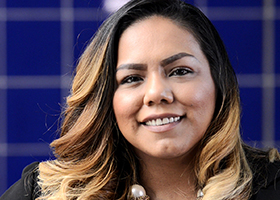 Valerie Rocha
---
Mother of two persisted over 12 years to earn her interdisciplinary learning and teaching degree
Meet Valerie Rocha. After studying for 12 years at two different schools, she is finally set to graduate with her degree in education and become the teacher she has always wanted to be.
Rocha's journey into the teaching profession began as a child, inspired by her kindergarten teacher in an unconventional way.
"I knew I wanted to be a teacher at a very young age," said Rocha. "As a child, I was discriminated against because of my race and my culture by my kindergarten teacher. I was neglected. Once I came to terms with that, I knew that I wanted to be the teacher that she couldn't be for me."
But that dream slowly started to fall by the wayside as she progressed through middle and high school, where her goal, she said, was just to graduate high school and enter into the workforce.
"Although teaching was a dream for me, it wasn't necessarily something that I thought I could actually achieve," she said. "In my family and my community, graduating high school was the goal. It was a big thing; it was celebrated."
That is until her then boyfriend – now husband – encouraged her to visit with the school counselor and find out how to apply for college and financial aid. She did, earning acceptance into San Antonio College (SAC) in fall 2003.
A week into her first semester at SAC, she found out she was pregnant with her daughter. The news, she said, completely changed her priorities and gave her more motivation to pursue her dream, despite the struggles she faced in her classes.
"It was difficult for me at SAC," said Rocha. "The college experience for me, doing it all on my own, was hard. Trying to do it with a child made it even more difficult. I had those moments where I would come home and cry and tell my husband that I didn't want to do this anymore, but I pulled my bootstraps up and kept going."
Following the birth of her daughter, she continued to take courses at SAC part-time for the next six years, until her hard work led her to the interdisciplinary studies program at UTSA in 2009. That same year, she gave birth to her second child, a son.
In 2013, 14 days before Christmas, Rocha was laid off from her job at a local daycare, leaving her family with a significantly smaller income. Despite this, she decided to continue her studies, this time as a full-time student.
"Most people would have given up and gotten a job, but I couldn't do that," she said. "I had come too far and I felt like if I didn't finish what I started, then it was all for nothing."
And so she persevered, earning a spot on both the Dean's List and Honor Roll for four consecutive semesters and passing her teaching certification exams.
"It was easy to want to give up, but I couldn't," said Rocha. "I felt like I owed it to my mom and to my family. I am the example in our community. They look at me and think, 'If she can do it, I can do it.'"
This December, marking the end of a journey more than a decade in the making, Rocha will be the first in her family to walk across the stage and graduate from college. She's even inspired her 11-year-old daughter to start thinking about college.
"This degree means that I was able to finish something that a lot of people didn't think I could, even myself," said Rocha. "This degree isn't just for me. It's for all of the teachers that I've worked with. It's for my colleagues. It's for everyone in my family."
But the best part, she said, is finally being able to change lives every day as a teacher with the skills and knowledge she has gained in her time here at UTSA.
"Every morning when I wake up, even those mornings when I'm just so tired and I don't want to get out of bed, I tell myself, 'You're going to change lives today. You're going to make a difference,'" said Rocha. "That's my life purpose. There's no better way of doing that than waking up every day, going to work, and feeling like you're giving everything you can to your students' education. One day, when they grow up, I want them to be able to remember me as the teacher that gave them everything she could. UTSA prepared me for that."
– Jo Ann Jones
Are you graduating in December 2015? Share your photos with us on Facebook or Twitter (@UTSA). #utsagrad2015

Do you know a fascinating UTSA student who is planning to graduate in May 2016? Share that story with us at news@utsa.edu.