December 2015
Student Spotlight:
Justin Stout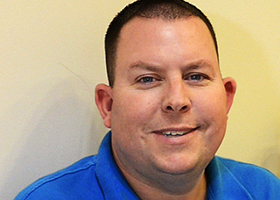 Justin Stout
---
Stout to receive degrees in anthropology and sociology from UTSA and a criminal justice degree from Austin Peay
Meet Justin Stout. When he walks the stage in December, each step will be painful.
The repaired left shoulder and left knee, the rods and plates throughout his right leg following major reconstruction, the wires edging his spine to help control the pain— they're all pieces from 24 surgeries following seven years as a combat medic in the Army.
Twelve of those surgeries have been done since Stout started taking classes at UTSA in 2012.
But the physical pain will be second to the jubilation and the relief of knowing that he's come this far.
"Graduation is huge," says Stout, who completed a double major in sociology and anthropology. "I'm just excited to walk the stage and know I did it. I completed it."
An Akron, Ohio, native, the 36-year-old veteran took a winding road to get to this point, working a variety of jobs, including personal security, and moving from Ohio to New Orleans, where he got his peace officer license and worked for the Federal Emergency Management Agency after Hurricane Katrina. He joined the Army soon after in October 2005.
Over the next seven years, military service took Stout to Iraq and Afghanistan, including combat missions as a member of the 101st Airborne Division. He received commendations for both tours of duty.
He was medically retired in 2012 and landed in San Antonio because of the care he needed at San Antonio Military Medical Center.
"I couldn't work yet but wanted to keep bettering myself," Stout says about why he decided to enroll at UTSA. Plus, he had already started college two other times but was relocated, just one class shy of graduating from Austin Peay State University in Tennessee.
He chose anthropology because he loves "learning about different cultures and why people might do the things they do."
With his past credits, he entered UTSA as a junior but wanted to venture into sociology, so he added that as a double major.
The beginning was difficult. Physical therapy every morning meant a drive from his house in Helotes to SAMMC, then right after, heading back to UTSA. Through surgeries and physical therapy, when the pain slowed him down, he found a support system among his fellow veterans and also UTSA's faculty and staff. He points to anthropology professor Michael Cepek as having a significant impact.
"Because I came in as a junior, I didn't have to take a lot of the prerequisites, so I missed out on some basics," Stout says. "Dr. Cepek printed out a lot of the background information I needed to know and explained it to me. He didn't have to do that; he just wants us to succeed."
As part of the sociology program, Stout interns at Catholic Charities, working with refugees. Fellow staffers include Iraqis and Afghanis, all of whom worked with the military in their home countries.
When Stout receives his bachelor's from UTSA, he will also be getting his criminal justice degree from Austin Peay. He plans to stay at UTSA, he says, studying for his master's in sociology. From there, he hopes to get his Ph.D. and return to UTSA to teach. He has even moved his mom, Lynn, from Ohio to live with him and his cat, Cosmo, in Helotes.
"Commencement is as much for her as it is for me," Stout says. "She was a single mom, and she worked so hard to support us. I want her to know it was worth it."
– Michelle Mondo
Are you graduating in December 2015? Share your photos with us on Facebook or Twitter (@UTSA). #utsagrad2015

Do you know a fascinating UTSA student who is planning to graduate in May 2016? Share that story with us at news@utsa.edu.